Steve Carell's Response To 'The Office' Reunion Photo Will Melt Your Heart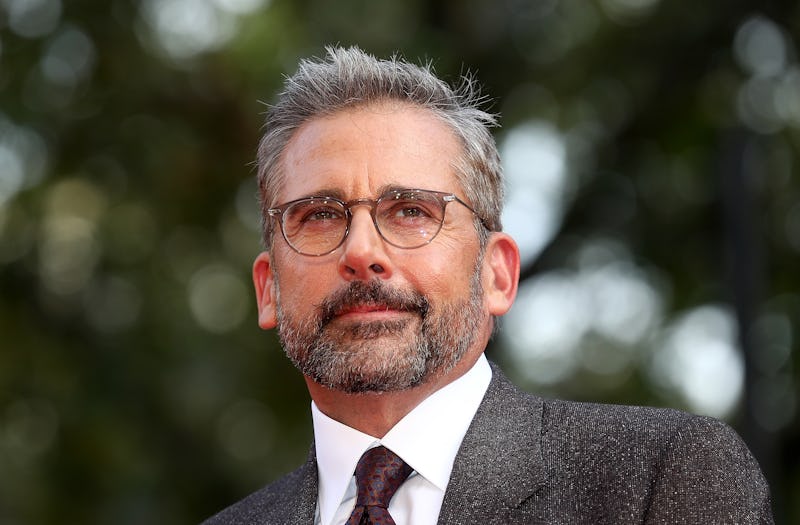 Tim P. Whitby/Getty Images Entertainment/Getty Images
Michael Scott always loved it when his employees would get together and hang out outside of the office, and his real-life counterpart is no different. In fact, Steve Carell's response to The Office reunion photo, which started making the rounds on Sunday, Dec. 2, proves that this cast still has just as much love for each other now as they did back when the show ended in 2013. And fans just can't get enough of it.
It all started when Angela Kinsey, who played Angela Martin in the series, posted a photo of the reunion on Twitter, which featured several of the show's stars standing alongside one another, including Kinsey, Jenna Fischer, Rainn Wilson, Oscar Nunez, Ed Helms, Leslie David Baker, Creed Bratton, Brian Baumgartner, Paul Lieberstein, and Phyllis Smith. The photo was also accompanied with a very sweet message from Kinsey, which read:
"Some of the old gang got together today... it was so great to see everyone! I turned to Ed [Helms] and said, "I feel like we are at a family reunion." He smiled and said, "We are." Thanks Greg for hosting! For those who couldn't make it... you were missed!"
Of course, Carell was one obvious member of the group that was missing in the photo. However, he made a special point of responding to the reunion pic on Twitter with three simple words: "Miss you guys." So it's clear that if he could've been there, he would've.
Unless, that is, he wasn't invited, which would be a very Michael Scott thing to have happened to him.
Obviously, that wasn't the case, though, since Fischer then proceeded to respond to Carell's response with yet another kind message that'll give fans hope that this is just one reunion coming out of many. "We miss you too Steve!" Fisher wrote. "Sorry you had to miss this one. More to come!"
Umm, excuse me? Let's take a moment and focus on that "More to come" remark because it could mean a couple of different things. There's been a lot of speculation as of late that an Office reboot could be in the works. In fact, when Carell recently hosted Saturday Night Live, his opening monologue centered solely around that possibility with multiple cast members making surprise cameos to encourage Carell to get on board a reboot.
Nothing has yet to be confirmed, but the fact that so many members of the cast are getting together certainly seems to add a certain level of validity to the rumors. And the fact that there will be "more to come" adds even more fuel to the fire. Clearly, these people still love spending time together, so why not do so on camera? Let's give the people what they want!
Having Carell on board would be a huge get for any potential revival or reboot. And considering how vocal he's been about the subject recently (despite any past hesitancy on the matter), the odds are starting to look better and better. So come on, NBC — let's get on top of this. (That's what she said.)