Russia Just Gave An Important New Job To An American Actor Accused Of Rape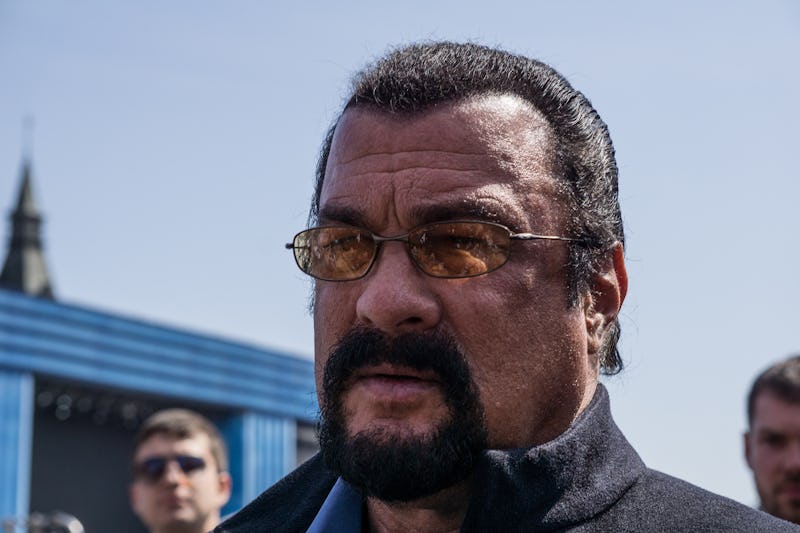 Alexander Aksakov/Getty Images News/Getty Images
The Russia Foreign Ministry has hopes that Hollywood can help solve U.S.-Russia relations — or at least one famous face from the movie industry. Actor Steven Seagal was named special representative for Russia-U.S. ties, the Russian government announced on Facebook on Saturday.
Seagal grew famous in the 90s staring in action roles where he could display his martial arts skills, an interest that he shares with Russian President Vladimir Putin. According to IMDb, Seagal's grandparents were Russian Jews who immigrated to the U.S. The Russian leader has also said that he's a big fan of Seagal's movies, and reports say the two have known each other for decades.
The announcement was translated into English by the Russian Embassy on its Facebook:
Steven Seagal was appointed as the Russian Foreign Ministry's special representative for Russian-US humanitarian ties. The task is to facilitate relations between Russia and the United States in the humanitarian field, including cooperation in culture, arts, public and youth exchanges, and so on ... It is the case when people's diplomacy meets halfway traditional diplomacy.
The American-born actor was awarded Russian citizenship in 2016, just after the U.S. presidential election, and at the time Putin said it was a "small gesture" that "might be a sign of the gradual normalization of relations between our countries."
Since 2016, relations have worsened between the two countries. And in the United States, Seagal has been accused of rape and sexual misconduct by a number of women — including Julianna Marguiles and Portia de Rossi — which he has denied, calling them "false" through a lawyer.
Margulies said that she went to prepare a scene with Seagal late at night and was shown his gun. Feeling unsafe, she left. "I never was raped. I was never harmed. I don't know how I got out of that hotel room," Marguiles told Just Jenny 's Jenny Hutt on SiriusXM in November 2017.
De Rossi tweeted her experience within the week. "My final audition for a Steven Segal movie took place in his office," de Rossi wrote. "He told me how important it was to have chemistry off-screen as he sat me down and unzipped his leather pants. I ran out and called my agent. Unfazed, she replied, 'well, I didn't know if he was your type.'"
One woman, Regina Simons, accused Seagal of raping her when she was an 18-year-old extra on the 1994 action film On Deadly Ground. "I was crying when he was on top of me," she told The Wrap. "Even now, my 43-year-old mind knows how to process this and understand what a loving relationship is and what consensual sex is. And there was none of that." He denies her allegation, as well as the dozen or so accusations of sexual misconduct.
What exactly Seagal's job as a special representative will entail is unclear, though the post is meant to be unpaid. The announcement compared it to "the functions of United Nations Goodwill Ambassadors."
Seagal was quoted by RT as saying he was happy to receive the appointment. "I've always had a very strong desire to do all I can to help improve Russian-American relations," he said. "I have worked tirelessly in this direction for many years unofficially and I am now very grateful for the opportunity to do the same thing officially."
The actor has supported many of Putin's policies that have angered the United States, including the annexation of Crimea. He has been banned from the Ukraine for five years as a result.
In general, the actor only has good things to say about Putin, calling him "one of the great living world leaders." Once again, it's clear that the feeling is mutual.