You Can Literally Study Masculinity At This University — And Here's Why People Should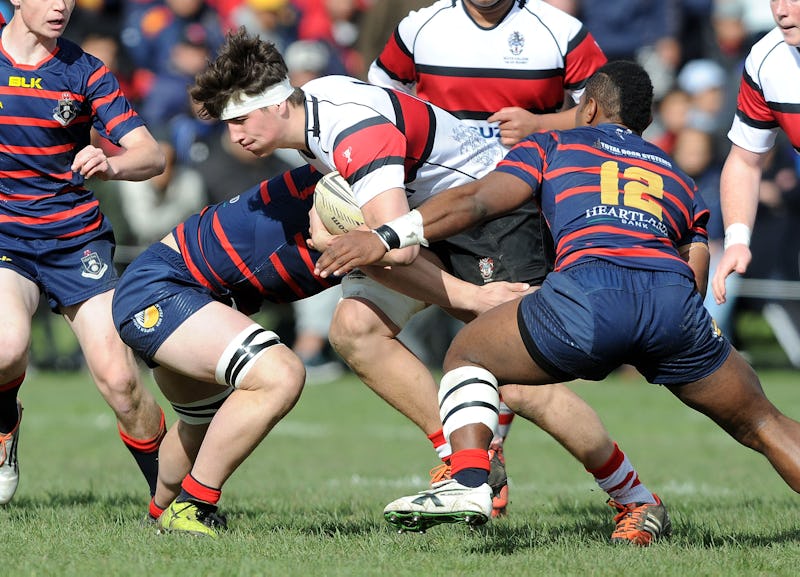 Kerry Marshall/Getty Images Sport/Getty Images
Sure, most of us have taken a gender studies and women's studies course while attending college, but not too many folks have even heard of men's studies. A cursory search on Twitter shows that many people would be apt to re-label men's studies "history," but this couldn't be further from the truth: Masculinity studies offers a framework to breakdown toxic masculinity, which negatively affects people of all genders. To wit, Stony Brook University will offer a "masculinity studies" master's program starting in 2019. The program was created and founded by Dr. Michael Kimmel, the SUNY Distinguished Professor of Sociology at Stony Brook University, author, and founder of the National Organization for Men Against Sexism (NOMAS). "There has been a growing field in 'masculinity studies — some in the humanities, some in the social and behavioral sciences. Not as much, but some in the natural sciences,'" Dr. Kimmel tells Bustle. "The foundation of this master's program is this growing body of research that has been done about masculinity over the past thirty years."
Before developing the graduate program, Dr. Kimmel founded the Center for the Study of Men and Masculinities (CSMM) at Stony Brook in 2013, whose vision is to "support and promote research that furthers the development of boys and men in the service of healthy masculinities and greater gender equality." His Board of Directors for the center includes iconic feminists such as Gloria Steinem, Eve Ensler, Jane Fonda, and Catharine Stimpson, a pioneer of women's studies in the United States. He tells Bustle he hopes his advisory board would help people understand that the center and master's program aren't about men right's whatsoever.
The idea of the degree dedicated to men's studies and masculinity may make you think of men's rights activism, but the program is the exact opposite: The Stony Brook University graduate degree is actually seeking to foster activism, equality, and understanding when it comes to gender. The master's program has been in the works for a few years, but will be exclusively offered online in 2019 for graduate students.
It will be the first (and as of now, only) degree in the U.S. offering program in men's studies on both undergraduate and graduate levels. (The University of Calgary in Canada also has a Masculinity Studies program, according to the CBC) "The kinds of courses [in masculinity studies] will be the same thing you would find in gender studies programs, or even a women's studies programs," says Dr. Kimmel. He explains the coursework of the program will explore "theories of masculinity," socioeconomic differences between men, literary works, men's health, and masculinity in politics. "My research has been on the extreme right, and masculinity there, so there might be material on that," adds Dr. Kimmel.
Another area that will be researched and examined in the master's program is developmental psychology, as well as the effects media representation in media or literature has on boys and men. "The effect on a young boy of seeing these kinds of unbelievably, sort of hyper pumped up guys is, 'I feel small. I feel inadequate. I have to get bigger. I am not big enough.' We have a lot of good research on the effect of these kind of media images on girls' development, so now we have to have that parallel conversation about boys because we basically ignored them," Dr. Kimmel told CNN.
It seems like much of the graduate program will address toxic masculinity, which The Good Men Project defines as "a narrow and repressive description of manhood, designating manhood as defined by violence, sex, status and aggression." Toxic masculinity is super harmful and manifests in our society in a multitude of ways, affecting those who fall on all areas of the gender spectrum. Dr. Kimmel personally opts not to use the phrases "toxic masculinity" or "healthy masculinity," but says he prefers to use the terms "good man" and "real man" — which he discussed more in depth during his TEDxSydney talk. "Men actually try to balance being what they think of as a 'good man' — their own values — versus what it means to be a 'real man' in their interactions with other men," he says.
Dr. Kimmel tells Bustle he expects psychologists, social workers, teachers and students seeking a PhD in gender studies to attend the "masculinity studies" master's program. He adds that "there are literally hundreds of projects all over the world that are working to engage men and boys around violence against women, reproductive health and rights, healthy child's development and fatherhood [...] We expect them to also be some of our students."
By engaging men and boys in conversations about gender, it's possible to create not just a happier society, but a healthier one. Stony Brook University's "masculinity studies" program is another tool advocates, social workers, and students alike can utilize to improve and deepen their understanding of how gender affects everyone.