You Need To Buy 'Stop F**king Tweeting' For Every Political Junkie On Your Shopping List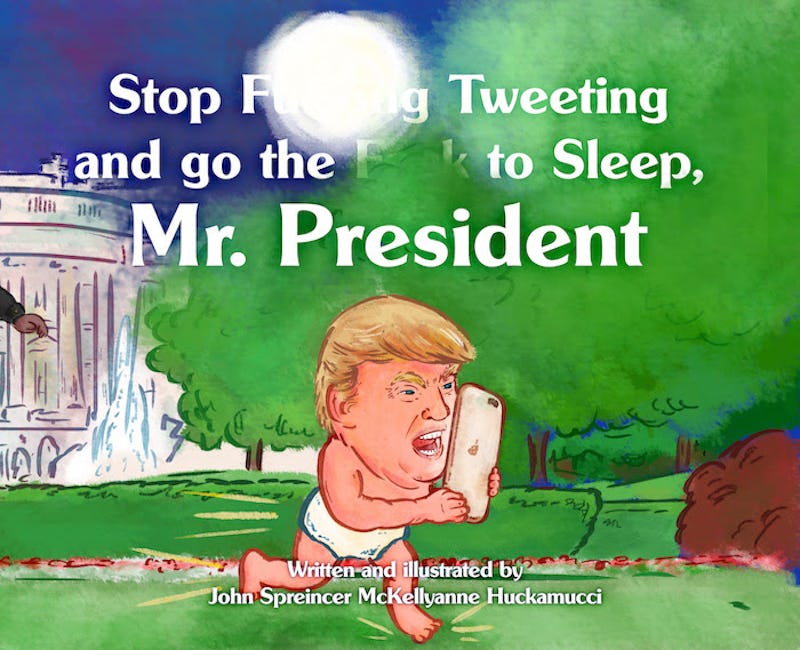 Yes, you know it. I know it — 2017 has been quite a year. Between Trump getting sworn into office and Doug Jones winning the Alabama special election, it has been a roller-coaster for political junkies. Something new and potentially terrible happened in the Donald Trump administration almost every single day, making it more important than ever that you stay creative — and stay in touch with your humorous and silly side. And the recent release of children's parody book Stop F*cking Tweeting And Go The F*ck to Sleep, Mr. President is proof positive of that.
The book is written and illustrated under the pseudonym John Spreincer McKellyanne Huckamucci, which you probably notice is a mashup of the names of some of Trump's most notorious past and present administration members. The book takes its inspiration from Adam Mansbach's popular Go The F*ck To Sleep for a bedtime book made for "citizens of the real world."
The book covers Trump's unfortunate penchant for late night tweeting, and depicts him as a petulant child, watching FOXNews reruns and scrolling through his phone from a playpen in the Oval Office in the middle of the night.
Stop F*cking Tweeting And Go The F*ck To Sleep, Mr President by John Spreincer McKellyanne Huckamucci, $9, Amazon
References to Comey, "covfefe," and, of course Hillary Clinton's campaign are all found in this little gem of a book. Each page features a few rhyming lines like you would find in most children's books... though these are decidedly not kid friendly.
Passages include:
"The windows are dark in D.C.
Your staff huddles down to silently weep
I'll read you one last story from InfoWars
If you promise you'll then go to sleep."
And this gem:
The wind whis—where the f*ck are you going
Lay down
You've got a schedule to keep
I don't care what ESPN said about you
Your phone's out of battery and, like you, it needs some f*cking sleep
Though the truth behind the book is dark — with Trump's tweets having been continuously called out for their incoherency, racism, sexism, xenophobia and even for endangering the safety of U.S. with threats of war and conflict — it's a much needed moment of levity in the endless storm of negativity that was 2017. This book will definitely make the perfect holiday gift for the political junkie on your list who really needs a good laugh right now.
Stop F*cking Tweeting And Go The F*ck To Sleep, Mr President by John Spreincer McKellyanne Huckamucci, $9, Amazon