'Stranger Things' Star Gaten Matarazzo Has A Band That '90s Kids Will Love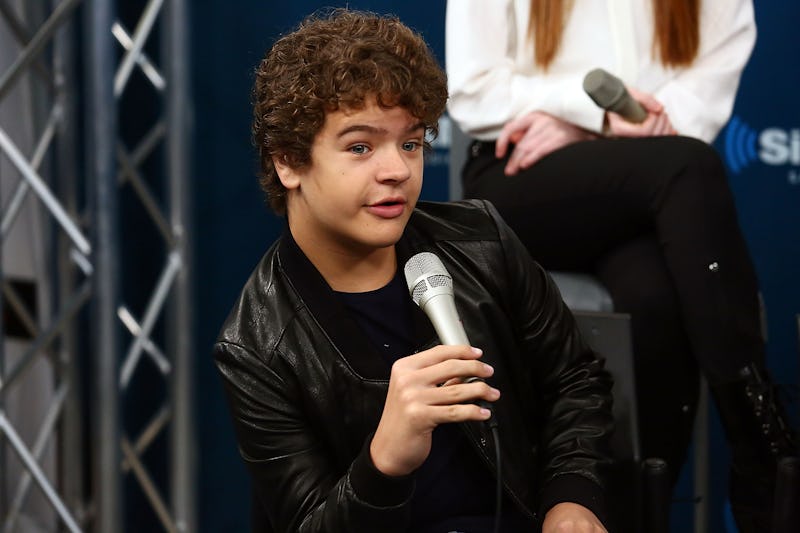 Astrid Stawiarz/Getty Images Entertainment/Getty Images
Gaten Matarazzo didn't grow up in the '90s — he was born in 2002 — but he certainly knows how to sing the hits from that decade. Thanks to NJ.com, the world now knows that Stranger Things star Matarazzo has a band that plays Pearl Jam covers. Yes, when the actor who plays Dustin on the Netflix series isn't fighting off the Demogorgon, he's rocking out with the New Jersey band Work in Progress. Specifically, nailing Pearl Jam's 1991 track "Porch" like a young Eddie Vedder, as an Instagram video from the band shows.
According to the website, the 15-year-old is moonlighting as the singer of the band from his hometown of Little Egg Harbor Township in New Jersey, which, as its name hints, is still a work in progress. From the looks of the video, though, the band, made up of teens and young adults, seems to be finding its footing with help from Matarazzo's sweet vocals. Not to mention, his older sister Sabrina, who is also a member of the rock band and previously teamed up with Matarazzo for a rousing rendition of the national anthem at a 2015 Mets game.
It should be no surprise that Matarazzo is playing music on the side being that he got his start on Broadway playing Gavroche in Les Misérables. More recently, Matarazzo sang with Kelly Clarkson for WEDay in Canada. Fittingly, the two sang songs like "We Are Family" and "We Are The Champions," which allowed the young star to show off his falsetto. Hopefully, Work In Progress will let him do the same.
If Pearl Jam doesn't do it for you, don't worry, the Stranger Things cast is full of musicians that might better fit your musical preferences. Mike Wheeler himself, aka Finn Wolfhard, plays in an indie band named Calpurnia, which was recently signed to the Canadian label Royal Mountain Records, home to singer and internet meme Mac DeMarco.
As if you needed another reason to crush on Steve Harrington, Joe Keery has a band called Post Animal. Your favorite onscreen babysitter is the singer of the Chicago-based psych rock band that's been compared to Tame Impala, which should totally psyche you out.
Feel free to add Charlie Heaton's former band Comanechi to your playlist, too. The noise rock band didn't only include Will's brother Jonathan, but his reported ex Akiko Matsuura. As of right now, Heaton hasn't started a band with his new rumored girlfriend Natalia Dyer, who happens to play Nancy on Stranger Things. But, fans would certainly be excited if that did start one.
Of course, there's enough Stranger Things musicians out there already even without them. Yes, Millie Bobby Brown can sing. She doesn't have an official music career yet, but she has been known to dabble on YouTube and Comic Cons. Last year, she sang a mash-up of Beyoncé's 2008 rendition "Ava Maria" and Katy Perry's "Firework" at Argentina Comic Con. Not to mention, she's showed off her rhyming skills on late night shows. Seriously, check out Brown's take on Nicki Minaj's verse from Kanye West's "Monster."
If that wasn't enough, the Stranger Things boys recently showed fans that they could be your new favorite boy band. Matarazzo, Wolfhard, Noah Shnapp (Will Byers), and Caleb McLaughlin, along with Late Late Show host James Corden performed a Motown parody that was seriously no joke. Even if their name was; the Upside Downs was a nice choice.
For fans of Stranger Things who also happen to be Pearl Jam cover band enthusiasts, Matarazzo's band is still tops. The actor will take the stage with his band once again on Dec. 29 at the legendary New Jersey venue The Stone Pony. Here's to hoping he gives fans what they really want: a cover of "Better Man" dedicated to Chief Hopper.