Baileys Just Released A Millennial Pink Strawberries & Cream Flavor For Valentine's Day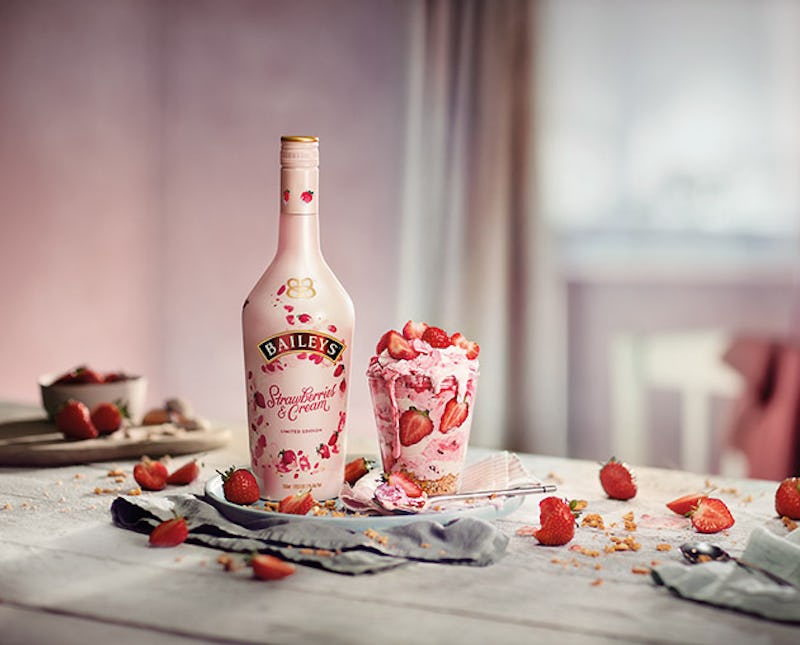 Bailey's
This is shaping up to be quite the Valentine's Day for any unrepentant fans of the oh-so-Instagrammable color millennial pink and classy alcoholic beverages. Hot on the heels of the release of the gorgeous rosé vodka that went viral last week comes news that Baileys is throwing its hat into the pink genre, with brand new, limited edition Baileys Strawberries & Cream Liqueur. According to Beverage Industry, the new variety "blends the flavor of ripe strawberries with the creamy taste of Baileys," and will be available until April in the U.S. Its suggested retail price is $24.99 fora 750-ml bottle, and should be available in stores nationwide.
If you're wondering where to buy Baileys Strawberries & Cream Liqueur while the hype is hot, the good news is that in some states, you can already buy it online — Liquor Barn is currently offering it for $19.99 a pop. And there's no shortage of ideas for what you can make with it, either. On Baileys' website, they share recipes for their usual fare like Baileys Strawberries & Cream Ice Cream, a Baileys Strawberries & Cream Shake, and Baileys Strawberries & Cream Coladas, as well as creative desserts like Baileys Strawberries & Cream Mousse and Baileys Strawberries & Cream Cupcake Frosting. You can check out a whole slew of their delicious ideas for it on their website here. (No judgment, though, if you'd rather just pour this millennial pink daydream on ice, take a quick pic for the Insta story, and call it a day.)
If strawberry isn't your jam, you can still instill some romantic Baileys vibes into your Valentine's Day with Baileys Almande Liqueur — a variety of theirs made with real Almondmilk that has a nutty, vanilla taste, and the extra perk of being gluten- and dairy-free. More importantly, though, it's very pretty to look at, and will make a suitable substitute for what I assume is going to be a beautiful Valentine's Day Instagram you have planned.
In fact, as far as millennial pink alcohol goes, the world really is your oyster in 2018. Hangar 1's rosé vodka made quite the stir on the internet last week not just because it comes in a bottle so gorgeous that I wouldn't mind someone putting my ashes in it, but because — le gasp — actually tastes like rosé. This is also a good option for those who may not want to go the overly-sweet route, since it pairs well as a spritzer cocktail or sangria.
But of course, it would be irresponsible of me as a rosé news aficionado not to mention that, if you're still looking for rosé options this Galentine's and Valentine's Day week, it would not do well to forget last summer's hits, the true predecessors — namely, the rosé forty from Forty Ounce Wines, and the variety that took its basic-ness full circle by literally calling itself "Rosé All Day". (May we all aspire to lean that hard into our respective brands.)
Bear in mind, though, while you're choosing your pink-themed beverages and snacks for your Valentine's Day and Galentine's Day fare, that the Baileys Strawberries & Cream Liqueur is a limited edition item — so you might want to buy enough for the holiday and however much you need to last you until rosé season comes in earnest. The good news is, according to Baileys, their liqueurs all have a shelf-life of two years, which means you can eke out the romance of this pastel pink drink far beyond the day the Gregorian calendar bids us to do just that.
Brace your feeds, y'all. The Instagrams are coming.