Sugarfina Launched A Hello Kitty Holiday Collection & You'll Want Every Single Piece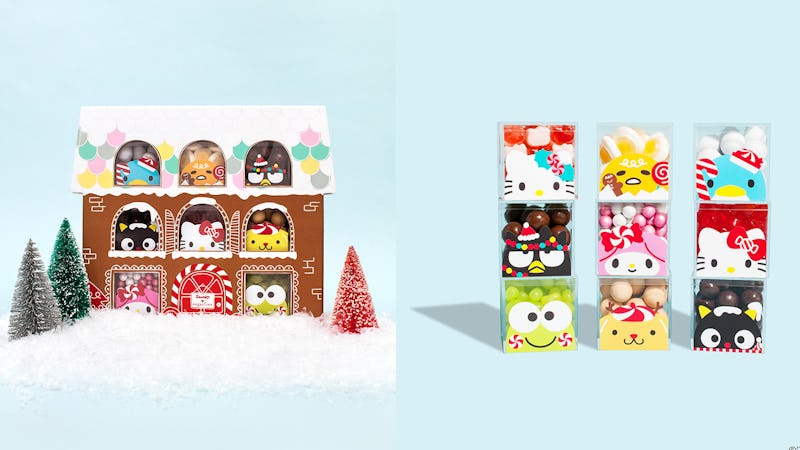 Sugarfina & Sanrio/Bustle
You know that feeling you get when you see something so cute you want to squeeze it? Well, the new Hello Kitty holiday collection from Sugarfina is going to give you that feeling. It's called gigil, by the way. In the Philippines, that feeling of seeing something so adorable you grit your teeth and want to squeeze said adorable thing is called 'gigil.' These Hello Kitty candies are the essentially the edible manifestation of gigl.
In honor of Hello Kitty's birthday on Nov. 1, Sugarfina is collaborating for the second time with Sanrio, the lifestyle brand best known for Hello Kitty. The holiday-themed collection features treats shaped like and inspired by Hello Kitty and her friends like Keroppi, Gudetama, My Melody, Chococat, and Badtz-Maru. The collection is also the debut of two new Sanrio characters: a puppy named Pompompurin and penguin called Tuxedosam.
If you aren't familiar with the cast of characters in Hello Kitty's world, I'll speak a language you can understand: candy. The collection features gummy treats and chocolate bars and caramel sweets to fulfill every last one of your sweet teeth. Per a press release, each character has candies inspired by their personality in the holiday collection. There are Crème Caramel Crunchies, an homage to Pompompurin's favorite dessert, and Chill Mint Chocolates, a combination nodding to Tuxedosam's "classic cool style." There are also limited edition chocolate bars, including a Hello Kitty Pink Chocolate Bar adorned with colorful heart-shaped sprinkles. The collection also included gummy treats, what Sugarfina is best known for: gummy eggs in honor of "Lazy Egg" Gudetama, gummy Hello Kitty bows, and gummies shaped like Hello Kitty herself.
It's all almost too cute to eat...almost.
If collectables are your thing, you'll be very into the customizable bento boxes in the collection. A few of the boxes include an eight-piece a gingerbread house, a three-piece winter train scene, and a two- and four-piece cases, each and every one Hello Kitty and holiday themed. All of the classic individual candy cubes also feature Hello Kitty packaging with the cartoon characters adorning each box.
Cuteness comes at a cost, of course. A gummy Hello Kitty candy cube or a Keroppi Donut Pond Jelly Beans cube, for example, will run you $8 each. The eight-piece "Sweet Retreat" gingerbread house set with cost you $68.00. Per its about page, Sugarfina prides itself on partnering with the best artisan candy makers. Many of the candies also use no artificial colors or flavors, are all-natural, gluten-free, and fat-free. Basically, these aren't your check out aisle, impulse-buy sweets.
Even if you've never tasted any of Sugarfina's candy, you've likely been consuming the company's eye candy flooding your Instagram feed. From rosé-flavored gummy bears to Corona Light and Corona Light Lime gummies to retro Disney gummy treats, Sugarfina's candies are meant to be as delicious to your eyes as they are your stomach. The packaging is pretty and pastel. It's both nostalgic and adult, which company owners Rosie O'Neill and Josh Resnick told Business Insider was exactly their mission: they wanted Sugarfina to feel like a "candy boutique for grown-ups," with a heavy emphasis on the "grown-ups." Their online offering includes an entire cocktail-inspired candy collection, which have gained the attention of everyone from Reese Witherspoon to Chrissy Teigen to Oprah.
If those celebrity endorsements are any indication, Sugarfina is filling an apparent gap in the candy marketplace—a multi-million dollar gap, in fact. In 2017, Sugarfina made $40 million in venue alone. Adults want their candy, y'all. So, if you're looking to satisfy your holiday sweet tooth (and your mouth hasn't been thoroughly destroyed in a Halloween candy fervor) Sugarfina's Hello Kitty collection is available online now.