Why 'Supergirl' Star Nicole Maines Says Dreamer's Arc Will Be An Inclusive Trans Story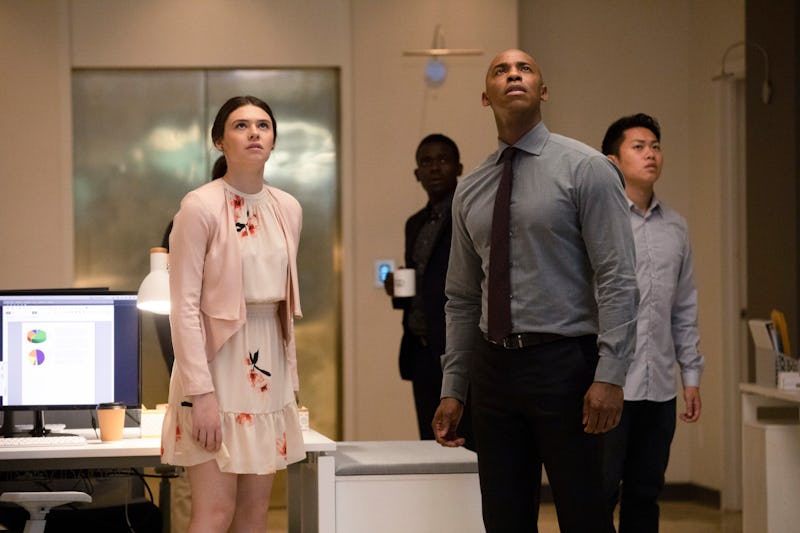 The CW
Activist and Supergirl star Nicole Maines already knows what it's like to make history. She fought for her right as a trans woman to use the bathroom of her choice as a middle schooler in Maine in 2013, achieving a major win for trans rights activists when Maine's Supreme Judicial Court ruled in her favor and new inclusive policies for transgender students were implemented as a result. She's a real-life superhero, and now she's about to play one on Supergirl, making Maines TV's first transgender superhero. And she's doing it all before her 22nd birthday!
Maines stars on Supergirl as Nia Nal, a cub reporter at CatCo being mentored by Kara Danvers aka Supergirl (Melissa Benoist). But what comic book fans know is that Nia is also destined to become the DC Comics superhero Dreamer, based on the character Nura Nal/Dream Girl. Nia's transformation into a superhero with precognitive dream abilities has already been teased in the past few episodes, with Nia falling asleep at work and seeming to sense bad things happening before they do. But Maines teases that when Nia finally accepts her powers and becomes Dreamer, her story will be an inclusive trans story.
"Nia's transness is a big part of her identity," Maines tells Bustle along with a group of reporters on the set of Supergirl. "I think for all trans people, it's not our own defining feature, but it is a defining feature. So it is a big part of ... I know who I am and who Nia is and so it would be inappropriate to completely ignore that."
Maines is proud that Supergirl has been shining a light on Nia's experience as a trans woman, but she's also happy that her character is more than just this aspect of her identity.
"Not every episode or every Nia storyline is focusing on her transness, which I like," she says. "But we do have episodes coming up where her transness plays a big part. And her transness plays a really big part in her powers and how her powers manifest and her relationship with her family. I'm really really excited for folks to get to see that, because now we have her superheroism directly tie into her transness."
Nia hasn't even suited up as a superhero yet, but Maines is already overwhelmed by the positive response she's been getting to the character on social media. "That's been crazy," she says with a smile. "Growing up, I was from nowhere, Maine, and so now having thousands of people reaching out to me via social media and thousands of people paying attention to what I say, that's really weird. That's a weird thing to get used to. But it's been so amazing seeing the outpouring of love and support, not only for me but for Nia as well."
Maines was overjoyed to see "the way that people have been so quick to embrace [Nia] and me as a part of the Supergirl family."
"It's been really, really comforting to see how ready people were for Nia and how happy people were to see her storyline unfold," Maines continues. "And as for the response from young folks, and especially young trans folks who are seeing themselves as superheroes for the first time, that has been so heartwarming. It makes me really, really happy to see that and to be able to go on social media and see how people are so validated and relieved and excited to have a superhero like them."
Trans representation in a mainstream comic-book series like Supergirl has the power to change lives, something Maines has already begun to realize. "Just this morning I saw a trans man's tweet about his kids and how excited his kids were to have a trans superhero, someone who looks like their dad," she says. "I have a hard time kind of finding the words for it because it's just ... good."
Looking ahead to Nia's journey towards becoming Dreamer, Maines teases that fans won't have to wait long for the transformation.
"After this episode you see her get caught up in her lie [about having narcolepsy] and really have to explain what's going on," she says. "Her powers and her narcolepsy is another thing that Kara is really a mentor for her for. And so she helps her through that and helps her try to come to terms in a way with her powers. And then in future episodes, I know they just announced the casting of Nia's family and so we're going to see more of Nia's origin story, where her powers come from, the lineage behind that."
As for getting to portray Nia's "powers" during filming? According to Maines, napping on set is as amazing as it looks. "It's pretty great," she says with a laugh. "It's pretty fantastic. They always ask second team if they want to come in, and I'm like, 'I'm great where I am. I'll just take a nap, you let me know when the cameras are set up and when you want me to go. I'll just be here napping.'"
There comes a moment in all superhero characters' lives when they suit up for the first time, and Maines reveals she's already put on her own official suit. "I have the best super suit, I really do," she teases. "I'm so excited. I'm like trying to conduct myself on set in a professional manner and be like 'Pfft, I'm not completely obsessed with the super suit.' But it's all I think about. Every morning I wake up, 'I get a super suit.' I'm going to sleep, 'I'm getting a super suit.' It's going to be gorgeous!"
But unfortunately, fans shouldn't expect to see Nia suiting up in the upcoming Arrow-verse "Elseworlds" crossover. "I am not in the crossover, I can say that," Maines reveals. "But I can't say anything more than that or else a little red dot will appear on my forehead. You'll have to tune in and find out [why]." Let the speculation begin.