Swatches Of Anastasia Beverly Hills x Nicole Guerriero Will Have You Stoked For The Launch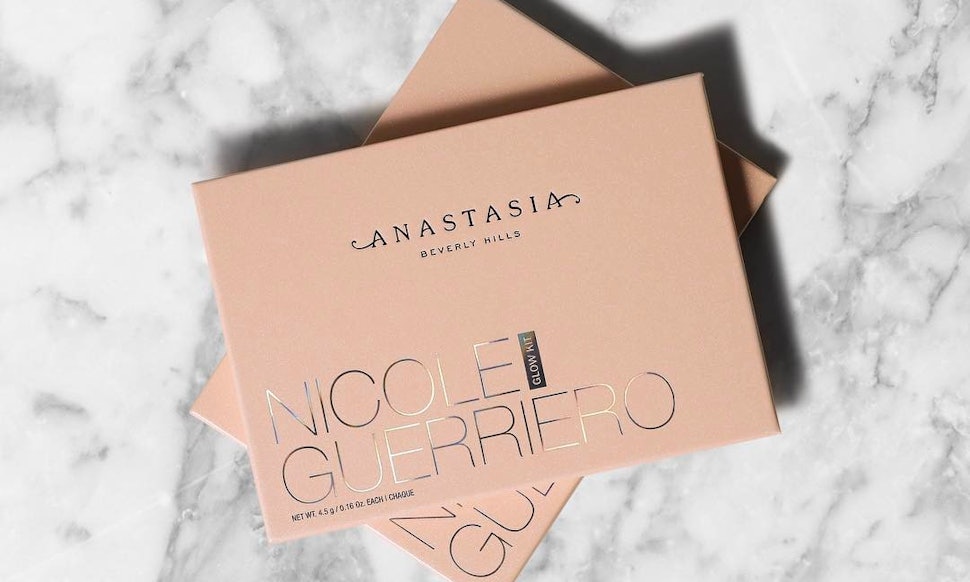 Anastasia Beverly Hills/Instagram
While it may not be spring yet, that hasn't stopped the highlighter phase from losing steam. Arguably last year's biggest trend, a stunning glow seems to be in the cards for 2017 as well. Now, swatches of Anastasia Beverly Hills x Nicole Guerriero are here just in time for you to add the pair's palette to your spring and summer wishlist. This collection of shades is a highlighter fan's dream come true, and now, those who are fans of both the brand and Guerriero can finally see what these two powerhouses have been up to.
On Monday, both Guerriero and Anastasia Beverly Hills debuted the inside of the glow kit and revealed that the collection will include six different shades. Pinks and golds play a huge part in the collection, but that shouldn't come as a huge surprise considering that the outside packaging was a gorgeous pale pink hue.
Click Here To Pre-Order Anastasia Beverly Hills x Nicole Guerriero Glow Kit
As for the release date and pricing, Guerriero revealed that the palette will debut on Mar. 3 on the Anastasia Beverly Hills and Sephora websites. It'll hit shelves in stores on Mar. 15. As for the price, those details are a bit more mysterious. However, most glow kits retail for $45, and if I had to guess Guerriero's will be the same.
Anastasia Beverly Hills x Nicole Guerriero Glow Kit, $40, Sephora
As for the most important part — AKA what's in the kit itself — it's packed with gorgeous hues.
The pink tones are completely stunning, and with Anastasia Beverly Hills quality, the whole kit will be perfection.
Guerriero even took to her Snapchat to show off the shades live, and they certainly don't disappoint. According to the beauty guru, the swatches barely even required a swipe to showcase that insane pigment.
Anastasia Beverly Hills x Nicole Guerriero Glow Kit, $40, Sephora
Now that the Anastasia Beverly Hills x Nicole Guerriero glow kit has officially made its debut, you can finally start counting down to the launch. While it's still a few weeks ago, at least you've got the swatches to tide you over.