This Holographic Highlighter Palette Is ACTUALLY Holo & Your Skin Will Be So Lit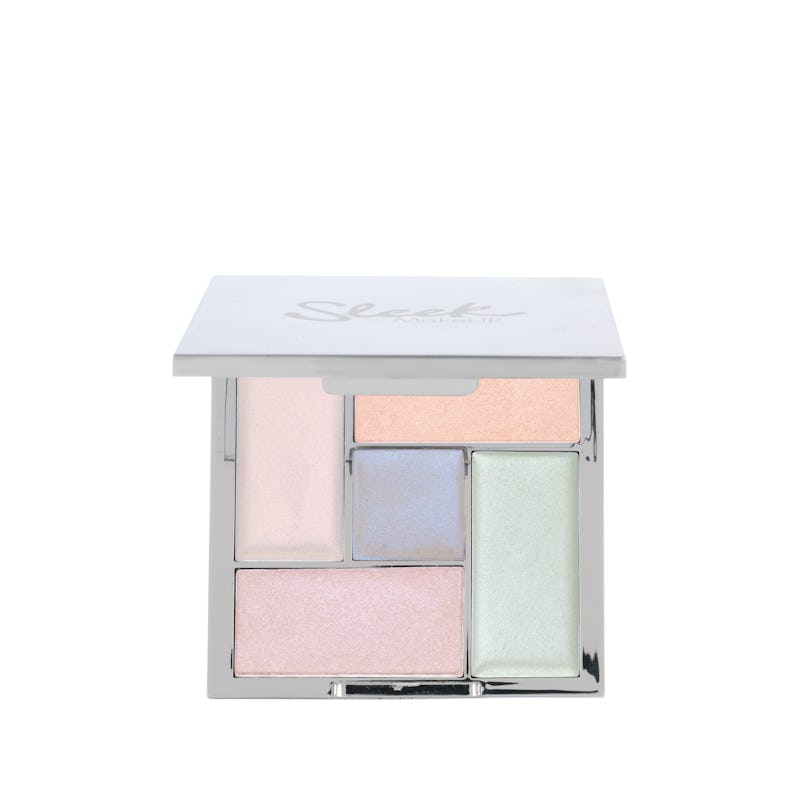 Courtesy of Sleek Makeup
Unicorns and rainbows reigned supreme in 2017 in terms of beauty trends. The sparkly, glittery, and light-infused makeup trend isn't galloping away into the night just yet. Shimmering, holographic, and unicorn-inspired makeup remains popular in 2018. Internet-loved beauty brand Sleek Makeup just dropped the Distorted Dreams Highlighting Palette. The multi-dimensional palette is mirrored and chic. It holds five pans of reflective, holographic hues in two different formulas. There are two super velvety powder shades and three luxuriously smooth cream colors. They are designed to be swept across eyelids, cheeks, lips, and other high points of the face for a supernatural, two-toned glow.
Distorted Dreams Highlighting Palette, $15, ULTA Beauty
Any of the Distorted Dreams can also be applied to the brow bone, the Cupid's bow, and the bridge or tip of the noise. Go for the glow wherever and however you wish by gently buffing into you skin.
You can grab the Distorted Dreams Highlighter Palette, which clocks in at $14.99, at Ulta locations and via the retailer's site as of press time. The palette will also be sold at Walgreens stores and via the drugstore's site in May of this year.
Each pan of color shakes out to about $3 a square. That makes it a total steal — you get several shades that you can mix and match for a custom, unicorn-approved glow at less than $20.
The Distorted Dreams highlighter shades can be worn over foundation or applied to bare, well-moisturized skin.
The swatches display the rich texture and the overall kaleidoscopic sheen of the colors. The brand also suggests that users apply any of the cream shades in the Distorted Dreams palette over lipstick for an iridescent finish. Or you can swipe it on bare lips for an unexpected glow! There are truly so many ways to use these highlighters and therefore an endless amount of makeup looks you can create.
Distorted Dreams Highlighting Palette, $15, ULTA Beauty
You can use the Distorted Dream highlighters with a favorite makeup brush or apply with fingertips. While a synthetic hair brushes often work best with cream formulas, dabbing and blending with fingers allows for a little more control when dispersing and blending.
Sleek Makeup arrived in the U.S. last summer after having enchanted UK customers for years. The brand's playful aesthetic and mantra of "My Face. My Rules" is amazing, since it encourages users to have fun and create makeup looks they like. The only rule with Sleep —and with cosmetics in general— is that there are no rules other than to make yourself happy.
Sleek really nailed the shimmering skin trend with Distorted Dreams. The multi-use, prismatic palette is defined by that gloriously reflective shimmer. You can easily add luminosity skin — Distorted Dreams allows users to do the dew!
Holographic products are often tricky. That's because so many iridescent or glitter-heavy highlighters are marketed as holo even when they technically aren't. Truly holo makeup means that the product will shift color in different lighting. There are lots of beautyistas on the Internet who are very particular about the holo trend and products that are tagged as such.
The palette certainly has its global fanbase, as it was released overseas last year. Ultimately, makeup lovers will have see if the Distorted Dreams shades pass the holo test by looking at and swatching them in varying levels of light. I personally layered two shades on the back of my hand. To my eyes, they took on a different tone under the light.
Regardless, Twitter has been vocal about its love for the product, which will add an otherworldly opalescence to multiple features and your face. If you love that sheen, that glimmer, and that dewy glow, then this highlight palette is exactly the stuff of which your makeup "Dreams" are comprised.