Taraji P. Henson's Black Mental Health Foundation Has A Poignant Message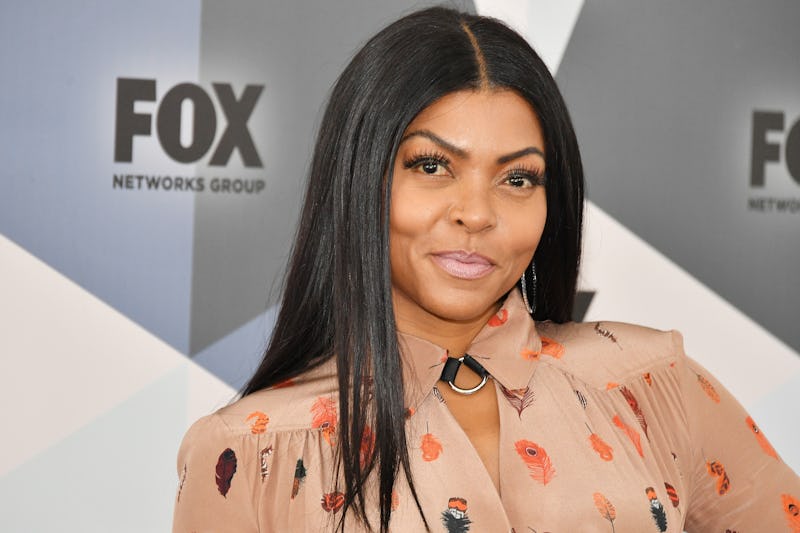 Dia Dipasupil/Getty Images Entertainment/Getty Images
On Tuesday, Aug. 13, Empire actor Taraji P. Henson revealed plans to launch a mental health foundation that will specially dedicate its efforts to helping the Black community, according to Vibe. The cause, while widespread, is one that strikes particularly close to home for Henson due to her own father's struggles with mental health which he faced following his discharge from the Vietnam War, according to the magazine.
The Boris Lawrence Henson Foundation, which Henson lovingly named in honor of her dad, will place distinct importance on changing the stigma of mental health for minorities, which has long affected people such as Henson's father. As part of its mission, the organization, which officially launches on September 22, will bring more understanding to the issue by providing scholarships to African-American students majoring in mental health while also offering mental wellness services to the youth in urban school districts.
When speaking to People about the foundation and its goals earlier this week, Henson shared her passion for the cause and revealed how her father, who died in 2006 at the age of 58 from liver cancer, became the inspiration for it all. She explained,
"I named the organization after my father because of his complete and unconditional love for me; his unabashed, unashamed ability to tell the truth, even if it hurt; and his strength to push through his own battles with mental health issues."
The Baby Boy star went on to point out the trauma of being Black in America and pledged her support to make a change, explaining:
"My dad fought in the Vietnam War for our country, returned broken, and received little to no physical and emotional support. I stand now in his absence, committed to offering support to African Americans who face trauma daily, simply because they are black."
By establishing the project in urban communities, it seems that Henson's foundation will place focus on where it's needed the most. Throughout history, there's been an overwhelmingly negative stigma — particularly within the Black community – related to mental health which often leads to apprehension when it comes to seeking out treatment. Those feelings of shame and guilt sometimes leave many in minority communities untreated, undiagnosed, and alone to deal with issues that require attention.
Hip-hop mogul JAY-Z has, in the past, used his platform to destigmatize the topic of therapy, something which he openly referred to in a New York Times interview as an experience that he "grew so much from." During a later sit down with CNN's Van Jones, the rapper shared the importance of therapeutic counseling, explaining:
"As you grow, you realize the ridiculousness of the stigma attached to it. It's like, what? You just talk to someone about your problems."
He went on to say that he believes that there should be some sort of therapy integrated into the educational system that benefits children. Jay continued,
"I think, actually, it should be in our schools. Children have the most going on…social anxiety and all these things are happening to you, and you don't have the language to navigate it."
The National Alliance of Mental Illness reveals that only about one-quarter of African-Americans seek out mental health care when it's needed, compared to 40 percent of white people. At the same time, NAMI points out that according to the Health and Human Services Office of Minority Health, African-Americans are actually 20 percent more likely to experience serious mental health issues than the general population.
It is not currently known why more African-Americans are stricken with mental health struggles. However, the fact that Blacks are far more likely to be the targets of violence may, perhaps, be at the root of the issue. Essence shares that in a series of federally funded studies in Atlanta, GA, where researchers interviewed more than 8,000 inner-city residents (most of them African-American), that two-thirds had encountered a violent attack in their lifetime. It also explains that half of those surveyed in the study knew someone who had been murdered. Out of the women who had been interviewed, one third revealed that they had been sexually assaulted. All-in-all, the study indicated that approximately 30 percent of the interviewees displayed symptoms consistent with Post-Traumatic Stress Disorder or PTSD, which Essence noted was at a rate just as high or higher than that of veterans who were wars in Vietnam, Iraq, and Afghanistan.
It's certainly a situation that deserves immediate attention and Henson appears to have good allies on her side. She's enlisted the help of her best friend Tracie Jenkins to serve as executive director of the foundation, according to People. Jenkins shared more detail on the organization's mission. Per People, she added:
"BLHF is breaking the silence by speaking out and encouraging others to share their challenges with mental illness and get the help they need. African-Americans have regarded such communication as a sign of weakness and our vision is to change that perception."
Henson and Jenkins plan to kick off the project with a fundraising event called Taraji's Boutique of Hope on September 22 in Los Angeles, according to People. The outlet indicates that proceeds raised from the event will help to provide resources for the newly-minted foundation as it gets off the ground.
Henson's dedication to creating change in mental health and how it's perceived in the Black community is an inspiration and perhaps exactly what's needed to begin changing the public's view on therapy and mental well-being in general.