Twitter Is CONVINCED Taraji P. Henson Shaded Ryan Seacrest With Her Red Carpet Comment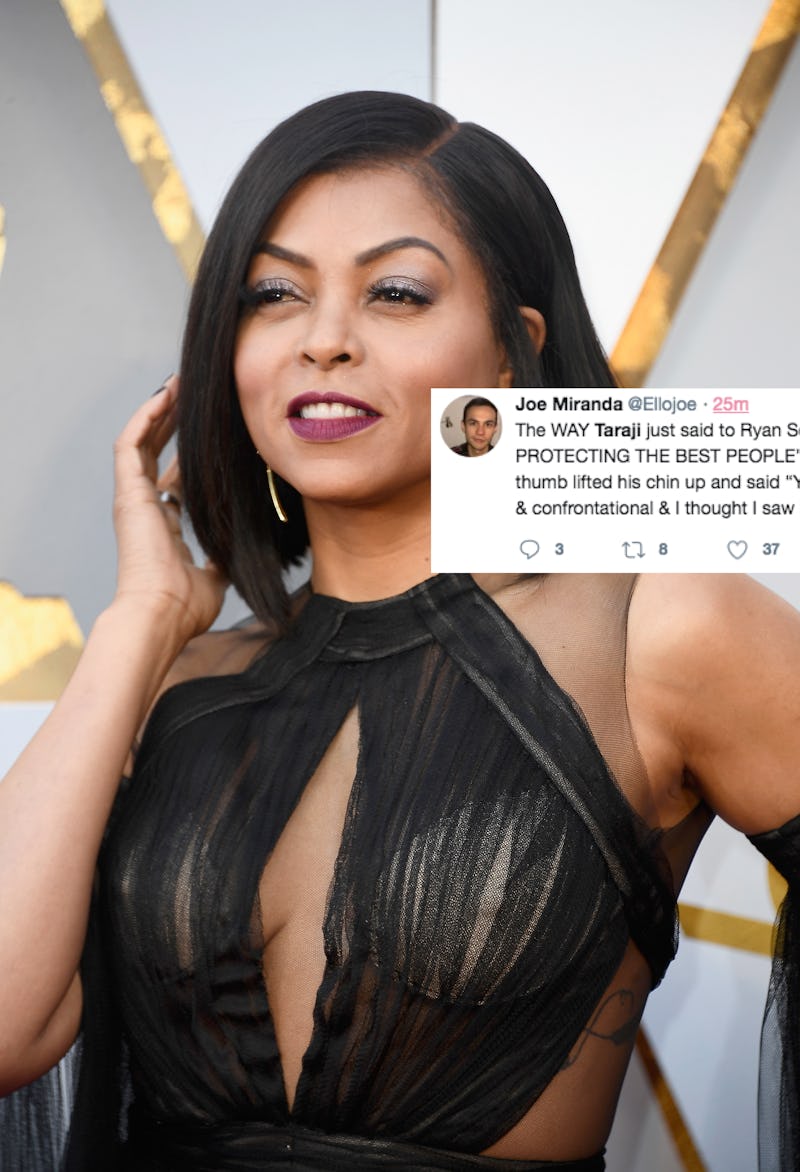 Frazer Harrison/Getty Images Entertainment/Getty Images
This entire awards season, the red carpet has been about more than fashion, dates, and nominees, because of the allegations against powerful men in Hollywood and the Time's Up and #MeToo movements. But at Sunday's Oscars, it wasn't just a matter about talking about these things, there was the matter of who to talk to on the carpet, period, since E! host Ryan Seacrest faces allegations of sexual harassment himself. (Seacrest has repeatedly denied the allegations.) Well, Taraji P. Henson talked to Ryan Seacrest on the carpet, unlike many stars, but she seemed to use the opportunity to make her feelings on him very clear — at least that's what many Twitter users are saying.
UPDATE: Henson has clarified her comment and said that she wasn't dissing Seacrest. The actor told People, "I did it to keep his chin up. It's an awkward position to be in. He's been cleared but anyone can say anything." She also said that she was "absolutely" supporting him.
EARLIER: During her interview Seacrest made a comment to her, seemingly about another actor, and Henson responded, "You know what? The universe has a way of taking care of the good people, you know what I mean?" And with her "you know what I mean" she gave Seacrest what appeared to be a condescending little chin grab. UPDATE: Henson released a statement to PEOPLE saying that her comments were "misconstrued." She further explained the situation, saying, "I did it to keep his chin up. It's an awkward position to be in. He's been cleared but anyone can say anything." For his part, Seacrest tweeted that he had "Nothing but love for my friend @TherealTaraji."
EARLIER: Of course, this moment got viewers talking, but it's not totally clear if Henson really was "cursing" Seacrest as some Twitter users are saying. At the end of the interview, Henson gave the host a hug and told him "it's always good to see you" and that she'd see him in New York.
On the other hand, when she then went to give an interview to ABC, she responded, "I'm great now that I'm in your company." Maybe she was just excited to be with Wendi McLendon-Covey? Or was she just giving Seacrest a hug that was less pleasant and more loaded with shade? It's hard to tell at this point, so unless Henson comes forward with an full explanation — or actually cursed Seacrest — we may never truly know.
Here's Henson's seemingly shady comment to Seacrest:
Here is the end of the interview where she hugged Seacrest:
And here is her comment to McLendon-Covey on ABC:
Regardless of what actually happened, Oscar fans who are following along on Twitter definitely are hoping Henson was throwing shade at Seacrest over the fact that he was hosting the red carpet amid the sexual harassment allegations against him.
It Was "Uncomfortable & Confrontational"
Did Seacrest even know what was going on?
She Told "Ryan Seacrest About Himself"
...Or did she?
She Deserves All The Awards
She really played him. Maybe. Probably.
An Important Play-By-Play
The "you know what I mean" just sounded so intense!
The Chin Bop
And the chin bop was so intense too!
Don't Mess With That Look
This Riley Curry gif says it all.
It's Something Worth Aspiring To
It was subtle and it was inspirational.
She's A "True Queen"
The chin move really had people thinking it was a diss.
Flawless
So, are we calling it a "chin bop" or the "'I know you know that I know you're trash' chin tap"? These are the questions we must ask ourselves.
For Some, It's Not A Question At All
This shade-ologist clearly doesn't think the hug changed anything.
Did Her Face Say It All?
It sure looked like it.
The jury isn't exactly still out on whether Henson was throwing shade at Seacrest — most viewers who are speaking up seem to think that she definitely was with only a few saying that maybe her comments weren't meant to be taken that way. But we can't really know for sure until Henson tell us. If she does any more interviews soon, she'll surely be asked about it ("Um, Taraji, did you curse Ryan Seacrest?") and maybe then this can be truly settled once and for all.
If you or someone you know has been sexually assaulted, call the National Sexual Assault Telephone Hotline at 800-656-HOPE (4673) or visit online.rainn.org.