Target Just Launched An Adorable Line Of Home Essentials — Most Of Which Are Under $2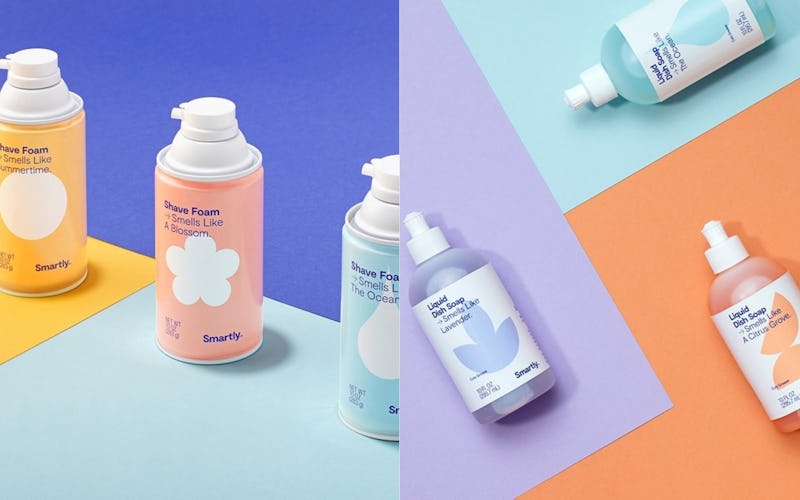 Target
As if you needed another reason to love the House of the Big, Red Bullseye, today, we've got this: Target just launched Smartly, a new brand full of affordable home essentials. And I'm not just saying that they're affordable; I really mean it: Items range from $0.59 to $11.99, with most of them costing just $2 or less.
I'm, uh, beginning to see where the name "Smartly" may have come from.
According to a blog post on Target's website, Smartly is meant to appeal to the "budget-conscious and space-constrained shopper." The line includes more than 70 essential home items ranging from soaps and grooming products to cleaning supplies and kitchen needs; they'll be available both in stores and online starting on Oct. 14, 2018. New products will be arriving in early 2019, as well. And, the company notes, the items on offer cost "approximately 70 percent less than similar products from national brands" — but, apparently, without sacrificing quality. (I can't speak to whether that's true in practice, but it's a promise to which I certainly hope the items live up.)
Following the announcement, a lot of folks started zeroing on Smartly's personal care items — and, I mean, that's fair. Soap, body wash, moisturizer, and shaving cream are all among the offerings available, and not only are they all super affordable, they also come in a selection of delightful scents. According to the press release, Target actually worked with master perfumers on developing these scents; you can choose from options like Rain Shower, Lavender, Summertime, Ocean, Blossom, and Meadow.
However, despite the appeal the personal care items undoubtedly hold, let's not overlook the value of the home goods selection. In need of cleaning supplies like dishwashing powder, liquid dish soap, all-purpose cleaner and laundry detergent? Smartly has you covered. Having a big party? Stock up on Smartly's plastic utensils and paper plates. Not into the whole lunch box thing? Smartly's got recyclable paper lunch bags at the ready. There are also paper towels, toilet paper, sandwich bags… you name it; it's probably there. And need I remind you that most of the items are under $2?
Yeah, didn't think so. That's a pretty major selling point.
Heck, even the packaging is nice. Whether or not the packaging for a specific product is pretty very rarely has a great deal of bearing on whether or not I choose to buy something; although I certainly do appreciate pleasingly-designed packaging, I usually care more about how functional it is (as well as, y'know, the efficacy of the product inside it). But even I kind of dig the way Smartly's packaging looks; it's clean and simple, but still appealing. And hey, if you're more into packaging than I am, then a) rad; you do you, and b) you will probably dig Smartly's look, too.
But perhaps one of the biggest perks is that Smartly "offers the affordability of bulk shopping without buying in bulk." It's no secret that buying in bulk is frequently cheaper, unit for unit; that's what's made wholesale warehouses so popular. But wholesale warehouse shopping doesn't work for everyone — and for those for whom it doesn't work, there hitherto haven't been may other options than to pay more per unit for smaller quantities. But Smartly fills that gap: All of the items are sold either as single items or in small, affordable multi-packs — meaning costs per unit are more in line with what they are when you buy in bulk, but without… y'know… needing to buy in bulk. I don't know about you, but being able to get a four-pack of quality toilet paper for $0.99 sounds like a dream to me.
Although Target has long been known for its in-house brands — Archer Farms has been a grocery section favorite for years, for example, while Threshold cornered the home décor market and Room Essentials played to dorm room needs — the company has been on a roll recently: According to TODAY, Target has launched somewhere in the neighborhood of 20 brands over the past two years alone. Among those brands are Pillowfort, a line of gender-neutral kid's bedding; Universal Thread, a size-inclusive denim line; and Opalhouse, a much-lauded line of furniture and home décor.
While most of these brands are designed to be affordable, however, the nature of the products themselves has meant that none of them could be described as inexpensive. Smartly, though? That one can. As Mark Tritton, Target's Executive Vice President and Chief Merchandising Officer, put it in a press release, "Where we see white space and an opportunity to bring Target's guests something differentiated, we'll go for it. The introduction of Smartly to our owned brand portfolio is another example of how we are listening to consumers and bringing them differentiated solutions to make their lives easier." He added, "Smartly is affordable, looks great and most importantly, gets the job done."
Hear, hear!
Look for Smartly in Target stores and online starting on Oct. 14.