Tate Donovan Revealed What Working With His Ex Jennifer Aniston On 'Friends' Was Really Like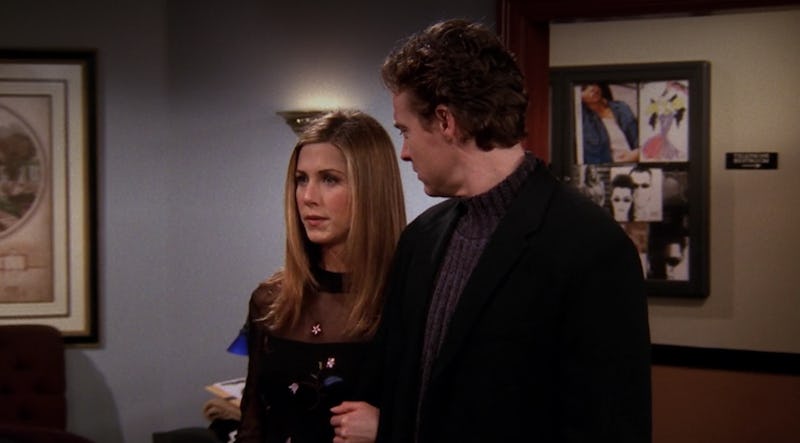 Warner Bros. Television / Netflix
One of the most memorable scenes on Friends occurs when Rachel is so determined to seduce her crush Joshua, she busts out her old high school cheerleading uniform to do it. IRL, though, the days of Rachel and Joshua were long gone. Jennifer Aniston's ex Tate Donovan opened up about working with her on Friends in a recent Us Weekly interview, and fans might be surprised to hear how he really felt about filming it. As the actor explained, most people who learned that they dated assumed the pair had met on the set of Friends, but they'd actually gotten together — and broken up — before he was even cast on the show.
"I was just happy to be on the team," the actor said of his six-episode arc, "The only bummer was Jennifer and I were breaking up at the time." As a result, he explained, playing a client-turned-romantic partner of Aniston's was "tricky":
"That was tricky to sort of act, and act like we are just meeting each other, and falling in love, or whatever, interested in each other, when we're sort of breaking up. That was just tough."
In fact, Friends may have wanted Joshua to be a larger part of the series — but according to Donovan, he and Aniston couldn't handle it.
"It was just six episodes," he explained to the magazine of his guest role on the show, "I mean, only because we were breaking up". Donovan elaborated:
"We were like, 'Hey, can we not keep doing this? 'Cause this is really painful and tough'. The people that know that we dated think that we met on Friends. But in fact we had dated for two years before then, and it was over by the time we were on Friends together."
At least they managed to pack in a ton of enjoyable moments between the two in those few episodes — the wedding dress scene, the cheerleading outfit, etc. Fortunately, their previous relationship didn't affect the series at all. In fact, the actor had nothing but great things to say about his experience working on the show, breakup aside. "Those six people were amazing to me," Donovan recalled, "They were fantastic. It wasn't cliquey for me at all".
Looking back, he reflected, the actor even felt "lucky".
"The good thing that came out of it was that everyone was really cool about it, and really as helpful as they could be. In other words, they were just compassionate, very compassionate about the whole breakup."
If anything, Donovan admitted to Us Weekly, "It was sort of like I proved that, hey, I guess I'm a pro. If you can go through a tough breakup, and still do your job, then you're a pro". He went on:
"[Filming Friends post-breakup] was good. It was really ultimately a great experience of how people can treat you really well, and you still do your job even though you're sort of dying inside."
Hey, at least he's over it! Kidding, kidding; there's no way a high-profile guest spot on a #1 television show starring a recent ex could be fun for anyone.
Now, since the entire world knows how things ended up for Rachel Green, what about Joshua? Donovan doesn't want his fans to feel too sorry for him. According to the actor, "Joshua is happily married and has an 18 year-old-kid who is about to go to college" by now. "He's doing well. He's doing good!" That's a relief; it sounds like the actor definitely needed to hear that. Even if it is something he just made up.
So, note to self: It is possible to work alongside an ex-partner. Sure, there's a chance you'll be asked about it in interviews 25 years after the fact. But as long as you had supportive coworkers and have time to come up with friendly answers, it'll all be okay.