Karlie Kloss Clears Up The Taylor Swift Feud Rumors, Since Apparently J. Law Was Wondering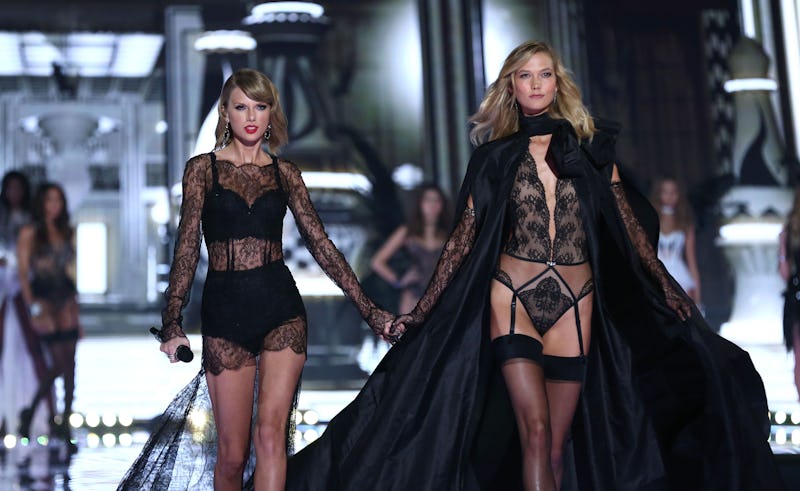 Tim P. Whitby/Getty Images Entertainment/Getty Images
Don't worry, everyone, "Kaylor" is still going strong. Apparently, this news will come as a great relief to one famous actor in particular. As Style Caster noted, Taylor Swift and Karlie Kloss are still friends, a topic which the supermodel addressed in a recent Vogue video. So, there's no need for fans (namely, Jennifer Lawrence) to fret over the state of their friendship.
During one of Vogue's classic 73 Questions videos, Kloss answered questions on a myriad of topics. One particularly interesting topic? Her friendship — or presumed falling out — with Swift, of course. When asked about their relationship now, as everyone wants to know, she replied, "The world needs to know? Well, Jennifer Lawrence was interested. Jen, don't worry, Taylor and I are still really good friends."
In case you were wondering why she directed her response to the Oscar-winning actor, Lawrence had publicly said how concerned she was with the "Kaylor" friendship in an interview with The New York Times in February. She told the publication (as obtained via People), "I'd like to know what's going on with Karlie Kloss and Taylor Swift, that's the honest to God truth."
The Silver Linings Playbook star continued to joke that the matter was "keeping me up at night." Considering Kloss' recent clarification, the state of the famous duo's friendship should no longer cause anyone any concern (looking right at you, Lawrence).
This wasn't the first time that Kloss has commented on her friendship with Swift. In March, she opened up to the Times, where she put the rumors to rest. In the interview, she opened up about how the "Blank Space" singer is one of her good friends, with the two having vacationed together and attended their fair share of public events, such as a Knicks game. Kloss even said that she talks to the pop star frequently, meaning that there's no bad blood between them, at all. In regards to the feud rumors, she told the publication simply, "Don't believe everything you read."
Why were there rumors about a feud circulating in the first place? Well, it had a little something to do with one of Kloss' interesting Instagram captions. In January, the model was featured in Love Magazine's advent calendar in a video which shows her showing off some of her basketball moves. Some took issue with the clip because of the caption she added to it. She originally captioned it with "Swish swish," which some Swifties presumed to be a tie to Katy Perry, Swift's onetime enemy, who had released a song entitled "Swish Swish." After this controversy, Kloss subsequently changed the caption to read, "Nothing but net."
Of course, despite any worries, there was no drama to see there. As Kloss has stated a couple of times now, there's no bad blood between her and Swift. After all, the supermodel recently posted a photo from the singer's Nashville tour back in August, in which she wrote the sweetest message of support for her BFF. So, basically, no one, including Lawrence, has to fret about these two besties anymore — it's clear that they're still totally there for each other.