T. Swift Fans Are Losing Their Dang Minds Over Her Public Romantic Gesture For Joe Alwyn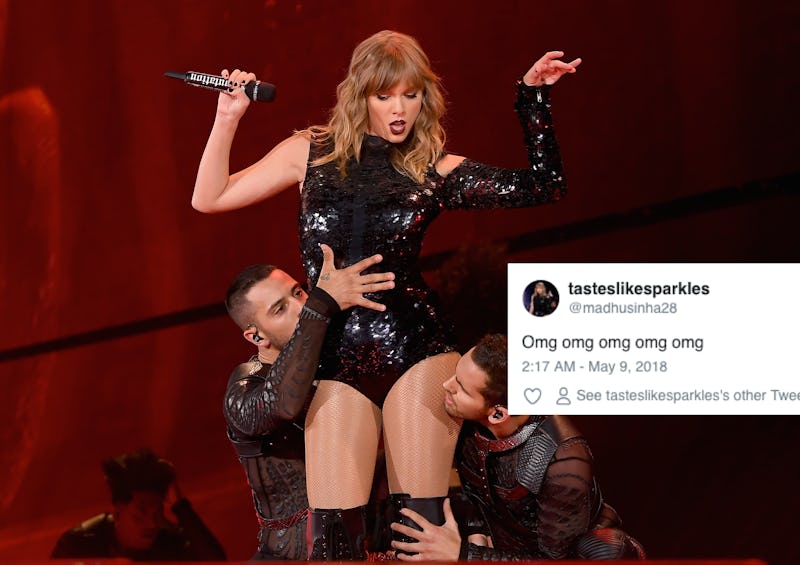 Kevin Winter/Getty Images Entertainment/Getty Images
Just in case there were any lingering doubts as to the real-life inspiration behind Taylor Swift's love-themed hit "Gorgeous," the 28-year-old pop singer set the record straight Tuesday night: She's singing about her boyfriend. Need evidence? No problem. A video of Taylor Swift pointing at Joe Alwyn while singing "Gorgeous" on the first night of her tour should do the trick. But be warned: As evidenced by the unanimously frenzied reaction from Swift's fans on Twitter, the clip from Tuesday's show is likely to induce some bouts of swooning, and maybe even a few tears.
After watching the video clip, it's pretty easy to see why. Swift's much-anticipated Reputation stadium tour kicked off Tuesday night, May 8, at the University of Phoenix Stadium in Glendale, Arizona. And while the evening was chock-full of notable call-outs, there's one in particular that's had Swifties waxing emotional on social media for the better part of the last 12 hours or so. The moment in question came about mid-way through Swift's set, when the music mogul quite literally singled out Alwyn.
As tends to be characteristic of the Reputation singer's famously diehard fan following, one hawk-eyed Swift enthusiast (who attended Tuesday's concert in Arizona) managed to capture what might otherwise have been a subtle interaction between Swift and Alwyn via her smartphone camera. In a tweet that later went viral (though it's no longer visible to the public, since the Twitter user who originally posted it recently switched their profile to private), the fan took to Twitter after Tuesday night's show to share the 27-second video clip with their fellow Swifties. Although the original tweet isn't accessible anymore, you can still watch the video clip via one of its many reposts.
The video clip opens on Swift, donning a sleek black bodysuit and grooving along to the hook of her hit Reputation single "Gorgeous" while purple-tinted spotlights flash above the sprawling stadium stage. As she segues into the song's hook, Swift turns away from the audience before looking back over her shoulder with a pointed glance and a smile. "You're so gorgeous / I can't say anything to your face," Swift croons through the track's chorus, all the while making direct eye contact with her beau, standing not far from the stage in the audience's VIP section.
The viral video manages to cut between close-up shots of Swift's "Gorgeous" performance and Alwyn's adorably chill reaction at what seems like the perfect intervals. Alwyn's response to his girlfriend's sweet shoutout seemed pretty characteristic of the British actor, whose relationship with Swift has been a particularly private one. As Swift eyes her boyfriend in the crowd, the audience goes wild. But Alwyn remains totally straight-faced and simply takes a sip of his drink — though it's probably worth noting that he never takes his eyes off Swift, either.
Back in October, when the now-famous track was first released, Swift apparently revealed that "Gorgeous" was written about Alwyn during one of her secret listening sessions ahead of Reputation's release. (In fact, according to fans who attended, it seems all of Reputation's love songs are about Alwyn, whom Swift has been dating since around late 2016 or early 2017.) Still, reading about the song's inspiration is one thing; actually watching it play out in real time is another.
Judging by their reactions on Twitter, it sounds like fans who have now borne witness to the Swift-Alwyn video clip are pretty over the moon about the quick interaction, as well as what it conceivably says about the pair's relationship. To that end, it seems most Swifties on social media are really rooting for the couple. (Even more so than before, that is.)
According to a Wednesday morning report by People, apparently, Alwyn will be "attending shows when he can" throughout the duration of Swift's tour. Sharing the stage with Swift throughout the duration of her stadium tour are Camila Cabello and Charlie XCX, who opened for the singer during Tuesday night's show.
Who else is crossing their fingers for more Alwyn cameos throughout the remainder of Swift's Reputation tour? Here's to hoping there's at least one more adorable love song shoutout where this one came from.