Definitive Proof That Your Ex-Boyfriend Theories About "Gorgeous" Are Completely Wrong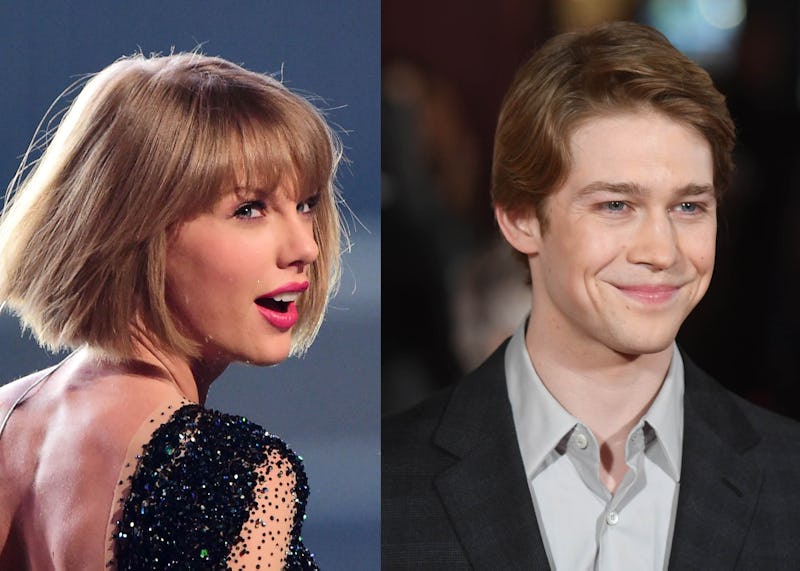 Getty Images/Bustle
Unlike the contentious "Look What You Made Me Do," Taylor Swift's latest single is causing far less drama. But while "Gorgeous" is a more straight-forward love song, that doesn't mean there still isn't speculation about the subject of the new release. Although it's fair to wonder if it's about Tom Hiddleston, "Gorgeous" is about Swift's current boyfriend, Joe Alwyn. If you need some convincing, there is proof, courtesy of fans who attended a secret listening party of Swift's upcoming album Reputation. And based on what these lucky fans are saying on social media, whenever you hear a love song off of Reputation from here on out, you should just go and assume Swift is singing about Alwyn.
It's beyond understandable that some people believe that "Gorgeous" is about Hiddleston, whom Swift notoriously had a whirlwind romance with in the summer of 2016, since many of the lines in the song could be about either Alwyn or Hiddleston. Take for instance the opening line, "You should take it as a compliment/That I got drunk and made fun of the way you talk." She's referencing an accent and both Alwyn and Hiddleston are from England. And the line, "Ocean blue eyes looking in mine," doesn't help distinguish between the blue-eyed British actors either.
Yet, the one lyric that's a tipoff is, "And I got a boyfriend, he's older than us/He's in the club doing, I don't know what." While Swift's boyfriend before Hiddleston was DJ Calvin Harris, which would explain the club lyric, Hiddleston at 36 is older than both the 33-year-old Harris and the 27-year-old Swift. That means her boyfriend that is older must be Hiddleston since Alwyn is similar in age to Swift at 26 and the club lyric may be referencing Hiddleston's oftentimes silly dance moves (though they are still totally endearing!). This line also seems to indicate that Swift met Alwyn while she was with Hiddleston, which is apparently what also happened with Harris and Swift since she met Hiddleston at the Met Gala when she was still dating the musician. With all these similarities, it's no wonder listeners are confused about the men in Swift's life.
But if one line isn't enough to convince you that "Gorgeous" isn't about Hiddleswift, then it's time to bring out the big guns. The most definitive proof that Alwyn is the subject of "Gorgeous" is based on what went down at the aforementioned Reputation secret sessions that took place on Oct. 18.
Swift invited fans to a secret listening party for her new album at her home in Rhode Island. One of the people in attendance was Tumblr user away-from-the-crowds, whose real name is Halley, and she documented the secret session on her Tumblr. While Halley acknowledged that she has to keep many things that she learned at the event a secret, including who the baby is at the beginning of "Gorgeous," she noted that what wasn't a secret was the subject of the song. She wrote that Swift made the fans attending the secret session to promise to make it clear that "Gorgeous" is about her current boyfriend. Halley even noted that Swift reportedly liked her post about the subject.
Another fan on Tumblr, user befearlessandstaybeautiful, who also attended the secret sessions confirmed that any love songs on Reputation are about Alwyn.
Compared to her time with Hiddleston, Swift's relationship with Alwyn has been so under the radar. And because of the similarities between Swift's ex and her current boyfriend, it makes sense that people believed that "Gorgeous" was about Hiddleston. Plus, Hiddleston has had more success in films to show off his gorgeous face than Alwyn has. But people will soon see what Swift sees in Alwyn since his IMDb page indicates that he has four movies on the way and in one of them, as The Hollywood Reporter noted, he plays the love interest of Emma Stone. So, thanks to Swift's song and his budding career, the whole world will know just how "Gorgeous" Alwyn is.