Taylor Swift Skipped The 2018 Grammys Red Carpet, But It Isn't Entirely Surprising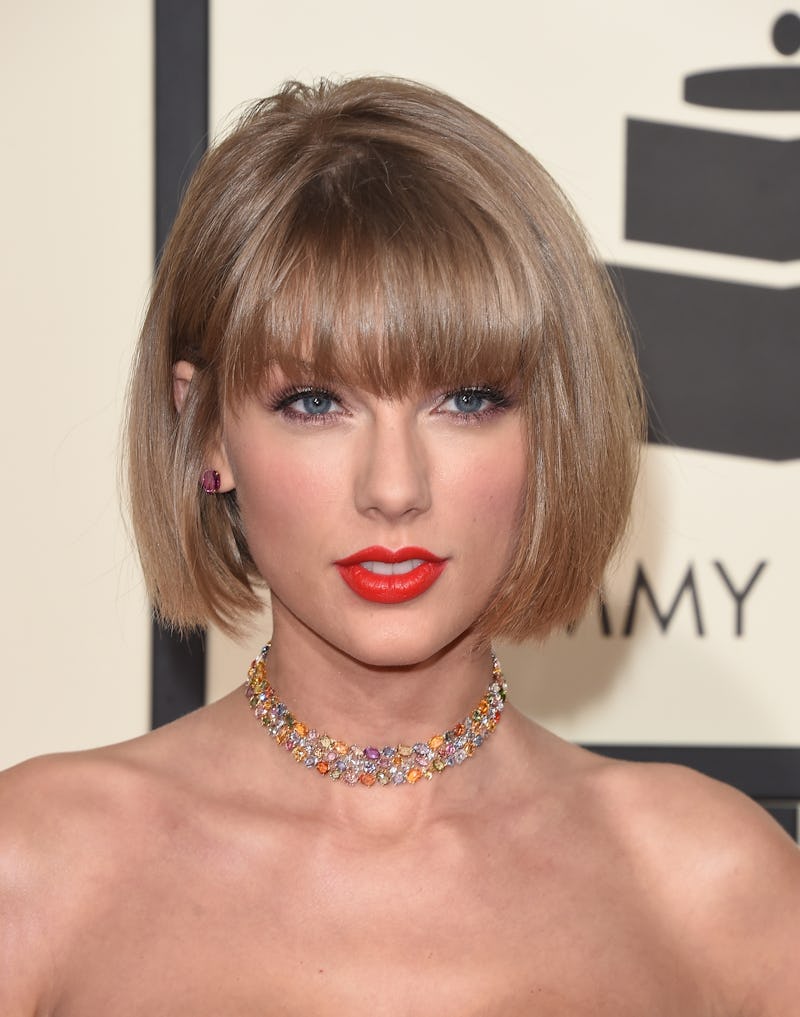 Jason Merritt/TERM/Getty Images Entertainment/Getty Images
Whether she's taking over the place with a gaggle of friends, or simply stunning everyone with her amazing style, Taylor Swift is always one to watch at award shows. In years past, Swift's red carpet looks have run the gamut of sweet and girly, to chic and modern, to totally badass — and everywhere in between. It's always tough to predict what she'll turn up in next, which was why it was a major letdown that Swift skipped the Grammys.
I, for one, really wanted to see what she'd wear, and who she'd bring along. But there was a pretty good reason why Swift (presumably) stayed home with her two cute cats. According to an article on Hello Giggles, "[Her album] Reputation was released on November 10th, 2017. And even though it shattered records for the year after only having been around for less than two months, it's actually not eligible for Grammy consideration." As stated on the Grammys website, only songs/albums/etc. released between October 1, 2016 and September 30, 2017 were eligible for this year's Grammys, so that's probably why Swift found another way to entertain herself on Sunday night.
For whatever reason, Swift has been a bit more absent from our lives than usual, and it's been hard to miss her radio silence on social media. At the time of this article, she hadn't posted on Instagram since January 12, when she reached out to fans to talk about the music video for her song End Game. And the same was true for her Twitter. She has been posting cat pics the past few months, however, and plugging Reputation.
Even though we'll have to wait until next year to watch Swift (undoubtedly) scoop up a few awards, it's not like the singer was completely off the 2018 Grammy radar. Swift was still nominated for "Best Country Song" for Better Man, a tune that recently earned her "Song of the Year" at the Country Music Awards in November, as well as for "Best Song Written For Visual Media" for I Don't Want To Live Forever, a little number she sang with ZAYN for the movie Fifty Shades Darker.
And yet, she didn't appear on the red carpet, as much as we all wished she would. Swift was a total no show, leaving us all to wonder where she was and what she's been doing — especially since this wasn't the first time Swift stayed away from an award show.
At the CMAs last fall, the singer didn't show up to accept her award for Better Man, instead leaving Little Big Town to do the honors. So really, it didn't come as much of a surprise that she skipped out on the Grammys, too. I mean, why get all dressed up now when you can build anticipation for next year, you now?
Until that day comes, let's tide ourselves over with a few looks from Swift's very fashionable past.
At the 2016 Grammys, Swift stepped out in this hot pink skirt and orange crop top by Versace, in what was one of my favorite T-Swift looks ever. This was back when she was really rocking the Anna Wintour bob, and lookin' great doing it.
The year before that, Swift stunned us all in an equally colorful look for the 2015 Grammys. The Eli Saab dress was super special, and looked great against the contrast of her hot pink shoes.
Taking a step back one more year to 2014, we had this glittering gold Gucci dress. Her hair was long and pulled back into a ponytail, and she looked every bit the star.
And then, of course, we had Swift's 2010 Grammys look, when she (clearly) won some awards. 2010 wasn't the first time we saw Swift, and this year won't be our last. The singer will likely be back with a vengeance next year for Reputation, and I can't wait to see what she'll wear.