You're Not Imagining It: Taylor Swift's New Song Sounds Just Like "I'm Too Sexy"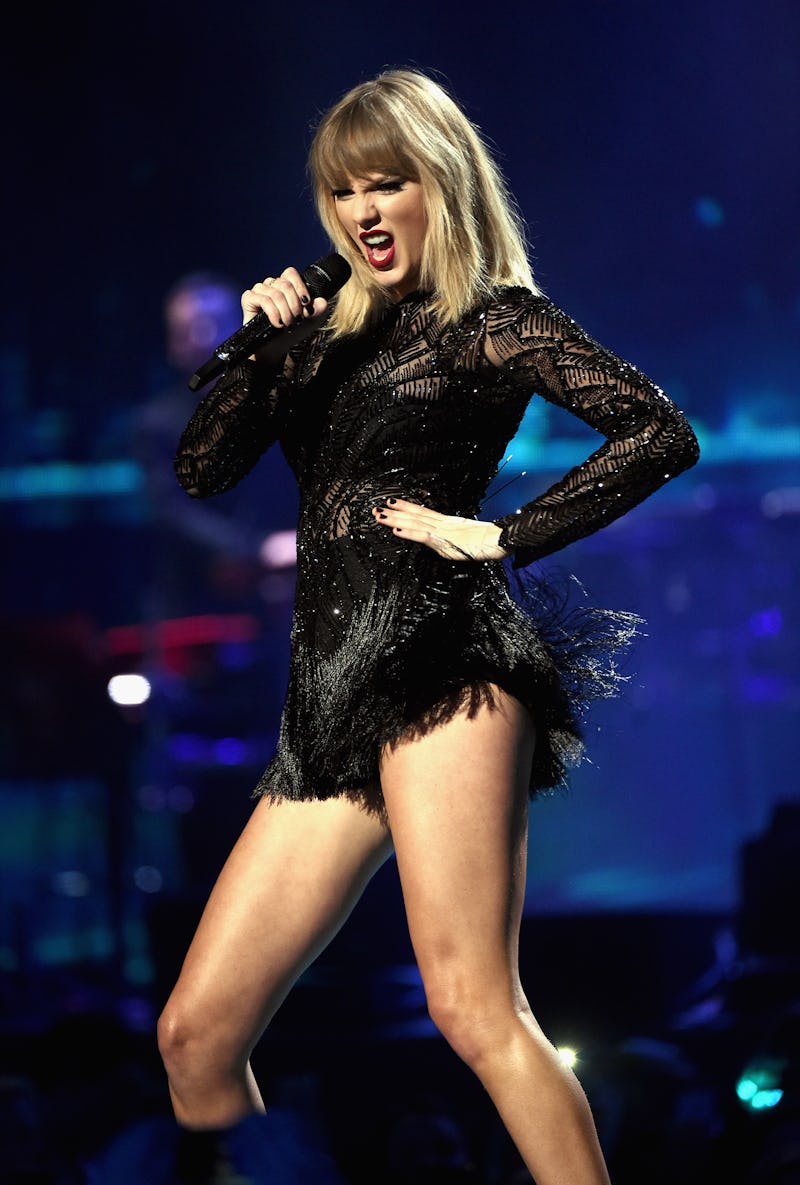 Kevin Winter/Getty Images Entertainment/Getty Images
By now you've likely encountered just about every reaction possible on the musical journey that is Taylor Swift's "Look What You Made Me Do." There's been plenty of good, plenty of bad, and plenty of ugliness in response. One aspect of the song that you might not have discovered yet, however, is that "Look What You Made Me Do" sounds like "I'm Too Sexy," the '90s one-hit wonder by Right Said Fred. And once you hear it, you'll never be able to unhear it, guys.
In addition to following the same rhythmic structure of the song, the chorus of "Look What You Made Me Do" also shares distinct similarities with the chorus from "I'm Too Sexy." Both musically and vocally, the two songs line up so perfectly with each other that a mashup of Swift's song and Right Said Fred's iconic hit has already started to go viral on Twitter.
And it's not just a coincidence. Right Said Fred are actually credited on Swift's song, with a representative for the band telling The Fader, "The boys did not work with Taylor directly. Taylor and her team reached out to the guys about using the track and Right Said Fred were happy to oblige." And, of course they were. What an absolute gift this revelation is. Not just for Right Said Fred but for mankind, in general. I'm currently applauding everyone involved in this decision right now.
As revealed to The Fader, the official word on how "I'm Too Sexy" influenced "Look What You Made Me Do" is that it's considered to be an "interpolation" of the song, rather than a sample of it. So essentially, it's a creative re-imagining of the song. And it's one that absolutely works for the vibe that Swift is selling with it.
It's worth remembering that "I'm Too Sexy" has been considered a raucous anthem since its release in 1991, due to how the lyrics convey a swaggering and boastful ownership of being utterly fabulous. It's a glitter bomb of a song that celebrates the idea of being too extra for everything and everyone. It's a song that ultimately, if ludicrously, presents the idea of reveling in your identity — to hell what anyone else has to say about it.
This makes it the ideal song to act as inspiration for Swift's comeback single during a time when people have plenty to say about her. Amid the speculation that Swift's song may be about Kanye West following their "Famous" feud, the singer has also spent several years at the center of tabloid gossip concerning a rivalry with Katy Perry, and who she is or isn't dating. Like the lyrics of "I'm Too Sexy" suggested, Swift is just kind of shaking her "little tush on the catwalk" of life in response to it all with "Look What You Made Me Do," and it's gloriously audacious.
In a new interview with People, Right Said Fred singer Richard Fairbrass revealed his own thoughts on "I'm Too Sexy" influencing the song and said,
I am more than happy with it. She used the rhythm as much as anything. It's flattering. When we recorded "Sexy" I didn't think it would last more than six months. So to be talking about it 26 years later and a star like Taylor using it and being influenced by it is really flattering. Absolutely flattering.
While the connection between the two songs was admittedly a little strange for anyone to discover (probably even for Right Said Fred), and possibly a little ridiculous, the more you think about it, the greater that decision feels. Sure, it seems silly, but it's actually pretty genius.