Taylor Swift Performed Her Entire Concert In The Rain & I've Never Been More Entertained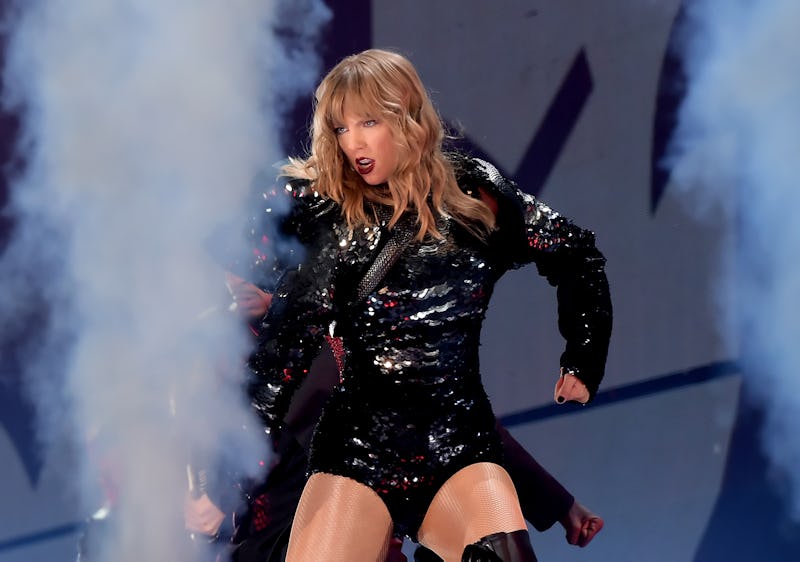 Kevin Winter/Getty Images Entertainment/Getty Images
I fell asleep early on Friday night with the intention of kicking a cold. My entire head felt congested, but I didn't want to miss Taylor Swift's Reputation concert at MetLife Stadium on Saturday, so I figured extra rest would do the trick. Um, let's just say I was very wrong: I'm waking up Sunday with my cold worse than ever — but I wouldn't have it any other way. Swift performed the entire concert in the rain, and it was unlike any show I've ever attended. Based on the singer's own comments and fan reactions afterward, I'm not the only one who felt that way.
It's no exaggeration that it poured for the entirety of Swift's set, just look at the water-filled photo gallery on TMZ to see for yourself. What started as a drizzle during the opening acts Charli XCX and Camila Cabello transformed to a full-fledged rainstorm. Yet the "rain show," as Swift dubbed it, was a whole different ballgame — even compared to when I saw her at the same venue three years prior. As Swift told the packed New Jersey crowd,
"The thing about rain shows is they're very, very, very rare, as far as I've experienced. And this sounds a little weird, but I think a rain show happens to a crowd for a reason. It happens to a crowd that is ready to take it to the next level."
She also threw in a self-proclaimed cliché about how "your real friends show up for you rain or shine," pointing at the audience. Somewhat cheesy, sure, but honestly it's true. Audience members came prepared to see their favorite singer, no matter the circumstances.
Around the stadium, there were ponchos galore, in bright colors and even some with Swift's Reputation album art printed on the see-through plastic. Not only were fans game, but so was the 28-year-old, who made it clear she wasn't going to let the weather get in the way. The irony of her "Fearless" lyric, "With you I'd dance in a storm in my best dress," wasn't lost on Swift, who let the crowd know they were living out those words.
It was especially powerful to witness, knowing her Reputation album is a comeback of sorts after time out of the spotlight following what felt like endless backlash. (Some warranted, of course; some a little harsh.) Her first single "Look What You Made Me Do" tells the tale of a singer scorned, yet songs like "Call It What You Want To" emphasize finding people who like you for you, even at those low points. And her fans epitomized that on Saturday night. Of course, she still has her share of critics, but this concert — and the songs she sang — weren't for them. Maybe they never actually were.
The genuine joy as Swift looked up at the sky and shook her hair around in the rain is something you can't fake, no matter how much people won't let her "surprised" award-show face go. And trust me, after dancing the entire show in the downpour, I know firsthand what a rush it was.
At one point, my friend turned to me with wide eyes and said, "This is a transformative experience." In any other circumstance, that would sound sarcastic, but in this instance, felt super sincere. And after seeing fans on Twitter gush about the same thing, I knew we weren't alone.
Even Swift shared a video on her Instagram Story afterward with an all-caps declaration, "YEP IT RAINED THE WHOLE SHOW," along with an umbrella emoji and hearts.
And as if performing in the rain wasn't enough, Swift made history in the process. According to the Associated Press, she's the first female artist to play three consecutive nights at MetLife.
Oh, and there was one major upside to the storm: It forced people to, for the most part, put technology away. I didn't want to risk my phone getting water damage, so I only snuck in a few quick videos. (Yup, I was more concerned about protecting my iPhone than my sinuses.)
Since we weren't glued to our screens, we got to live in the moment and quite literally shake it off. Pardon that cringe-y pun, but the energy — fans jumping up and down while Swift belted the chorus to that very song alongside her openers Cabello and Charli XCX — was undeniably contagious. And worth every sniffle I'll have the next few days.