Taylor Swift's "...Ready For It?" Could Be A Major Step For Her Rumored Relationship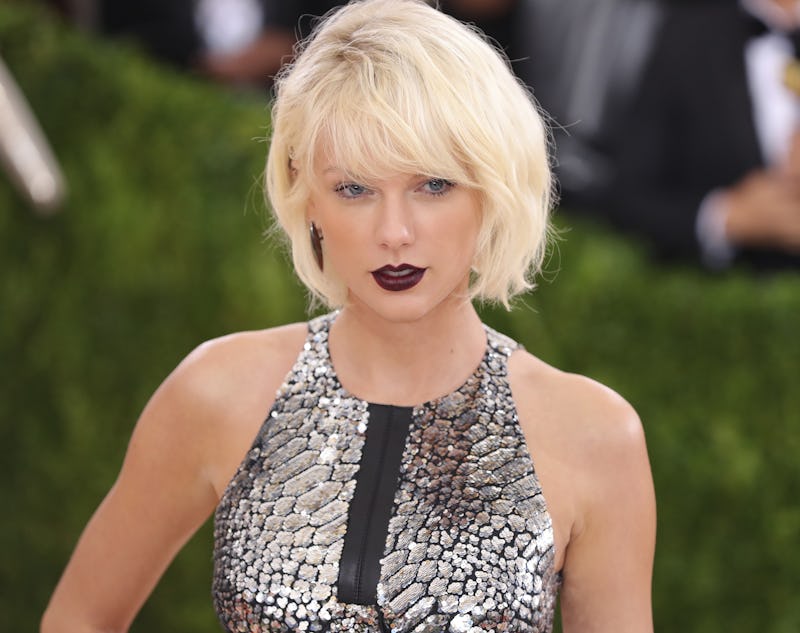 Neilson Barnard/Getty Images Entertainment/Getty Images
Taylor Swift has long used her music to address media scrutiny and criticism. After a couple of turbulent years in the public eye, her forthcoming album, Reputation, seems poised to provide more commentary. Swift's single "...Ready For It?" could be a way to announce relationship with Joe Alwyn, and get ahead of the narrative about her romantic life. Early on in her career, the singer had several high-profile relationships and breakups. As love was a focal point of her music many of these exes made it into her songs and, along with several pointed award show moments, this made her relationships even more public. It wasn't long before the star had a reputation as a "serial dater", and it's a criticism she's addressed in interviews and her work before. However, on this new release, she seems determined to get ahead of the narrative. On the latest single "...Ready For It?", Swift may have revealed her latest relationship before fans and critics had a chance to weigh in.
When the new single premiered late on Saturday, Sept. 2, theories about its content immediately started online. The most popular and credible is that the track addresses Swift's relationship with British actor Joe Alwyn. The two stars were rumored to be dating in May, and in June sources confirmed to E! News that the singer was making undercover trips to visit Alwyn at his home in London. The couple is reportedly still together, but will continue to keep their relationship private. No matter how much the two stars shy away from the spotlight, it won't stop the media obsession with Swift's romantic life. It's possible that the star is using "...Ready For It?" to address her new relationship and stop any further rumors in their tracks.
In "...Ready For It?", Swift addresses her reputation as a heartbreaker, but also looks to a different future. The lyrics describe a relationship that is unlike those in the past, and there are several clues that she is singing about Alwyn. It's possible that she wanted this song to show an awareness of the controversial relationships of her past, while asserting that this romance can't be subject to the same scrutiny. For Swift, time is the main reason that her relationship with Alwyn is unique. In the chorus of the song, Swift sings,
"In the middle of the night
In my dreams
I know I'm gonna be with you
So I take my time"
In this portrait of their relationship, Swift seems confident in its success and plans to move slowly.
According to an E! News report from June, the Reputation singer wanted to take things slow. After her short-lived relationship with Tom Hiddleston became the subject of criticism and ridicule online, it's understandable why she would want future relationships to remain low-key. Unlike past romances, the star made every effort to keep her time dating the British actor secret. "She is very protected and is trying to peddle slow with this," an unnamed source told the publication. "When she's ready, she'll talk about it. Don't expect this to play out like her other relationships. She's taking it seriously and keeping her private life separate." With "...Ready For It?", Swift does seem "ready" to discuss the romance, but only on her terms.
Unprecedented privacy has also played a role in Alwyn and Swift's relationship. Neither star has commented on their romance publicly, and an official announcement isn't likely to be in the near future. Instead, the singer offers what might me a confirmation of the relationship, and a small glimpse into her feelings, through her music in "...Ready for It?". Most of what is known about Alwyn and Swift's relationship is rumored, and this gives the singer the opportunity to shape the narrative. The only true, confirmed details about their romance are going to come from Swift and her music directly.
Given the singer's much gossiped about dating history, it would be difficult for her to pursue a relationship without facing speculation and assumptions from the media. If this latest song is about Alwyn, it's a chance for Swift to manipulate the public perception while the couple still have a semblance of privacy. It's not surprising that the actor, whom she dated throughout recording her record, would become a muse, but this song shows that he might have provided more than inspiration. It gives Swift the chance to take back control of the narrative about her dating life.