Teddy Geiger & 'Schitt's Creek' Star Emily Hampshire Just Announced They're Engaged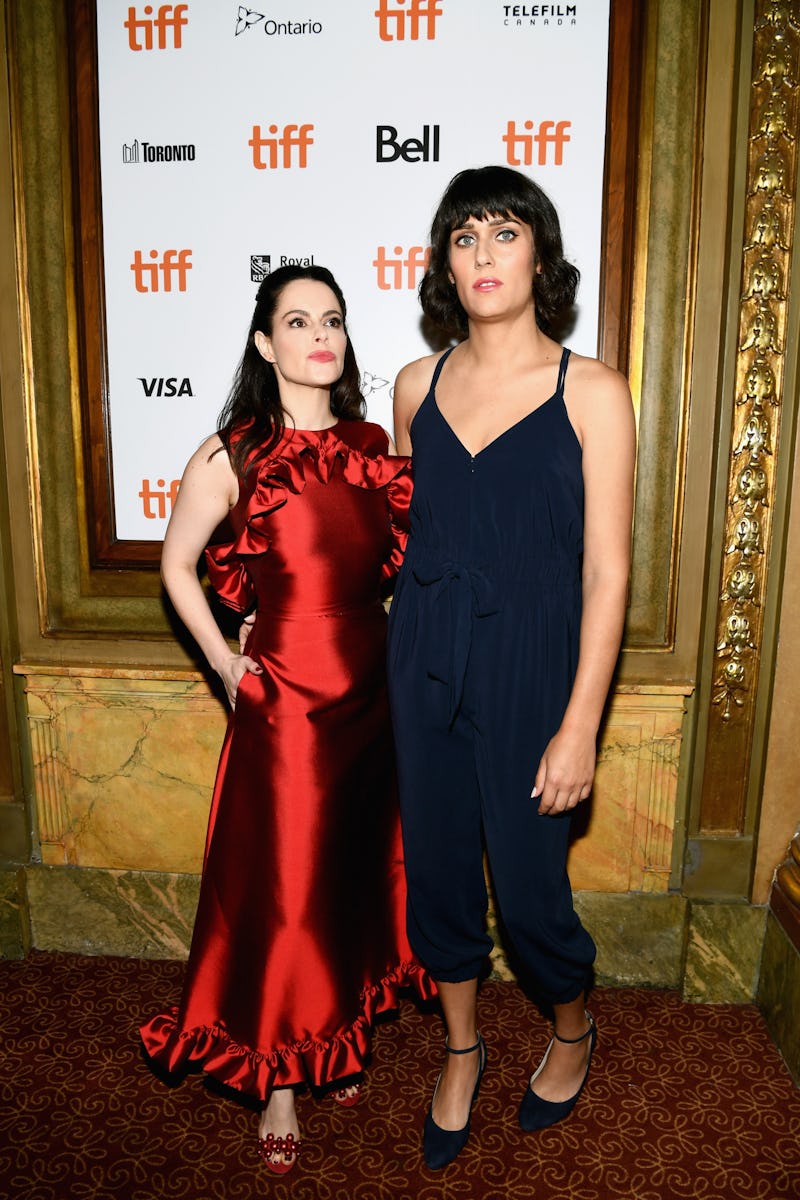 Emma McIntyre/Getty Images Entertainment/Getty Images
In news that's simply the best, singer-songwriter Teddy Geiger and Schitts Creek actor Emily Hampshire are engaged. The couple announced their engagement on Hampshire's Instagram account on early on November 10. Accompanied by a series of cute photos that are mostly Geiger's reaction, Hampshire wrote a caption that's emotional and dry enough to make Stevie Budd proud:
"#shesaidyes 😍💍 ...& she cried, then she made a video, then she posted it on insta and was glad she got her nails done today. My millennial girlfriend is now my millennial #fiance & I feel like the luckiest girl in the world. 😍❤️"
To be fair, Hampshire is 37, which makes them both technically millennials. She's just on the older range of it, and Geiger, at 30, is right in the middle. True to millennial form, though, Geiger had a lot more to say about their engagement online. She joked that at least one of those was her mom's fault:
"My mom said I had to post another one of the ring cuz it's so pretty and she said I made it look "trashy" cuz I had my "tongue stickin' out" so here is a super classy pic"
In her mom's defense, the ring is gorgeous, her manicure looks great, and it's all-around the best celebrity engagement story of the year.
Ever the younger millennial, Geiger announced the engagement with several posts on Instagram. Next to a photo of the two cuddling in bed, the singer wrote:
"I love this woman so much she treats me like a lil princess and makes me laugh harder than anyone. I am so f*cking happy to wake up next to her every morning and fall asleep next to her every night and take care of our lil B.B. stumbs together."
Could anything be more precious? It's a surprise that these two lovebirds manage to fly under most people's radars.
To be fair, they didn't give the world much notice: After posting silly photo booth images of the two of them on August 26, Hampshire only referred to Geiger as her girlfriend on August 30. That means fans have barely had two months to dig up all the good stuff about their love story! That said, Geiger is active on Instagram, showing off photos, magazine shoots, new work, and of course, Hampshire. So if anything, fans of their relationship needed a crash course in how this all happened — or at least a warning — before they made their amazing weekend announcement.
Hampshire, who is Canadian, has more of a cult following than Geiger. So it's okay if you don't recognize her at first! She's been on CBC/Pop TV series Schitt's Creek since 2015, where her biting sense of humor and ongoing banter with costar Dan Levy have made Stevie one of the show's most beloved characters. Her relationship to Levy's David also lead to this incredible metaphor for pansexuality. (If you're still not watching Schitts Creek, get on that! Four seasons are on Netflix, and if you're in Canada, Season 5 is premiering pretty soon.)
The couple has been together for at least a few months; they only confirmed their relationship at the end of August. Since then, though, they've been almost unbearably cute together, with each one posting gushing Instagram tributes to the other and generally being what true modern love looks like. They've also attended one or two red carpet events as a couple already. It's obvious that Hampshire surprised Geiger with the ring, but they're definitely meant to be.