Taylor Swift Is Coming For Kanye West With This Super Sneaky Lyric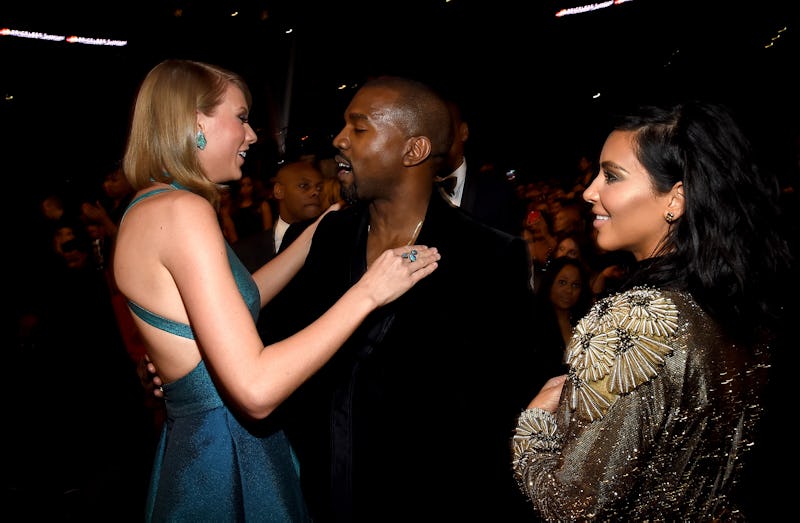 Larry Busacca/Getty Images Entertainment/Getty Images
Ever since Taylor Swift dropped the art for her upcoming, highly anticipated album, Reputation, speculation has been rampant. Will it be about the accusations of fake feminism? The fact that she was silent during the 2016 election? Her feud with Katy Perry? With Kim Kardashian? With Kanye West? Well, the apparent Kanye lyrics In "Look What You Made Me Do," Swift's first single off the new album, should clear up at least part of the mystery. In the first verse, Swift sings, "I don't like your little games/Don't like your tilted stage," a possible reference to the Saint Pablo Tour set design. West's most recent tour featured a stage that floated and moved above the crowd, and, yes, it did tilt.
When Swift released the trilogy of snake body videos earlier this week, it seemed like a hint as to what was on the horizon: a response to those who have come for her in the past, those who have been at odds with her, and, of course, those who have called her a snake. Unless you happen to be an emoji of a slithering reptile who has been hiding under a rock since 2009, you know that West and Swift have been on-again, off-again enemies for almost a decade.
Swift doesn't come right out and say West's name, but, uh, she doesn't really have to. Who else has a "tilted stage" and an incredibly public, long-running feud with Swift? Thanks to that "Don't like your tilted stage" line, it's hard to not hear the rest of the scorching track as something that's directed at West; just about every line sounds like a dig that could be a response to their ongoing tension.
Yeah, that line be nothing more than a coincidence. However, that would be a very weird and very specific coincidence. And Swift is known for coming for her enemies even without naming names.