The 10 Korean Beauty Trends Experts Predict Will Be HUGE In 2018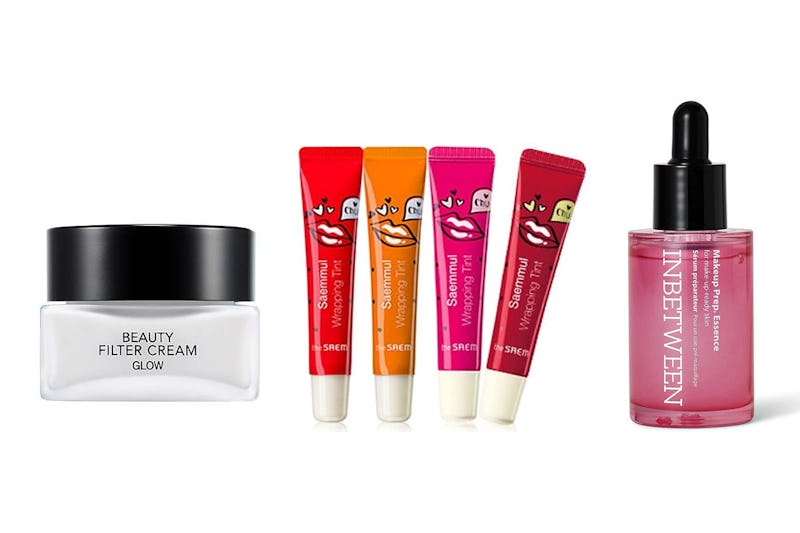 In the world of beauty, it's pretty much common knowledge that Korea is leading the industry when it comes to product innovations. From BB creams to bubbling oxygen masks, Korean beauty is responsible for some of the most game-changing, albeit head-scratching makeup and skin care goodies that have come onto the scene over the last decade.
Back in 2015, The Cut reported that beauty goods were poised to become the country's biggest export, rivaling technology and automobiles. They were right. Yonhap, a Korean news agency, reported in 2017 that South Korea-made cosmetic exports had increased 10-fold over the past seven years. According to the article, the country exported $4.18 billion worth of makeup products in 2016, compared to $451.15 million in 2009. It seems Americans (along with everyone else) just cannot get enough of what Korean beauty has to offer, and in 2018, things will be no different. Bustle spoke with some of the leading Korean beauty experts in the United States to see what trends will be huge this year in Korea, and as a result, likely in the rest of the world as well.
These women spend nearly as much time in Korea as they do back home in the United States, not only trying to source products for their businesses, but to also learn what the latest and greatest discoveries are in the world of Korean Beauty. Soko Glam's Charlotte Cho, Glow Recipe's Sarah Lee and Christine Chang, and Peach & Lily and Peach Slices' Alicia Yoon share their thoughts on what Korean beauty skin care and makeup trends we should be looking out for this year.
1. Products Focusing On Repairing & Protecting The Skin Barrier
SoonJung 2x Barrier Intensive Cream, $18, Soko Glam
"The skin barrier will be a big focus for 2018, as a way to keep skin healthy, hydrated, and youthful," says Charlotte Cho, co-founder of Soko Glam. Your skin barrier is the outermost layer that works to protect from environmental damage and if taken care of, can keep your skin healthy, moisturized, and strong. She predicts that products like the Etude House Barrier Cream or the Acwell 5.5 Bubble Free Low Ph Cleanser will be popular because they will not strip your skin of its natural oils or compromise your skin barrier, unlike other products that can be too abrasive or harsh, causing irritation, dehydration in your skin, or breakouts.
2. Products That Can Deliver Clinical Results
No. 15 Serum, $140, Peach & Lily
Peach & Lily and Peach Slices founder and curator, Alicia Yoon, expects products that "provide intensive and powerful experiences that one might only previously have gotten during a treatment at the dermatologist's office" to be huge in 2018. The Meso Ampoule is an example of this because its formula has technology that mimics micro-needles (causing little tears in your skin) that help stimulate collagen production and deliver products deeper into the skin. "People say [it] 'reminds them of derma-rolling in a bottle'' Yoon explains, referencing the recently popular trend of using a handheld device with small needles to prick the surface of your skin, which encourages collagen growth in order to repair it.
3. Skin Care-Infused Makeup
"Skin care for makeup hybrids are exploding in 2018," says Glow Recipe's co-founder Sarah Lee. Charlotte Cho agrees. "In 2017, we saw the emergence of 'tone-up' beauty products, which are products that help brighten your overall complexion. In 2018, we'll see more products that are the intersection between makeup and skin care," Cho adds. Think: foundation with hyaluronic acid and sunscreen, skin care that acts as a makeup primer, or lipstick that nourishes and repairs your pout while you wear it.
BLITHE InBetween Makeup Prep Essence, $38, Glow Recipe
Glow Recipe recently launched Blithe INBETWEEN, a skin care line that "works to nourish and protect skin on their own, yet create the perfect canvas for flawless makeup application," says Lee. The brand has a Makeup Prep Essen​c​e that creates a sheer, nourishing, and protective barrier between your makeup and skin, as well as three priming creams that add radiance, even out your skin tone, and smooth the texture of your skin.
SON & PARK Beauty Filter Cream Glow, $32, Soko Glam
Soko Glam carries a similar "skin perfecting cream," — Son & Park Beauty Filter Cream — that will hydrate, prep your skin for makeup, but also "blur out imperfections and create a highlighter effect," Cho explains. "It contains pearl extracts to brighten your overall complexion, and lily and other flower extracts for hydration!"
In addition to skin care-infused makeup products, Lee has also noticed SPF skin care hybrids popping up, which should come as no surprise since protecting skin from the sun is a huge priority in Korean beauty. "We're seeing innovative clear SPF formulations that blend in seamlessly with all skin tones, like our Make Prem Blue Ray Sun Gel, as well as new SPF skin care hybrids. These include new hybrids like SPF essences and SPF ampoules."
4. Next-Level Sheet Masks
JJ Young Mud Sheet Mask, $4.99, CVS
Sheet masks have become synonymous with Korean beauty, so it only makes sense that the next generation of the beloved skin care product would be bigger and better than before, meaning it can do more than just moisturize or detox your skin. Take this mask from Skinesque, for example, which comes with a cleanser and a collagen-boosting essence, in addition to a hydrating sheet mask. This dry mask from Peach & Lily can be worn to sleep and has the benefits of a hydro-gel mask (to moisturize) and a velvet sleep mask (to sooth anxiety) in one. According to Yoon, sheet masks that are "next-level," like these, will start popping up on beauty shelves everywhere, including your local drugstore.
5. Skin Care Products That Heal Your Skin
"Skin care is the new makeup, with naturally glowing skin being the 'ideal finish,'' Lee tells Bustle. "We're seeing more emphasis on taking care of and healing the skin with the right products versus covering up imperfections with makeup."
MAKE P:REM Cicapro Cream, $37, Glow Recipe
Lee's partner, Christine Chang, echoes her sentiment. "We're also seeing cica creams that are infused with centella asiatica (an Asian medicinal herb) being widely developed in Korea as people are more focused on healing and calming skin, not just hydrating." Chang and Lee love Make Prem's Cicapro Cream because it soothes and calms irritated skin, while also providing deep hydration.
6. Peel-Off Products
The Saem Saemmul Wrapping Tint, $6.99, CVS
Peel-off tattoo products took the beauty world by storm in 2017 and will continue to be very popular for the convenience factor, says Alicia Yoon. Try the drugstore Saemmul Wrapping Tint by The Saem if you want to give your lips a long-lasting, vivid lip hue, a look that is super popular among Korean women.
7. Using Skin Care Products To Highlight Skin
Gold Apricot Pressed Serum, $49, Glow Recipe
"2018 is all about natural, glowing skin, so we're seeing a huge boom of strobing with skin care, rather than with a traditional highlighter," explains Christine Chang. "We've seen makeup artists on set use products like pressed serums to hydrate and add a sheen to key areas like the cheekbones and cupid's bow, creating a glowy — not shimmery — highlighter effect with the dual benefit of treating the skin​." Unlike liquid serums, pressed serums absorb more easily into the skin, melting like a balm and locking in hydration for a dewy, translucent look.
8. Skin Care Products That Combat Pollution
According to Alicia Yoon, products that are geared towards combating pollution is super key in 2018. "Many studies are showing that many pollutants are small enough to penetrate deep into our skin's deepest layers and wreak havoc on our skin's health," Yoon tells Bustle. K-Beauty fans can expect to see a lot of products packed with antioxidants and anti-inflammatory ingredients that are geared towards repairing damaged skin caused by poor air quality and other airborne pollutants.
Dual Mist Toning Lotion, $28, Peach & Lily
"I love Olivarrier, as the entire brand is all about soothing skin, repairing the skin barrier, fighting free radicals — basically, everything that your skin needs help with when surrounded by pollutants," says Yoon.
9. Portable Skin Care
WHAMISA Mini Moisturizing Daily Mist, $15, Glow Recipe
Portable, skin care you can throw into your purse or backpack is ​becoming a bigger category for 2018, says Christine Chang. "Just as you would always keep lipsticks and compacts in your purse for makeup​ touch-ups throughout the day, compact skin care products are becoming a necessity for 'skincare-ing' everywhere for a natural glow 24/7," she explains. Look out for compact daily face mists, toning sticks, and SPF cushions.
10. Acne Solutions That Don't Involve Chemicals Or Drugs
Peach Slices Acne Patches, $4.49, CVS
Korean beauty fans' interest in natural beauty products continues to grow. According to Alicia Yoon, acne solutions that don't involve drugs are particularly popular, like the award-winning Peach Slices Acne Spot Dots and the Peach Slices Citrus Honey Aqua Glow, both of which aim to help acne disappear faster. In place of drying, harmful chemicals, natural Korean anti-acne products will have ingredients like Vitamin C, honey, probiotics, and clay or mud.
Feel like stocking up on more Korean beauty products? Here are 23 products Amazon reviewers swear by.