The 'Real Housewives' Franchise Just Cast Its 100th Housewife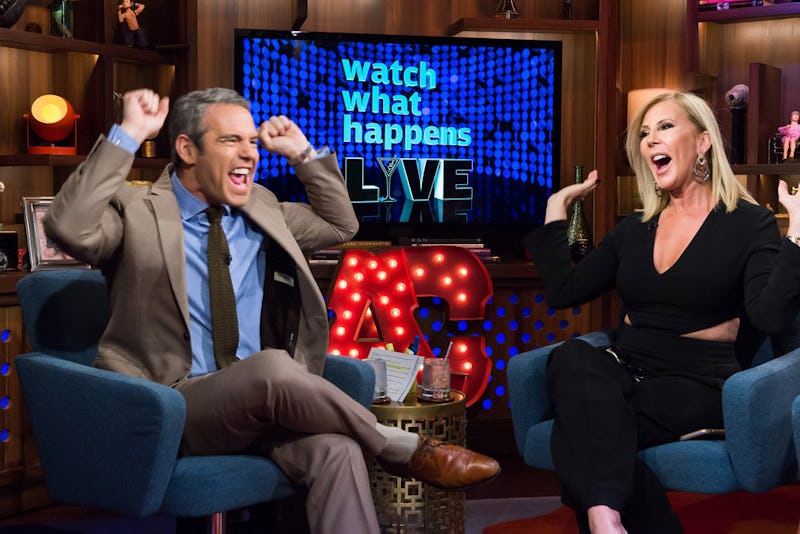 Charles Sykes/Bravo
The Bravo franchise that first became a household name in 2006 with the Real Housewives of Orange County will soon make a major announcement. The 100th Real Housewives star has been cast, Andy Cohen told Entertainment Tonight. "One of our researchers at Watch What Happens Live has been counting all of the Housewives in history and he realized that we're up to our 100th," the WWHL host revealed. "We're excited about the announcement!"
Can you believe there have already been 99 Housewives? So many of the women are repeat offenders that it doesn't even seem possible that fans have seen 99 different faces throughout the course of the franchise. Although, there have been many forgettable faces. Many Housewives have come and gone quickly after only one season, so it's understandable why you may not recall everyone who's been involved in the drama. Plus, when the same Bravolebrities continue to return season after season, it doesn't ever seem like you're seeing "new Housewives."
It's unclear which city the 100th Housewife will be joining, but it could very well be RHOC Season 12, especially since it's set to premiere in the summer. Whatever city will welcome her, it only seems appropriate to tally how many Housewives have been a part of each series. Oh, and of course, to list some of the franchise's stars you probably forgot about over the years.
Real Housewives of Orange County: 18 Housewives
Peggy Tanous
She joined during Season 6 and had a lot of history with Alexis and Jim Bellino.
Quinn Fry
Quinn loved dating and meeting new men Season 3. Oh, yeah, she also once sported that blonde wig.
Kimberly Bryant
She's an original Orange County Housewife who battled skin cancer and raised awareness for the disease.
Tammy Knickerbocker
She first came on in Season 2 and stayed through Season 3. You might remember her best for being a single mom, who was dating Duff Evans. Sadly, after the Season 2 finale, Tammy's ex-husband and father of her two eldest daughters, died from a heart attack.
Real Housewives of Atlanta: 12 Housewives
DeShawn Snow
DeShawn only appeared in Season 1 and always tried to keep everyone cool during the more dramatic moments.
Lisa Wu
Wu somewhat made a name for herself in the first two seasons. Now, you may know her for her famous exes, singer Keith Sweat and former NFL player Ed Hartwell.
Real Housewives of New York City: 15 Housewives
Cindy Barshop
Cindy became a Housewife in Season 4, aka the season after Bethenny Frankel left. She didn't last long, but at least she got to experience that Morocco trip.
Real Housewives of New Jersey: 12 Housewives
Teresa Aprea & Nicole Napolitano
These twin sisters came on in Season 6, which was RHONJ's worst season to date. It was the season Dina Manzo returned, but it also made for a disappointing one.
Amber Marchese
There's no doubt Amber couldn't stay away from the drama and all of her tears, but she also didn't help make her season that exciting.
Real Housewives of Beverly Hills: 15 Housewives
Joyce Giraud
In Season 4, Joyce (not "Yoyce," like Brandi Glanville always called her) just couldn't find her footing to become a Housewife for more than one season.
Carlton Gebbia
During her Season 4 stint, Carlton wasn't afraid to talk about her life as a Wiccan, discuss her sex room, or get into epic fights with Kyle Richards.
Real Housewives of Miami: 10 Housewives
Larsa Pippen
Yes, Kim Kardashian's friend Larsa Pippen was a Housewife in Season 1. Who knew?!
Cristy Rice
You probably don't recall Cristy, because she only was featured in Season 1. That said, she managed to stir up some drama during her short-run as a Housewife.
Karent Sierra
Karent joined Season 2, where she just couldn't seem to get along with Adriana De Moura and Alexia Echevarria.
Ana Quincoces
Ana may have only appeared in Season 2 of RHOM, but she didn't hold back in her one-liners — or her fights with fellow cast member Lea Black.
Real Housewives of D.C.: 5 Housewives
RHODC was so bad, which is why it only lasted for one season. Really, all of the Housewives, Mary Amons, Lynda Erkiletian, Cat Ommanney, Stacie Scott Turner, and Michaele Salahi are forgettable. However, how will anyone ever forget when Salahi and her former husband reportedly "crashed" a 2009 White House state dinner?
Real Housewives of Potomac: 7 Housewives
After two seasons, everyone from RHOP has been pretty memorable so far.
Real Housewives of Dallas: 5 Housewives
A second season of RHOD is coming soon, so with only one season of Housewives, it's not that hard to remember the Season 1 cast.
Who else is ready for Housewife no. 100? Here's hoping she brings both the drama and the entertainment.