The 11 Funniest Photos Of Paris Hilton & Kim Kardashian In The 2000s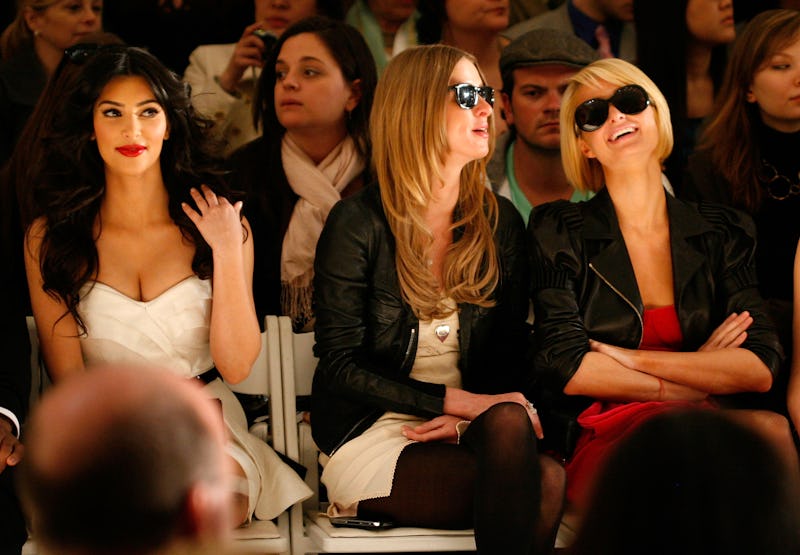 Amy Sussman/Getty Images Entertainment/Getty Images
It's hard to remember a time before Keeping Up With The Kardashians, but at least the internet has proof. After The Simple Life ended, but before Kim Kardashian broke out as a superstar, there was a pocket of time when Paris Hilton and Kim Kardashian were seemingly inseparable. That's never been more obvious than in these 11 funniest old photos of Paris Hilton and Kim Kardashian, which are like the ultimate time capsule. Every early-aughts California celebrity trend is on full display here. From oversized necklaces to oddly buttoned-up (literally!) blouses, if it was rockable in 2006 or so, the hotel heir and and her former assistant-slash-stylist rocked them hard.
For a few years, it seemed as if things had cooled between Paris and Kim, but the two are now at a point where they can happily reminisce about their goofy pasts. While websites love to collect their wackiest looks, it's always fun to watch the two reflect on their time together. The mid-'00s were a time of bedazzled phones, bootcut jeans, lingerie-inspired tops, and so much side bang.
Together, let's revisit some of the funniest pictures of Kim Kardashian and Paris Hilton. As the great Hilton once said, "That's hot." Whether she still thinks so today is anyone's guess.
1. Please Look At These Matching Beach Looks
A picture is worth a thousand words, as the saying goes. This mid-'00s stylish beach-fest is worth roughly a million. (White Louis Vuitton-branded bikini top are just six of them.)
2. Hanging Out With Friends
Those dresses are so, so mid-2000s. Just a magical moment hanging out with friends in the aughts.
3. All Smiles
Best friends with matching smiles at an event.
4. All 4 Of These Vacation Photos Shared By Paris Hilton Herself
Each one needs to be preserved and hung in a museum for all eternity. Even Kim K responded on Twitter, commenting "Best Trip!"
5. The Friends That Text Together, Stay Together
How was it allowed that Kim K could use a Sidekick while Hilton worked a Blackberry? Remember when people had Sidekick and Blackerry phones?
6. This Fashion Show Picture
It's like Kim and Paris are dressed for (and attending) two separate events. Kim K is glammed up, with big hair and a cocktail dress and a lovely red lip. Paris, meanwhile, is wearing sunglasses seemingly indoors, and appears more casual. They're not watching the same thing, either!
7. Whatever The Real-Life Version Of This Fan Photo Is
The GIF is hilarious enough on its own, but the actual picture this fan took would be so, so funny to see in real life.
8. A Normal Costumed Car Hang, Very Normal, Nothing To See Here
It is legitimately difficult to tell what's going on with their outfits. When paired with Paris' breaded headband hairstyle, it's even more difficult to understand. Were they headed to a renaissance-era event, or from one? Why is Kim dressed like Titania from A Midsummer Night's Dream ? Maybe it's best to just move on.
9. More Amazing Mid-2000s Fashion
Look at how amazing these dresses are. How times have changed.
10. That Time They Appeared On A Las Vegas Red Carpet Together
This was just short of peak Bandage Dress-era Kim, but still can't quite explain why they're dressed so casually or attending an event sponsored by the likes of the "LA Car Guy Family of Dealers."
11. The Foot Rub Picture
You knew this one was coming. Keep your friends close, your enemies closer, and your frenemies close enough to rub your feet but in a supportive way where later you end up helping their husband promote his new fashion line.
The friendship, falling out, and reunion between Paris Hilton and Kim Kardashian is something of modern pop culture legend. The glow up was real, but their bonds were even more so. It's hard to believe how long fans have known their names! Here's to more than 20 years of friendship, and more than 20 more, and who knows what sort of amazing looks or pictures people will be checking out in the future.