Paris Hilton Posed As Kim K & These Fan Reactions Will Take You Right Back To 2006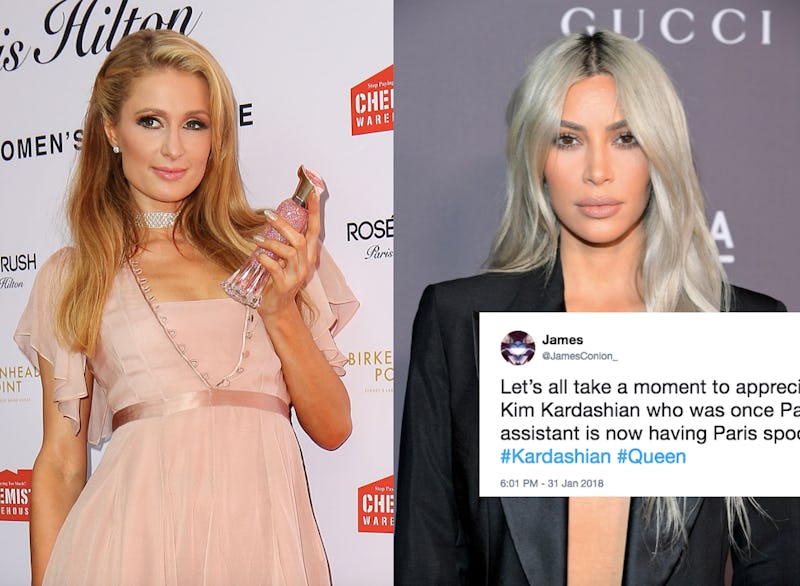 Lisa Maree Williams/Getty Images Entertainment/Getty Images; Charley Gallay/Getty Images Entertainment/Getty Images; JamesConlon_/Twitter
The unveiling of Kanye West's YEEZY Season 6 fashion line came as a huge surprise to fans who awakened on Wednesday to find photos of Paris Hilton dressed as Kim Kardashian flooding their social media timelines. Upon seeing the snapshots, the internet took no time at all to chime in with tweets and memes about Hilton and Kardashian's friendship. Some of these fans' hilarious reactions will transport you back to the times when the phrase "that's hot" was actually hot.
Unconventional to say the least, West opted to roll out his YEEZY S6 collection as sort of an homage to Kim K, enlisting the help of a few famous friends to dress as his reality star wife. In a series of paparazzi-inspired photos, which were shared via Instagram, familiar faces such as Jordyn Woods, Amina Blue, Abigail Ratchford, and Sarah Snyder recreated some of Kardashian's most iconic looks of 2017. Each and every one of the participants was amazingly cloned into blonde-haired versions of the new mother of three. However, it was the appearance of Kardashian's former bestie Hilton that caused fans to completely freak out, given the history of their well-documented, and often estranged, relationship as friends.
Sharing their overwhelming feelings — which ranged from joy and shock, to disappointment and amusement — fans couldn't seem to get enough of West's decision to cast Hilton in his latest clothing campaign.
1. Oh, How The Tables Have Turned
Honing in on how quickly things have changed for both Kardashian and Hilton, one commenter couldn't help but classify the moment as the "gag of the century."
2. It's Just Too Ironic
This fan seems to be overjoyed that Kardashian and Hilton are still friends, but can't help to point out the "irony" of "Paris being one of the Kim clones."
3. You Can't Do Anything But Laugh
Another social media reactor used a meme to express their thoughts about Hilton's appearance.
4. It's A Two-For-One Deal
Sharing their thoughts on the photoshoot, this fan called the move both "hilarious and genius" at the same time.
5. Who Needs A Runway?
This viewer seemed to enjoy the new YEEZY campaign, using a meme to shade Kim K and Hilton's rumored issues as friends.
6. Let's Talk About It
One fan wants to discuss the greatness of Hilton as Kardashian.
7. The Plot Thickens
Another Twitter fan didn't quite expect this outcome for Kim K and Hilton's relationship.
8. Life Is A Mystery
This fan can't get over how things have changed for both women.
10. You've Got To Appreciate It
Meanwhile, another fan just wants to revel in the moment.
Shortly after the photos spread, Kardashian shared a tweet that seemed to signal that she and Hilton were officially on good terms. Along with a photo of Hilton decked out in YEEZY's latest attire, she tweeted, "The OG @ParisHilton #YEEZYSEASON6"
As you may recall, there's been tension between the two in the pst, which included digs from Hilton, who reportedly referred to Kardashian's famous derriere as "cottage cheese inside a big trash bag" during a 2008 radio interview. Plus, Hilton became visibly upset when questioned about Kardashian during Good Morning America back in 2011, ultimately walking out of the interview after being asked if she felt like she was being "overshadowed" by her former friend.
Then in 2015, Hilton praised Kardashian, though still seemingly throwing a little shade into her comments, telling Yahoo Style,
"We've known each other since we were little girls, we've always been friends, It's nice to inspire people. I'm really proud of her and what she's done."
In light of it all Kardashian, who once worked as Hilton's closet organizer and personal assistant, has always managed to laugh things off, rarely ever mentioning Hilton's name. For what it's worth, the world basically has Hilton to thank for the initial introduction to Kardashian. Their largely photographed outings began to push the then-unknown personal shopper into the focus of paparazzi throughout 2006.
Some of those very moments presumably helped to set the stage for Kim K and the entire Kardashian family's monstrous careers in fashion, beauty, and entertainment. Just months after Hilton's reality show with pal Nicole Richie The Simple Life was canceled in 2007, Keeping Up with the Kardashians premiered and the rest is pretty much history.
Though complicated, it seems that the relationship between Kardashian and Hilton is now on the mend, given the latter's willingness to participate in this social media "fashion show." Fans will have to keep their fingers crossed to see if there will be more collaborations between Kardashian and Hilton in the future.