It Looks Like Paris Hilton & Kim Kardashian's Friendship May Be Back & Better Than Ever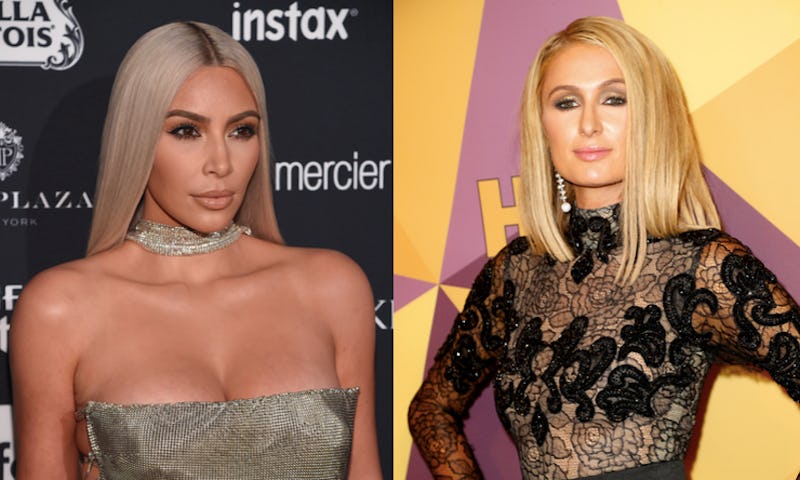 Dimitrios Kambouris/Getty Images Entertainment/Getty Images; Frederick M. Brown/Getty Images Entertainment/Getty Images
Believe it or not, there was a time when Paris Hilton was the most famous reality star of them all, and Kim Kardashian was her assistant/closet organizer. These days, Kardashian is the undisputed queen of reality TV, and she proved it once again when Hilton dressed as Kardashian to promote Season 6 of Kanye West's Yeezy line. The photo gave people serious nostalgia, and now the question social media can't stop asking is: Are Hilton and Kardashian friends again? The answer to that question is a firm maybe.
Once Kardashian's star surpassed that of Hilton's, the childhood BFFs seemed to be officially over. Kardashian rarely ever mentions Hilton, and when Hilton mentioned Kardashian... well, it was usually less than nice. It seemed as if these two socialites had gone their separate ways, but in this post-Yeezy photo shoot world, anything is possible.
Since Hilton posed as a Kardashian clone, she's shared two social media posts aimed at her old pal. In one, Hilton is seen rocking a tracksuit from Khloé Kardashian's Good American line. Hilton captioned the photo,
"This is the sexiest tracksuit I've ever had! Loves it @KhloeKardashian."
Did Kardashian send Hilton the tracksuit as a thank you gift for taking part in West's latest Yeezy roll-out or is the former star of The Simple Life simply sharing how much she loves the outfit? (For what it's worth, Hilton sent out a tweet suggesting Khloé sent the tracksuit to her.) There are so many moving parts to this maybe reconciliation.
One thing is certain, Kardashian's team definitely sent Hilton a PR box containing a bottle of her perfume. Again, it's slightly impersonal — if it's a PR box as Hilton says in her tweet, then lots of celebrities probably received the same item. Nothing about it screams that Hilton is going to be stopping by Keeping Up With the Kardashians soon, but it could point to these two at least being open to the possibility of being part of each other's lives again.
Seeing Hilton dress up as Kardashian is such a major role reversal from their old dynamic that it's hard not to hope the photos mean these two are on a path toward becoming friends once more. One thing is certain, their '00s relationship would need to undergo a major update. After all, Hilton and Kardashian weren't just friends — Hilton was Kardashian's boss, and at times she used her position to exclude the woman who would one day run her own empire. (Remember when Hilton and Nicole Ritchie wouldn't share a revolving door with Kardashian? Because that is a thing that actually happened.)
These days Kardashian is very much in-demand, and she's not going to be organizing anyone's closest unless she just really has the urge to rearrange dresses. On the other hand, Hilton isn't necessarily in the spotlight as much as she used to be. Now that their situations have seemingly been swapped, does Kardashian have room to welcome Hilton back into her inner circle? These two women have a whole lot of history, but not all of it's good.
Despite all of the reasons why Hilton and Kardashian might be destined to simply be acquaintances these days, there's no harm in hoping they become friends again. Although, this time around, it would be nice to see their friendship rooted in mutual respect, because at this stage in her life, there's no way that Kardashian is going to let anyone boss her around. If Hilton can accept those terms, then maybe these two can get together and party like it's 2006 again.
Just remember, whether they're friends again or not, no one can take away the glorious photo of Hilton being a Kardashian clone.