The 12 Best 20-Minute Yoga Videos On YouTube For Absolute Beginners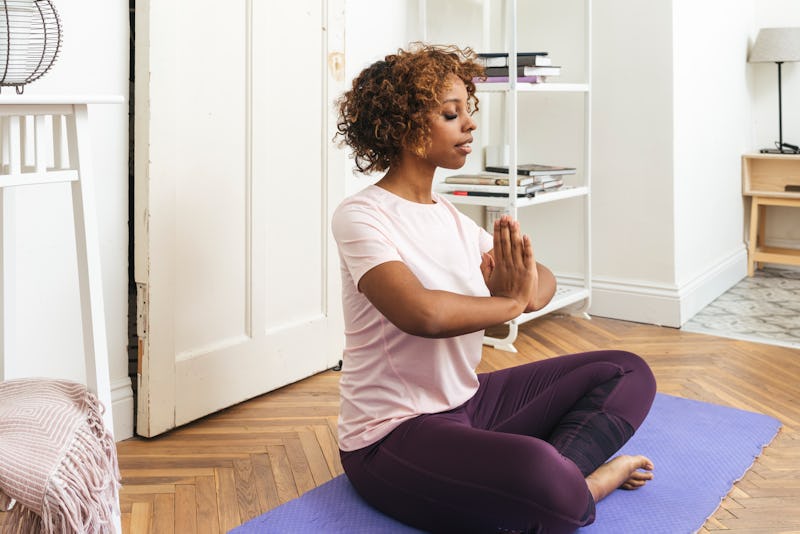 Westend61/Westend61/Getty Images
As a way to increase your mindfulness, mood, and overall sense of wellness, you can't really beat yoga. But sometimes it's raining, or you snoozed through your alarm, or you just have other things you need to do more than get to your neighborhood studio. Thanks to the World Wide Web, though, there's a ton of yoga YouTube workout videos if you don't want to go to class.
"At any level — basic or advanced — yoga poses and breathing have wonderful benefits for your mind and your body," Dr. Pamela Jeter, Ph.D., a yoga researcher at Johns Hopkins University, said of the practice. "Steady breathing is so important, and it also affects your nervous system in beneficial ways [...] Simply learning to plant your feet firmly as you do a pose strengthens the connections that keep you coordinated and flexible, for example."
Studies suggest that yoga can help with chronic stress, reduce symptoms of anxiety and depression, reduce inflammation, and improve your cardiovascular health. Despite these benefits, hitting up your local yoga studio isn't always an option. According to the lifestyle guide Yogi Times an average yoga class costs anywhere from $9 to $23, and Yoga Baron reports that yoga studio memberships typically cost over $100/month. It can also be just plain uncomfortable to be stuck in a crowded yoga studio.
Fortunately, there's no shortage of free yoga routines online if you want to skip in-person sessions — whether that's because your wallet's stretched, or you simply want to be in the comfort of your home. Here are 12 videos on YouTube so you can practice yoga anytime without having to leave your apartment.
1. 20-Minute Ashtanga Yoga Class
Yoga instructor Laruga Glaser takes you through the fundamentals of breathing with this 20-minute Ashtanga yoga class. Especially if you're unfamiliar with meditation, you might find yourself pleasantly challenged by the first few minutes of this video, which is focused on the breath. Don't worry, though, because you'll get plenty of movement in later.
2. 20-Minute Yoga For Athletes
If you love the barbell life but can't get to the gym, this yoga routine for athletes can help you build a stronger and more stable base for when you return to your strength sport of choice. Focusing on your hips, hamstrings, and shoulders (which are often super tight for athletes), this video will help you work out mobility issues on the mat that will improve your form when you return to the lifting floor.
3. 20-Minute Beginner's Strength-Building Yoga
Even though it's a little less than 20 minutes long, instructor Kassandra incorporates a lot of different poses into this strength-building yoga flow. Particularly awesome if you've never practiced yoga, this video will teach you all about the hows and whys of each movement, giving you a great foundation to build on.
4. Plus Size Yoga By Jessamyn Stanley
This 20-minute yoga practice for plus-sized folks by instructor Jessamyn Stanley is a fantastic flow for people who don't seem themselves or their bodies represented in nearly enough yoga videos. With this practice, you'll learn to make sure your body can get into each pose just as it is, without the need to ask for modifications.
5. Yoga At Your Desk
You might feel like you're spending way too much time staring at the multitude of screens on your desk (and honestly? mood). This home office yoga video reminds you that you don't even need a mat to develop a strong practice. Instructor Shona Vertue takes a refreshingly unusual approach to yoga by teaching you this sequence while wearing a pencil skirt — because it is "yoga at your desk," after all.
6. 20-Minute Yoga Workout (6-Day Program)
In the first of this six-day yoga workout program, instructor Rashmi Ramesh emphasizes a relatively simple yoga flow focused on opening up your hips and upper back. You'll learn the basics of developing strength and flexibility, and Ramesh will consistently provide useful cues to help you stay on track with the movements.
7. Total Beginner's Yoga
If you want to start a practice but you're not sure where to turn, this 20-minute total beginner's yoga flow by instructor Erica Rascon will teach you the fundamentals. Rascon explains in detail many positions that are often taken for granted in yoga videos (for example, she advises you on exactly how you want to be standing at the edge of your mat to begin the practice).
8. Meditation Fundamentals With Mardi Piereonek
Beginning your yoga session by clearing your mind can be especially important when you're feeling overstimulated. That refuge is exactly what yoga instructor Mardi Piereonek offers you in this combination of seated meditation and full instruction on how to relax into a simple supported back bend pose.
9. Gentle Seated Yoga
This 18-minute seated yoga flow was designed by instructor Helen Camisa to be welcoming to people with all kinds of bodies. Complete with specific cues and a relaxing seaside vibe, this sequence will have you feeling like you're getting a great workout right on the beach.
10. Sun Salutations For Your Morning Practice
If you want to be able to practice a yoga flow on your own each morning, learning sun salutations is a beautiful way to start. In this video, yoga instructor Apsara Vydyula will teach you how to develop your own morning yoga practice, emphasizing patience with yourself even when the movements feel difficult.
11. Yoga For Overthinking And Anxiety
Not to say that you might be having anxiety spirals about the state of the world, but... you might be having anxiety spirals about the state of the world. This 20-minute practice from Black Minds in Meditation is meant to soothe anxiety, stress, and overthinking, emphasizing stillness, visualization, and moves you can do without even standing up.
12. Meditative Yoga
All yoga is meant to be at least a little meditative, but this flow by yoga instructor Faith Hunter combines the two in a very intentional fashion. This meditative yoga flow teaches you to "let your breath be your guide" and has a very relaxing tone that will have you feel calmer before you even start your poses.
Experts:
Dr. Pamela Jeter, Ph.D., yoga researcher, Johns Hopkins University
This article was originally published on