Chelsea Clinton Thinks You Should Read These Books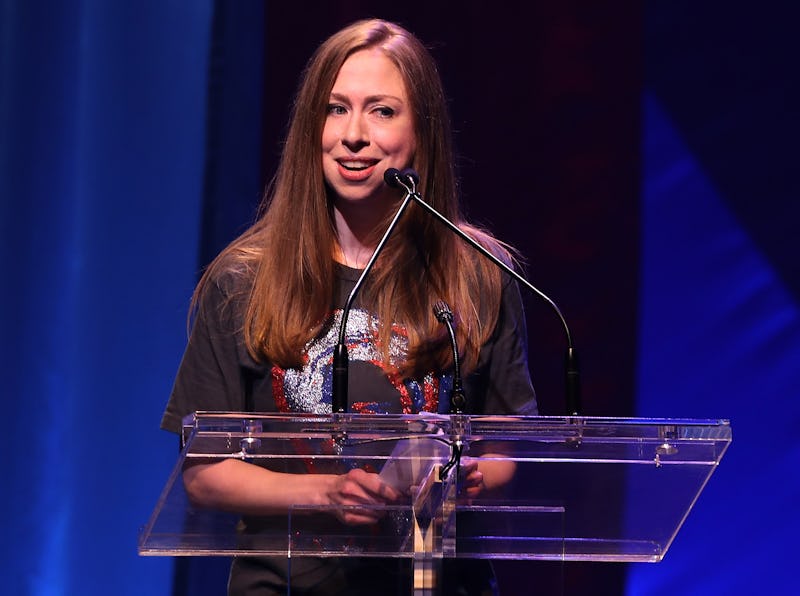 Justin Sullivan/Getty Images News/Getty Images
Another week, another New York Times Book Review By the Book article. This week, the Times is talking to author and former First Daughter Chelsea Clinton, and I've got the 12 books Chelsea Clinton thinks you should read below.
Actually, that's not entirely true. Chelsea Clinton has waaaaay more than a dozen books to recommend. Seriously, she has seven books on her nightstand right now, and I'm a little worried about its structural integrity. Right now, Clinton is reading Secondhand Time by Svetlana Alexievich, which we'll talk more about below; the Thomas De Quincey Trilogy by David Morrell; Margaret Fuller by Megan Marshall; Tenth of December by George Saunders; and SPQR by Mary Beard. Secondhand Time is the only book of those seven that Clinton had more to say about, so I've included it on the list of her book recommendations below.
Here are a few more authors that Chelsea Clinton loves:
In addition to the other writers I talk about in this space, I deeply admire the work of Colson Whitehead; Hilary Mantel; Masha Gessen; Haruki Murakami; Andreï Makine; Margaret Atwood; Erik Larson; Lin-Manuel Miranda; Marilynne Robinson; Elena Ferrante; Julian Barnes; Ian McEwan; Anne Applebaum; Timothy Egan; and more. I also hope Gita Mehta writes again.
And that's not all. Clinton also has a long list of nonfiction writers she thinks you should be reading. When asked to recommend "the best books on global health," Clinton says that "[a]nything Paul Farmer, Peter Piot, Laurie Garrett or Larry Gostin" will help you to understand "why we aren't farther along in the fights against ancient threats like tuberculosis or in containing relatively newer threats like Zika."
In her By the Book interview with The New York Times Book Review, Clinton includes some reading recommendations from her daughter Charlotte. According to her mom, the two year old enjoys "books that fire her imagination and make her laugh," such as offerings from Eric Carle, Mo Willems, and Matt de la Peña. "I want every child to be exposed to lots of books so they can have the many rotating favorites Charlotte is lucky enough to have," Clinton says, "and to find what inspires them most, makes them most giggle and what makes them want to read more."
There's one thing I can tell you about Chelsea Clinton, and that is that she absolutely loves mystery novels. I mean loves. She has fond memories of reading Encyclopedia Brown, Nancy Drew, and the Hardy Boys as a child. Today, Clinton says she especially enjoys "[h]istorical fiction, particularly detective fiction, and contemporary detective stories set outside New York City." If you love a good whodunnit, Clinton lists these among her favorites:
Chief Inspector Armand Gamache Series by Louise Penny
Inspector Ikmen Series by Barbara Nadel
Commissario Brunetti Series by Donna Leon
The Adventures of Captain Alatriste by Arturo Pérez-Reverte
Inspector Ian Rutledge Series by Charles Todd
Bess Crawford Series by Charles Todd
Maisie Dobbs Series by Jacqueline Winspear
Rev. Clare Fergusson & Russ Van Alstyne Mysteries by Julia Spencer-Fleming
Adam Dalgliesh Series by P.D. James
Here are the 12 books Chelsea Clinton thinks you should read.