7 Books Roxane Gay Recommends In Her NYT Interview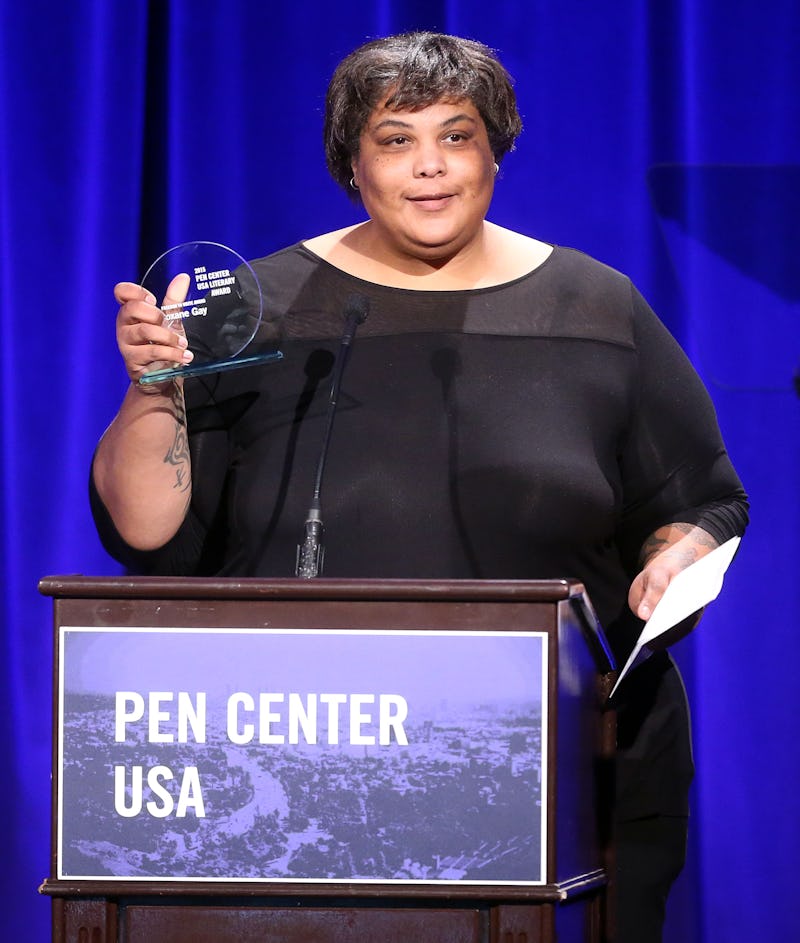 Frederick M. Brown/Getty Images Entertainment/Getty Images
Difficult Women author Roxane Gay finally has a "By the Book" feature in The New York Times, so we get to find out what's on her nightstand and the kind of books she hates. I've got all the best highlights for you below, including seven books Roxane Gay recommends in her NYT interview. Are you ready for some reading recommendations from everyone's favorite bad feminist?
Roxane Gay's writing is impossible to pigeonhole. Her 2011 debut, Ayiti, combines fiction, nonfiction, and poetry into a single collection about the Haitian diaspora. In 2014, Gay published two books: an essay collection titled Bad Feminist, and her first novel, An Untamed State. The next year, she put out Urgent, Unheard Stories: a short essay collection on reading. 2016 marked the debut of her Black Panther spin-off comic, World of Wakanda, the first collected volume of which, Dawn of the Midnight Angels, is currently slated for publication on June 27. Gay's first short-story collection, Difficult Women, hit store shelves on Jan. 3. Two additional books, Hunger: A Memoir of (My) Body and The Year I Learned Everything, are expected to appear later this year. Gay pulled a shorter work, How to Be Heard, from publication through Simon & Schuster's TED Books imprint, in protest of white nationalist Milo Yiannopoulos' book deal with the Big Five publisher.
In spite of her impressive writing career, Gay says she doesn't like to read books about "(a) writers, (b) sad white people in sad marriages or (c) sad white writers in bad marriages." She does, however, enjoy Taylor Stevens' Vanessa Michael Munroe series, which she thinks people would be "surprised to find on [her] bookshelf."
On Roxane Gay's immediate TBR are recent offerings from bestselling and prize-winning authors, plus a few writers you might not have heard of. Her list of nightstand books includes I'm Judging You by Luvvie Ajayi, Swing Time by Zadie Smith, Black Water Rising by Attica Locke, The Wangs vs. the World by Jade Chang, and The Sympathizer by Viet Thanh Nguyen. She lists Smith among her favorite writers, alongside:
Emily Nussbaum; Marcy Dermansky; Lily Hoang; xTx, Dana Johnson; Alexander Chee; Terry McMillan; Toni Morrison; Celeste Ng; Claudia Rankine; Saeed Jones; Rickey Laurentiis; Robin Coste Lewis; Lindsay Hunter; Cynthia Bond; Elisa Gabbert; Cristina Henríquez; Jesmyn Ward; Laura Lippman; Eduardo Corral; Alissa Nutting; Meg Wolitzer; Randa Jarrar; Alicia Erian; Catherine Chung; and Vanessa Veselka, to name a few.
But which of her favorite authors would Roxane Gay recommend for the president to read? From the New York Times article:
Frankly, President Obama is well read and wouldn't have needed my advice, though, vainly, I would love if he read something I wrote.
For Trump?:
I would require the new president to read, well, any book at all, because he does not give the impression he has ever read a book. I'd offer recommendations, but anything I might suggest is well beyond his reading level. Alas.
Commence cackling and/or weeping now.
Here are seven books Roxane Gay recommends in her "By the Book" interview with The New York Times.