7 Books Roxane Gay Recommends In Her NYT Interview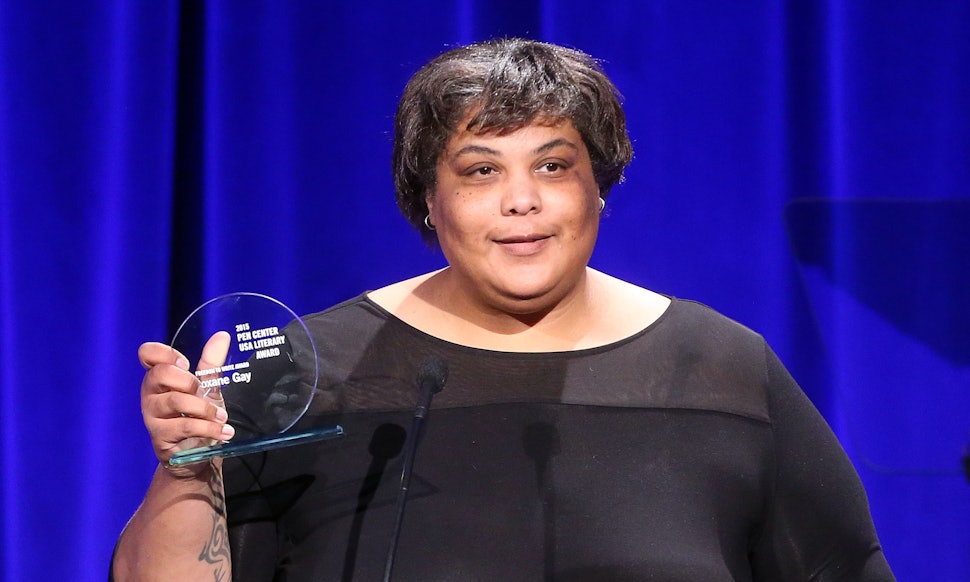 Frederick M. Brown/Getty Images Entertainment/Getty Images
Difficult Women author Roxane Gay finally has a "By the Book" feature in The New York Times, so we get to find out what's on her nightstand and the kind of books she hates. I've got all the best highlights for you below, including seven books Roxane Gay recommends in her NYT interview. Are you ready for some reading recommendations from everyone's favorite bad feminist?
Roxane Gay's writing is impossible to pigeonhole. Her 2011 debut, Ayiti, combines fiction, nonfiction, and poetry into a single collection about the Haitian diaspora. In 2014, Gay published two books: an essay collection titled Bad Feminist, and her first novel, An Untamed State. The next year, she put out Urgent, Unheard Stories: a short essay collection on reading. 2016 marked the debut of her Black Panther spin-off comic, World of Wakanda, the first collected volume of which, Dawn of the Midnight Angels, is currently slated for publication on June 27. Gay's first short-story collection, Difficult Women, hit store shelves on Jan. 3. Two additional books, Hunger: A Memoir of (My) Body and The Year I Learned Everything, are expected to appear later this year. Gay pulled a shorter work, How to Be Heard, from publication through Simon & Schuster's TED Books imprint, in protest of white nationalist Milo Yiannopoulos' book deal with the Big Five publisher.
In spite of her impressive writing career, Gay says she doesn't like to read books about "(a) writers, (b) sad white people in sad marriages or (c) sad white writers in bad marriages." She does, however, enjoy Taylor Stevens' Vanessa Michael Munroe series, which she thinks people would be "surprised to find on [her] bookshelf."
On Roxane Gay's immediate TBR are recent offerings from bestselling and prize-winning authors, plus a few writers you might not have heard of. Her list of nightstand books includes I'm Judging You by Luvvie Ajayi, Swing Time by Zadie Smith, Black Water Rising by Attica Locke, The Wangs vs. the World by Jade Chang, and The Sympathizer by Viet Thanh Nguyen. She lists Smith among her favorite writers, alongside:
Emily Nussbaum; Marcy Dermansky; Lily Hoang; xTx, Dana Johnson; Alexander Chee; Terry McMillan; Toni Morrison; Celeste Ng; Claudia Rankine; Saeed Jones; Rickey Laurentiis; Robin Coste Lewis; Lindsay Hunter; Cynthia Bond; Elisa Gabbert; Cristina Henríquez; Jesmyn Ward; Laura Lippman; Eduardo Corral; Alissa Nutting; Meg Wolitzer; Randa Jarrar; Alicia Erian; Catherine Chung; and Vanessa Veselka, to name a few.
But which of her favorite authors would Roxane Gay recommend for the president to read? From the New York Times article:
Frankly, President Obama is well read and wouldn't have needed my advice, though, vainly, I would love if he read something I wrote.
For Trump?:
I would require the new president to read, well, any book at all, because he does not give the impression he has ever read a book. I'd offer recommendations, but anything I might suggest is well beyond his reading level. Alas.
Commence cackling and/or weeping now.
Here are seven books Roxane Gay recommends in her "By the Book" interview with The New York Times.
1

'Commonwealth' by Ann Patchett
Franny Keating's future stepfather shows up at her christening party, beginning this decades-long saga about a blended family with plenty of secrets and shames.
Roxane Gay says: "[Ann Patchett] is one of my favorite writers, and I loved the ambitious, almost too ambitious, narrative structure of the novel and these little worlds she kept building and tearing down to move the story forward. The book is also set in Los Angeles, one of my favorite cities."
2 'Anna Karenina' by Leo Tolstoy
When a Russian noble finds her relationship threatened by adultery, she and her husband call in his sister, Anna, to help them reconcile. While helping to save her brother's marriage, Anna meets Vronsky, whose affections might threaten her own partnership.
Roxane Gay says: "I want to say something impressive here, but I cannot remember the last time I read a classic novel, let alone one that would rate as 'the best.' Oh, I suppose I've read Anna Karenina in the last decade. That was a great book — DRAMA for days."
3

'I Am a Magical Teenage Princess' by Luke Geddes
This short-story collection from Chômu Press skewers the ur-feminist characters and other tropes of 1960s pop culture.
Roxane Gay says: "It's this amazing collection of short stories that is sharp and dark and mostly about teenage girls. The highlight is the story 'Betty and Veronica,' about the Archie Comics characters as lovers in a high school. I will reread that story every chance I get. It's amazing and also so sexy."
4

'The Age of Innocence' by Edith Wharton
In Victorian New York City, as a bachelor prepares for his marriage to a suitable and good young woman, he finds himself falling for her exciting and soon-to-be-divorced cousin.
Roxane Gay says: "When the world is too much, I love to read thrillers and romance novels. I just want to lose myself in something either intriguing or ludicrously romantic. For inspiration, I go back to my favorite books, the ones I wish I had written. This seems sufficiently vague given that I haven't listed any titles. My No. 1 go-to book is The Age of Innocence, by Edith Wharton."
5

'China Rich Girlfriend' by Kevin Kwan
In this sequel to Crazy Rich Asians, a meddling mom finds out a secret about her son's fiancée, and uses it to put a stop to his wedding plans.
Roxane Gay says this "[s]oapy and hilarious" book was "the last book that made [her] laugh out loud."
6

'Homegoing' by Yaa Gyasi
This debut novel follows two halves of a Ghanan family divided by the slave trade. On one side of the Atlantic, slaves are beaten, free citizens live in fear, and Harlem residents live with the echoes of bondage and segregation. On the other, native Africans navigate the destruction of their way of life through colonialism.
Roxane Gay says: "[T]he brutality of what [Yaa Gyasi's] characters endured made me sob. The history of this world is a bloody wound."
7

'Evicted' by Matthew Desmond
Matthew Desmond spent two years living with poor families in Milwaukee, Wisconsin, documenting their cycle of renting, subsisting, getting evicted, and starting over. Evicted offers solutions to the problem of housing instability in the U.S.
Roxane Gay says: "My God, what [Evicted] lays bare about American poverty. It is devastating and infuriating and a necessary read."