Get To Know The Faces Of Netflix's '13 Reasons Why'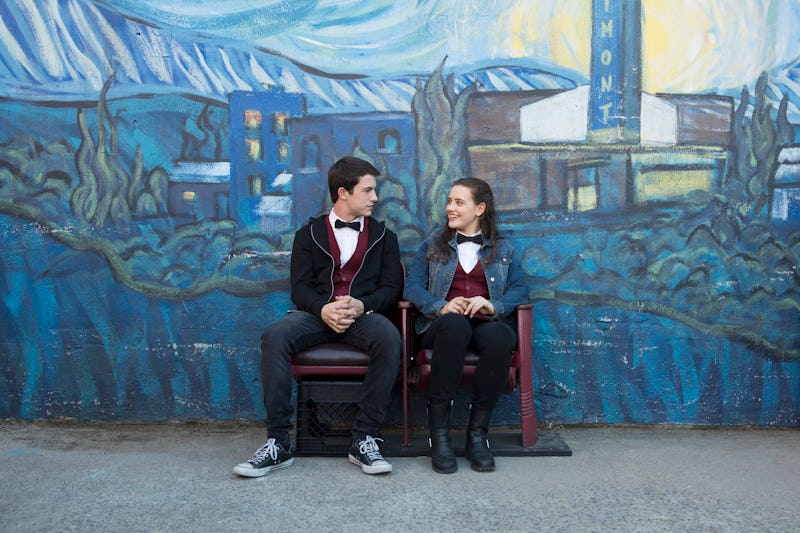 Beth Dubber/Netflix
Netflix seems virtually unstoppable lately. The last few months have seen the premieres of such acclaimed shows as The Crown, Gilmore Girls: A Year In The Life, The OA, and Santa Clarita Diet. Now the premiere of 13 Reasons Why looks to be adding another critical and popular hit to the streaming service's enviable stable of original content. Based on a 2007 YA novel by Jay Asher, the new series tells the story of a young woman named Hannah who takes her own life and leaves behind audio tapes explaining why — one for each person who contributed to her fatal decision. It's a heavy subject, and one that will need deft handling by the 13 Reasons Why cast.
Fortunately, it seems like the roster of talent assembled for this show will be more than up to the task. Among the sprawling cast of characters that find themselves complicit in Hannah's death (the students who befriended her, the ones who bullied her, the teachers who supported her, the parents who mourn her) are many recognizable faces that audiences will know from other acclaimed films and TV shows.
While the cast will also include some fresh-faced newcomers — lending a believable air of authenticity to the high school setting — here are the actors that you'll probably have encountered before streaming 13 Reasons Why this Friday:
1. Dylan Minnette as Clay Jensen
For someone who's only 20 years old, Minnette has already had a fairly prolific career. His TV roles have included Lost (on which he played Jack's son in the final season), Saving Grace (as the title character's nephew), Awake (as a son who only exists in one of two dimensions), Agents Of S.H.I.E.L.D. (as super-powered teen Donnie Gill), and Scandal (as the ill-fated Jerry Grant, Jr.). On the big screen, you may have seen Minnette in the likes of Let Me In, Prisoners, Goosebumps, and Don't Breathe.
2. Katherine Langford as Hannah Baker
The young woman playing the enigmatic Hannah is a relative newcomer; her only other credits are roles in two short films as well as the upcoming coming-out dramedy Simon vs. The Homo Sapiens Agenda, starring Jennifer Garner, Nick Robinson (Jurassic World), and Alexandra Shipp (X-Men: Apocalypse), and directed by Greg Berlanti — aka the mastermind of The CW's Arrowverse.
3. Miles Heizer as Alex
Audiences may be most familiar with Heizer as the shy Drew on NBC's beloved family drama Parenthood, but he also had a recurring role on ER, guest starring gigs on Ghost Whisperer, Bones, and Private Practice, as well as a part in the recent feature film Nerve starring Emma Roberts and Dave Franco.
4. Justin Prentice as Bryce
Prentice should be an expert at playing a student by now; his resume includes such teen-targeted shows as Glee (as Becky's boyfriend Darrell), iZombie (as frat boy Brody), and Awkward (as posh Princeton student Patrick). He also starred as Reba McEntire's son in the short-lived ABC sitcom Malibu Country, and he has guest starred on shows like The Middle, Suburgatory, Castle, and The Mindy Project.
5. Alisha Boe as Jessica
Boe got her start guest starring on popular shows such as Parenthood, Trophy Wife, Modern Family, and NCIS before graduating to recurring roles on the likes of Casual, Ray Donovan, and Teen Wolf.
6. Devin Druid as Tyler
Druid has experience on both the big and small screens. He starred alongside Jesse Eisenberg, Gabriel Byrne, and recent Oscar nominee Isabelle Huppert in the film Louder Than Bombs and had a role in the indie dramedy Wiener-Dog. He also appeared as a young Louis C.K. in two episodes of Louie, and appeared in the award-winning HBO miniseries Olive Kitteridge.
7. Ross Butler as Zach
Butler can currently be seen on The CW as arrogant jock Reggie Mantle on Riverdale. He also has a recurring role on the Disney Channel sitcom K.C. Undercover as Brett, the title character's ex-boyfriend and competitor spy.
8. Christian Navarro as Tony
Navarro recently recurred on HBO's Vinyl as a musician named Jorge. You may also have seen him in episodes of shows like Blue Bloods, The Affair, and Rosewood.
9. Kate Walsh as Mrs. Baker
Walsh is, of course, most famous for playing Dr. Addison Montgomery on both Grey's Anatomy and her own spin-off, Private Practice. Since then, she appeared as grieving widow Gina Hess on Season 1 of FX's Fargo, and starred on her own short-lived NBC sitcom, Bad Judge. She also has recent experience playing a mother in a literary adaptation of a teen novel, appearing in 2012's The Perks Of Being A Wallflower.
10. Brian d'Arcy James as Mr. Baker
TV audiences may be most familiar with James from his role as Debra Messing's husband on NBC's Smash. But he's also a Tony-nominated Broadway star whose forays onto the small screen include appearances on Rescue Me, Person Of Interest, The Big C, The Good Wife, and Mozart In The Jungle. James also starred in the Best Picture-winning film Spotlight as one of the members of The Boston Globe's investigative team.
11. Derek Luke as Mr. Porter
Luke made his Hollywood debut starring in the title role of the 2002 biopic Antwone Fisher, directed by Denzel Washington. Since then, he has also acted in movies like Pieces Of April, Friday Night Lights, and Captain America: The First Avenger, and has appeared on shows like Trauma, Hawthorne, The Americans, and Empire.
12. Keiko Agena as Mrs. Bradley
This will be Agena's second trip back to Netflix in only four months, after reprising her role as Lane Kim on Gilmore Girls: A Year In The Life. Since playing her most iconic character, she has also guest starred on shows like Private Practice, Castle, House, Scandal, Shameless, and Grimm.
13. Amy Hargreaves as Mrs. Jensen
Hargreaves may be most recognizable from her recurring role as Carrie's sister on Showtime's Homeland, but she has also appeared on shows like Person Of Interest, Blue Bloods, The Following, The Blacklist, Elementary, The Mysteries Of Laura, and Blindspot. Her feature film credits include the Best Picture-nominated George Clooney drama Michael Clayton, the crime thriller Blue Ruin, and the upcoming film Wonderstruck starring Julianne Moore and Michelle Williams, by Carol filmmaker Todd Haynes.
See this terrific cast in action when all 13 episodes of 13 Reasons Why debut on Netflix this Friday, March 31.