17 'A Christmas Prince' Tweets That Perfectly Capture Why You Love-Hate The Film So Much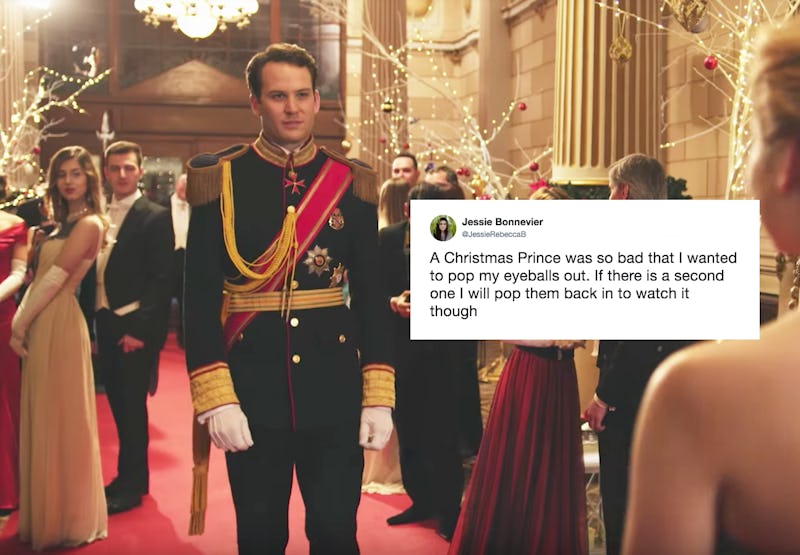 Netflix/Bustle
Everyone has probably heard of "a Christmas miracle," but this holiday season, everyone experienced one. Netflix's original Christmas movie, A Christmas Prince, came as a surprise, like presents under the tree, but it's truly the gift that keeps on giving due to its intense cheesiness. People either love A Christmas Prince because of that, or they hate it. The other option is that they hate it so much that they love it or vice versa. But the point is that Netflix's A Christmas Prince has a polarizing effect on people that means that everyone is officially obsessed.
The movie follows the story of a journalist who goes to a made-up country called Aldovia to write about — you guessed it — a prince. It also takes place during Christmas, which you likely gathered already from the title. What the movie's name doesn't give away, though, is how hilarious the whole thing is. From the second the movie starts, everything about it is just so perfectly corny that you most likely won't be able to help but laugh at every scene. From the cliché magazine editor to the confusingly lax palace security, it's all a feast for the eyes.
Since it's nearly impossible to watch A Christmas Prince and not talk about it, Twitter has been abuzz with conversation about the royal love story. These are the 14 best tweets about the Netflix Christmas movie on everyone's minds.