17 Uncomfortable Photos Of Trump Meeting With World Leaders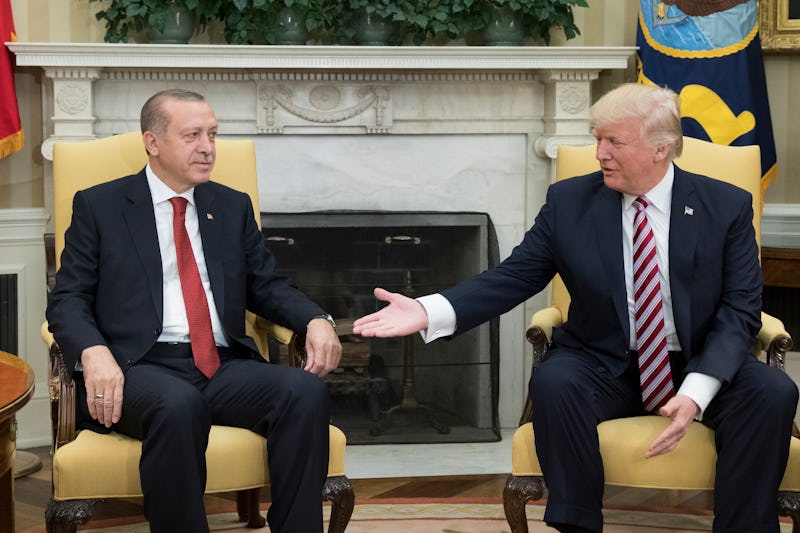 Pool/Getty Images News/Getty Images
It's no question that President Trump is commited to doing things his own way — he even danced to "My Way" by Frank Sinatra at his Inaugural ball in January. But this my-way-or-the-highway attitude has gotten him into some pretty tense situations with foreign leaders, solidifying his status as one of the most unorthodox Presidents in modern history. These photos of Trump meeting with foreign leaders are uncomfortable, strange, and a little bit awkward, to say the least, displaying just how Trump views his role in world affairs — and how the rest of the world may view him.
Trump is a big proponent of an aggressive "America first" policy, even at the expense of the agreements we have in place with other nations. This has caused some friction between Trump and other world leaders. For example, Trump's decision last week to withdraw from the Paris Accord, a landmark environmental pact that all but two other nations have signed, led to international condemnation, and his failure to commit to protecting other nations in the North Atlantic Treaty Organization raised more than a few eyebrows.
But a picture is worth a thousand words, and given that Trump just returned from his first big diplomatic trip abroad, we have plenty of photos that reveal a lot about America's current role in global affairs.
Here's a rundown of some of the most cringe-worthy.