The 2017 Election Results Are A Major Rejection Of President Trump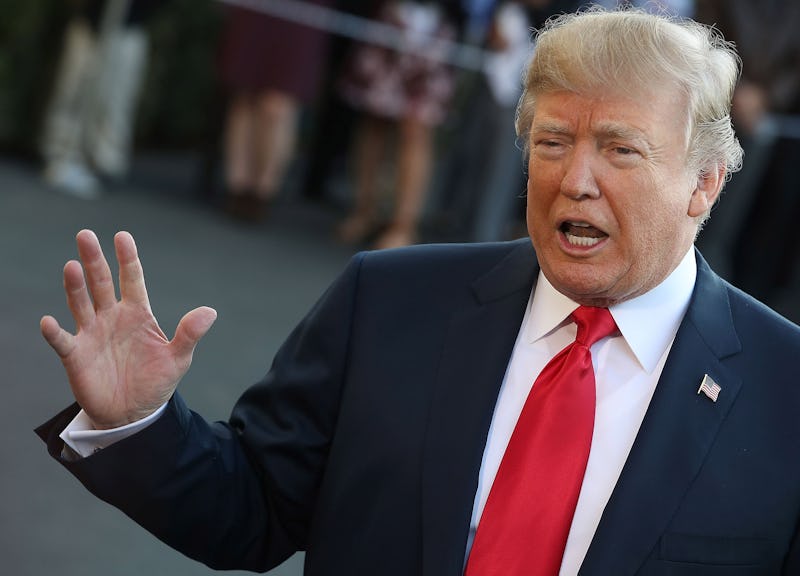 Mark Wilson/Getty Images News/Getty Images
After what appeared to be an intense election day, the Democratic party can breath a sigh of relief — for now. The party now boasts major successes in the 2017 elections, including in Virginia and New Jersey with the victories of Ralph Northam and Phil Murphy in their governor's races on Tuesday.
For Virginia, Northam's victory was magnified by the addition of transgender candidate Danica Roem's success in the House of Delegates race. Roem, who was previously a journalist, was competing against conservative lawmaker Robert Marshall, who had tried to pass a "bathroom bill" in Virginia in order to regulate how transgender people would use bathrooms in public but was ultimately unsuccessful.
The conservative figure often used Roem's transgender identity as a point to oppose her. Of his opponent, Marshall told The Washington Post back in September, "You can change appearances, but your DNA fixes your bodily structures for your entire life" and added, "Danica will never get cervical cancer. Danica can't get ovarian cancer because those body parts are not part of a male structure."
In January, Roem will be sworn in to become the nation's very first openly transgender person to be seated to a state legislature.
Tuesday night's victory in both states can be seen as a remarkable boost to the Democratic party's national cred after its stunning defeat in the 2016 presidential race. Today's victory for the Democrats comes after another win in September when Annette Taddeo and Kari Lerner flipped senate seats in Florida and New Hampshire respectively. Taddeo and Lerner's wins were added to the six other legislature seats Democrats have flipped between the beginning of 2017 and Election Day — and that's not a small number when it comes to flipping on a legislative level.
It's worth noting that gubernatorial elections aren't always the most reliable indicators of where a nation is headed for its midterm elections — but today's Democratic successes do show that the Republican party isn't in a cozy spot anymore. The GOP will probably face a decidedly-blue political wave, at least on the East Coast, in the future. With eight legislative seats flipped since this year, two Democrat victories in Virginia, and one in New Jersey, Republicans will have to work pretty hard to defeat an apparently rising blue opposition force.
Still, predictions of a Democratic victory in today's gubernatorial race were scarce. The party's national image took a massive hit after the 2016 presidential race. According to research published in CNN, only 37 percent in the country had a good image of the party. It was a steep fall from the reported 44 percent in March. With a nationally faltering image like that, Tuesday's wins for Northam and Murphy seem like miracles.
With Northam and Murphy in, it makes sense then that the party seems to be "breathing a sigh of relief." Quentin Kidd, a political science professor at Christopher Newport University, told HuffPost:
Democrats were anxious all along, at the very end, about whether this thing would go their way, whether their core vote would turn out for them. And it did. It turned out just enough to give them a close win. They're breathing a sigh of relief.
Perhaps the biggest reason for Democratic success, at least for now, is that Trump's popularity is increasingly limited in the nation's eyes. In frank terms, the president isn't exactly liked by a considerable number of Americans, according to research polls. In fact, Trump's popularity among rural Americans is thinning out.
Northam, Murphy, and Roem's successes are no small feats: They are worth celebrating, and if the party keeps this pace up, it may just win the country back. But it looks like it will be a tough battle — at this moment, the GOP maintains control of the majority of state legislatures, holding 66 state legislative chambers to Democrats' 31 chambers — plus, it wields most of the country's congressional power.
If the Democrats want to win — and they seem like they want to — they'll need 24 seats in the House by next November. In other words, they'll have to work hard. Really, really hard.