Grammys' Prince Tribute Had Everyone Dancing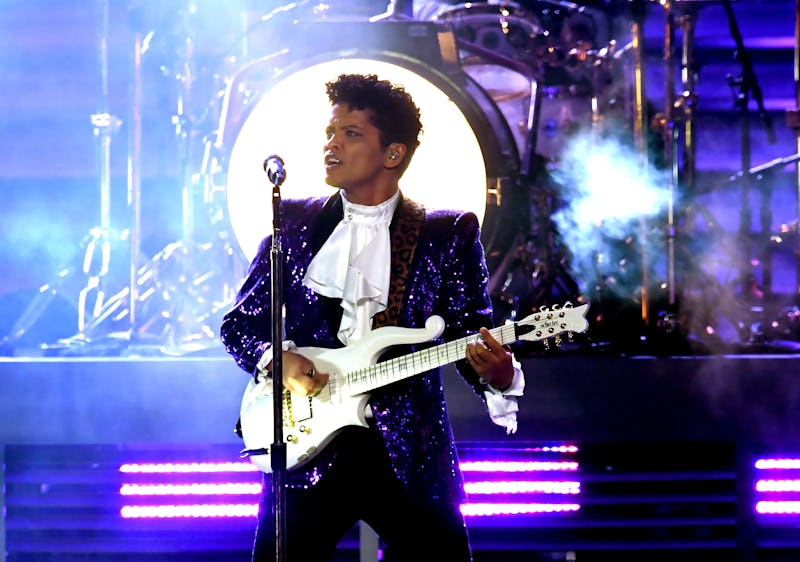 Kevin Winter/Getty Images Entertainment/Getty Images
The Grammy Awards are an opportunity for musicians across genre and generation to come together. This can lead to some fun collaborations at the ceremony, especially when it becomes time to celebrate the life of someone the music community has recently lost. The Prince tribute at the 2017 Grammys was an energetic, pitch perfect, love-filled performance from Bruno Mars and The Time.
Everyone was standing. Everyone was dancing. The Prince love was strong at the Grammys tonight. Who doesn't love Prince? You'd be hard-pressed to find someone in the Grammy audience who wasn't in some way influenced by the iconic performer. Honestly, I'm surprised that there weren't more performers on that stage. More people showed up for the BeeGees. That said, Bruno Mars and The Time were pretty much perfect, so I can't complain.
The songs in the tribute were from Purple Rain. The Time started it out with their own song "Jungle Love" from the Purple Rain movie, and the audience was bopping along with the iconic artists. Mars then came out for the ever uplifting "Let's Go Crazy" in full purple regalia and Prince's signature guitar (but not the guitar that was actually his signature). I honestly didn't realize that Bruno Mars was that good at playing guitar. He really got into the tribute.
It was a tribute fitting for Prince's spirit, and tonally the opposite of what the Grammys did for George Michael — keeping the Grammys moving and changing all night long.