Here Are All The 2017 Made-For-TV Christmas Movies To Watch This Holiday Season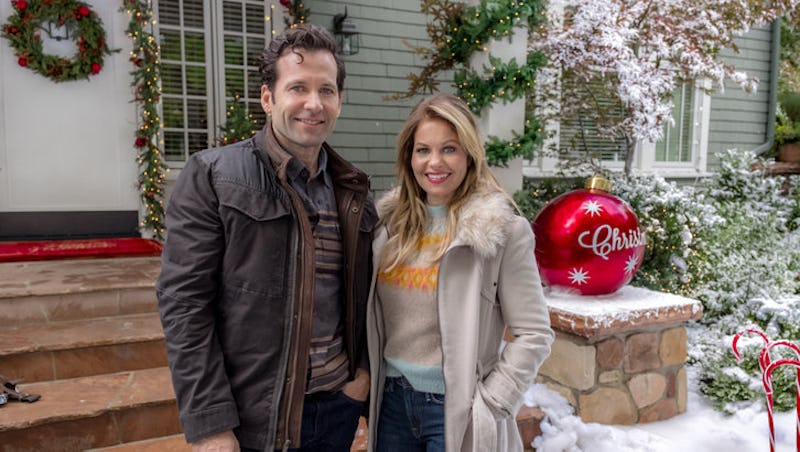 Hallmark Channel
It's the holiday season, which means it's time to prepare for a deluge of made-for-TV Christmas movies. In addition to the holiday classics that air every year like Rudolph the Red-Nosed Reindeer, How the Grinch Stole Christmas, and It's a Wonderful Life, there are also a plethora of new and original Christmas films produced for television every year that hope to join the ranks of the all-time classics and become standard viewing for years to come. This year is no exception, with the big three Christmas movie networks — Lifetime, Freeform, and Hallmark Channel — all throwing up a ton of new Christmas content.
While Lifetime and Hallmark Channel, along with Freeform's predecessor ABC Family, have long been associated with their made-for-TV Christmas movies, this year marks the first time that Freeform has produced one of its own since becoming a network in 2016. Their film is Angry Angel, and it stars Brenda Song as an angel in limbo who is stuck on Earth and trying to get to heaven when she gets caught up in a love triangle — much to the chagrin of her angelic mentor, played by Jason Biggs. The film premieres Nov. 27 at 9 p.m. ET on Freeform, and will re-air several times during the network's 25 Days of Christmas.
Lifetime is premiering six original Christmas films for 2017, with the first, Wrapped Up in Christmas, already premiering on Nov. 25. The movie, which stars The Fresh Prince of Bel-Air's Tatyana Ali, is about a cynical mall manager who falls for the mall's Santa. On Nov. 26, Lifetime premiered A Very Merry Toy Store, which reunites Holiday in Handcuffs co-stars Melissa Joan Hart and Mario Lopez as the owners of a mom and pop toy store who struggle to survive when a big box store opens up in the neighborhood. Next on the Lifetime slate, premiering Dec. 2 at 8 p.m. ET, is Four Christmases and a Wedding, which focuses on a prospective couple who seem destined to be together as they run into each other every Christmas.
The next night, on Dec. 3 at 8 p.m. ET, Lifetime will premiere My Christmas Prince, about a small town woman (Pitch Perfect's Alexis Knapp) who returns home for Christmas and discovers that her European boyfriend is actually a prince. Christmas in Mississippi premieres on Dec. 9 at 8 p.m. ET, and is about a woman returning to her small hometown (a common theme this year) to help with their light festival, and ends up rekindling a romance with her high school sweetheart. Finally, there's Snowed-Inn Christmas, about a pair of antagonistic co-workers from New York City who volunteer for the same assignment, only to end up stranded together in snowed-in Santa Claus, IN. There, the two grow close as they save a local inn from closure. The film premieres on Dec. 16 at 8 p.m. ET. You can check for repeat airings of all the Lifetime films here.
Then there's Hallmark Channel. The network really loves Christmas, as they're producing a whopping 21 new original Christmas movies this year, with stars including Danica McKellar, Jesse Metcalfe, Danny Glover, Holly Robinson Peete, Joan Cusack, and Full House alums Jodie Sweetin, Candace Cameron Bure, and Lori Loughlin each getting their own movie. That's too many movies to do a rundown for all of them here (you can head on over to the Hallmark Channel for that), so instead, here's the full schedule of when they're all airing — keep in mind that a good number of these films have already premiered since Hallmark began their Christmas programming before Halloween.
Marry Me At Christmas - Oct. 28 at 8 p.m. ET
Christmas Festival Of Ice - Nov. 4 at 8 p.m. ET
Miss Christmas - Nov. 5 at 8 p.m. ET
The Sweetest Christmas - Nov. 11 at 8 p.m. ET
Enchanted Christmas - Nov. 12 at 8 p.m. ET
Coming Home For Christmas - Nov. 18 at 8 p.m. ET
A Gift To Remember - Nov 19 at 8 p.m. ET
Secretly Santa - Nov. 22 at 8 p.m. ET
The Mistletoe Inn - Nov. 23 at 8 p.m. ET
Finding Santa - Nov. 24 at 8 p.m. ET
The Christmas Train - Nov. 25 at 8 p.m. ET
Switched For Christmas - Nov. 26 at 8 p.m. ET
Christmas In Evergreen - Dec. 2 at 8 p.m. ET
Christmas At Holly Lodge - Dec. 3 at 8 p.m. ET
Christmas Encore - Dec. 9 at 8 p.m. ET
Christmas Shop - Dec. 10 at 8 p.m. ET
Christmas Shuttle - Dec. 16 at 8 p.m. ET
Father Christmas - Dec. 17 at 8 p.m. ET
Christmas Getaway - Dec. 23 at 8 p.m. ET
When Calls The Heart: The Christmas Wishing Tree - Dec. 25 at 8 p.m. ET
New Year's Gala - Dec. 30 at 8 p.m. ET
2017 is shaping up to be a banner year when it comes to made-for-TV Christmas movies, so even if you missed some of the earlier premieres, there are still loads of original holiday movies heading to the small screen before the year comes to a close.