The 2017 Oscars Avoid Three-Peat Of #OscarsSoWhite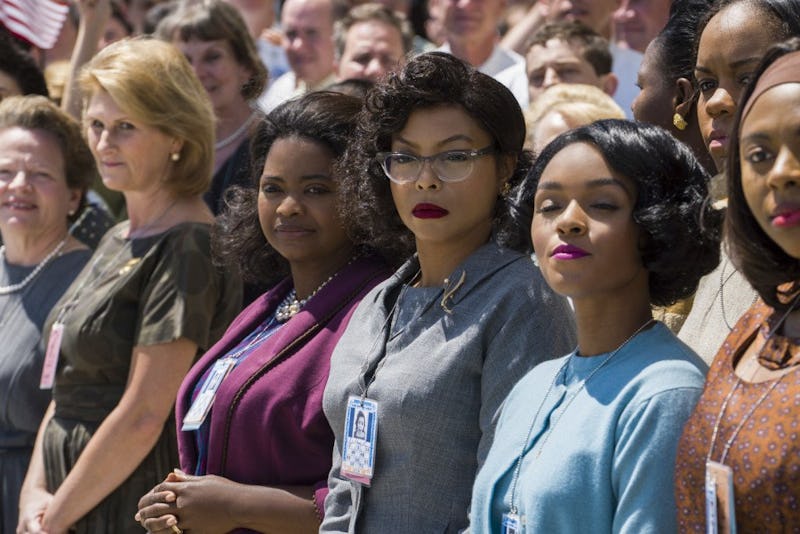 20th Century Fox
In 2016, Hollywood felt the harsh backlash for a second year in a row without any acting nominees of color in the form of the #OscarsSoWhite movement. But, a year later, the 2017 Oscars nominations have officially avoided a repeat, with every single acting category including at least one nominee of color. Mahershala Ali (Moonlight) and Dev Patel (Lion) were both nominated for Best Supporting Actor. Denzel Washington (Fences) was nominated for Best Actor, Ruth Negga (Loving) broke through for Best Actress, and the 2017 Best Supporting Actress race just became the first category to have three black actors competing for the same award, with nominations for Naomie Harris (Moonlight), Octavia Spencer (Hidden Figures), and Viola Davis (Fences), who became the first black actress to receive three Oscar nominations. But, just because the 2017 Oscars have avoided a repeat of #OscarsSoWhite, that doesn't mean the Oscars' diversity problems are solved for good.
Fences, Moonlight, and Hidden Figures all feature a predominately black casts, and, thanks to those films, with a little bit of help from Loving, the 2017 acting Oscar nominees are the most diverse since 2007, with seven acting nominations going to actors of color, equalling the number from 10 years ago. (That year, both Jennifer Hudson and Forest Whitaker walked away with a golden statue.) It's a pretty stunning feat, and the fact that so many non-white actors have been recognized by the Academy this year cannot be overlooked. It shows that good work, no matter what color, can, and will be acknowledged. Moreover, it shows that there is no reason for white actors to dominate awards seasons, or Hollywood films in general. Of course, it's a shame that it took a decade for the Oscars to reach the same amount of diversity, but it's still quite something.
Not only are the 2017 Oscars a benchmark year for black actors, the 2017 Oscars nominations also made history with the inclusion of black filmmakers behind the camera. In addition to the historic Supporting Actress nominations, Best Adapted Screenplay is making history with two projects by black writers nominated — Fences by August Wilson and Moonlight by Barry Jenkins and Tarell McCraney. Bradford Young became the first black cinematographer ever nominated for Best Cinematography, according to The Hollywood Reporter, for his stunning work in Arrival, and four directors of color were nominated for Best Documentary, including Ava DuVernay, whose film Selma's lack of nominations helped galvanize the #OscarsSoWhite movement in 2015. (Not to mention Barry Jenkins' nomination for Best Director.) But, while it's clear that the 2017 Oscars are more diverse than in years past, there is still plenty to work on.
Yes, there are more diverse acting and filmmaking nominees this year, but to call the 2017 Oscars an end to #OscarsSoWhite would be to ignore one very important fact: Diversity is more than black and white. Patel, who earned his first nomination for Lion this year, is only the third Indian actor to ever be nominated for an Academy Award. He is also only the 13th Asian actor to be nominated in the history of the awards, the first Asian actor nominee in a decade, and, should he win, would be the first to win since Ben Kingsley in 1983.
Similarly, in the history of the Academy Awards there have been only four Native actors nominated and 14 Latino actors nominated for their work, according to the LA Times. Shortly put: The 2017 Oscars have a healthy representation of both white and black performers, but the idea that the awards have achieved enough diversity to shun the #OscarsSoWhite movement going forward is preposterous.
That's not to say that the Academy Awards aren't moving in the right direction. After being hit with scathing backlash for their second year in a row of white acting nominees last year, the Academy was set on not having another repeat in 2017. In June, 2016, Academy President Cheryl Boone Isaacs announced that 683 new members would be invited to join the Academy (and would, therefore, be eligible to vote in the 2017 Oscar race), double the number invited to join in 2015. Of those 683 new members, Variety reported that 46 percent were women and 41 percent were people of color. If the nominations are anything to go by, it's clear that increasing the diversity of the pool of Academy voters was a good way to go. The question now becomes: How do we continue to push the Oscars towards a more inclusive reality when Hollywood itself insists on not diversifying content?
Well, for starters, those in Hollywood who discuss #OscarsSoWhite — critique it, write about it, advocate for it — should make an effort to include other minorities into the discussion. (Yes, I'm looking at you, Chris Rock.) The rest, sadly, is in Hollywood studio hands. There's a reason Asian actors, Latino actors, Native actors, etc., haven't had the recognition from the Oscars they deserve. They haven't had the opportunity. Going forward, the awards show success of diverse films like Moonlight, Fences, and Lion will hopefully tell Hollywood studios to invest in films with more non-white leads, to invest in filmmakers of color across the board, and continue to strive to make Oscar history when it comes to diversity.
May the 2017 Oscars not be the most diverse Oscars in history, but the start of a path towards more diversity on and off the screen.