The SAG Awards Were Filled With Anti-Ban Messages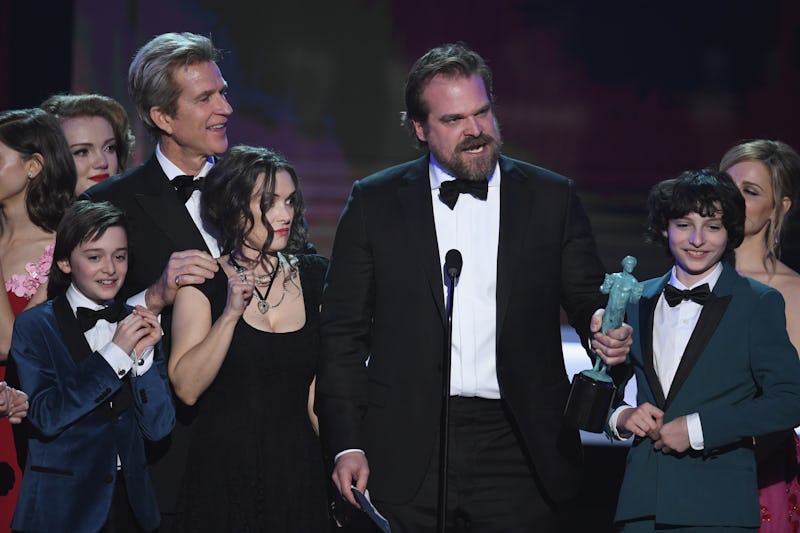 Kevin Winter/Getty Images Entertainment/Getty Images
Usually at the Screen Actors Guild Awards, actors gather to give each other awards, but following a weekend of protests against the "Muslim ban" that President Donald Trump ordered on Friday, the theme of the 2017 event was very different. The first person viewers saw on screen was Kerry Washington, who wore a safety pin on her shoulder and opened the show by declaring that she is one actor who won't stay silent. "The truth is, actors are activists no matter what, because we embody the worth and humanity of all people," she said, and that was far from the last political message of the night. The 2017 SAG Awards were filled with anti-ban and anti-Trump moments that put this enormous issue ahead of the awards themselves.
On Jan. 27, Trump signed an executive order temporarily banning immigrants and refugees from seven Muslim-majority countries from entering the United States. This lead to protests all over the country and though the SAG Awards were about as far away from a windy airport protest as you can get, the actors at the event were very much in a fighting spirit. Here are the moments of protest from the 2017 SAG Awards that stood out in the best way.
Ashton Kutcher
Ashton Kutcher set the tone for the night, opening the show by sending a message directly to those currently being detained in airports as a result of Trump's executive order. "Good evening fellow SAG -AFTRA members, and everyone at home, and everyone in airports that belong in my America," Kutcher said with passion. "You are part of the fabric of who we are. And we love you and we welcome you."
Julia Louis-Dreyfus
Julia Louis-Dreyfus took some inspiration from Trump's self-aggrandizing (slightly delusional) style when delivering her acceptance speech for Outstanding Performance by a Female Actor in a Comedy Series, noting the "million, or probably even a million and a half people in this room." On a more serious note, the Veep star then stated proudly that she comes from an immigrant family. "My father fled religious persecution in Nazi-occupied France, and I'm an American patriot, and I love this country. And because I love this country, I am horrified by its blemishes. And this immigrant ban is a blemish and it is un-American," she said.
Mahershala Ali
Mahershala Ali took a personal stand against Trump's extreme policies, though he did not mention the President by name. "My mother is an ordained minister. I'm a Muslim," he said. "We put things to the side, and... I'm able to see her, she's able to see me. We love each other. The love has grown, and that stuff is minutiae. It's not that important," Ali said in a clear and eloquent call not to focus on differences of religion.
William H. Macy
William H. Macy thanked President Trump while accepting his award for Outstanding Performance by a Male Actor in a Comedy Series "for making Frank Gallagher seem so normal." Frank, of course, is the drunk, abusive, immature, destructive, and unbalanced character Macy plays on Shameless.
Orange Is The New Black Cast
Accepting the award for Outstanding Performance by an Ensemble in a Comedy Series, OITNB star Taylor Schilling pledged that the cast, full of immigrant actors, would continue to tell inclusive stories. "We stand up here representing a diverse group of people representing generations of families who have sought a better life here," she said. "And we know that it's going to be up to us and all of you probably, too, to keep telling stories that show what unites us is stronger than the forces that seek to divide us."
Sarah Paulson
Taking home the SAG Award for Outstanding Performance by a Female Actor in a Television Movie or Limited Series, Sarah Paulson asked that viewers consider donating to the ACLU, an organization that has been busy fighting Trump's ban on immigration this entire weekend. "Please donate to the ACLU to protect the rights and liberties of people across this country," she said.
Bryan Cranston
Bryan Cranston, who took home an award for playing President Johnson in the HBO original film, All The Way, had a message for Trump, saying that if Johnson met Trump, he would wish him well. "And he would also whisper in his ear something he said often as a form of encouragement and a cautionary tale: 'Just don't piss in the soup that all of us gotta eat.'"
Stranger Things Cast
Accepting the award for Outstanding Performance by an Ensemble in a Drama Series, Stranger Things' David Harbour pledged to "shelter freaks and outcasts" before taking a page out of his character, Jim Hopper's book, saying, "We will, as per Chief Jim Hopper, punch some people in the face when they seek to destroy the weak, the disenfranchised, and the marginalized."
Hidden Figures Cast
Hidden Figures star Taraji P. Henson sent a message of hope while accepting the award for Outstanding Performance by a Cast in a Motion Picture, saying, "This story is of unity. This story is about what happens when we put our differences aside and we come together as a human race. We win. Love wins every time."
But the anti-ban sentiment didn't just come from the winners. Presenters including Steven Yeun, Alia Shawkat, Common, Sophia Bush, and more also chimed in throughout the show to support refugees and speak out against the ban. President Trump may think that "celebs hurt [the] cause," but after a night of watching so many people with cultural influence stand up for what is right, it's hard to deny their impact.