This Year's Puppy Bowl Puppies Are on Tinder & You Can Start Swiping Right On Them Now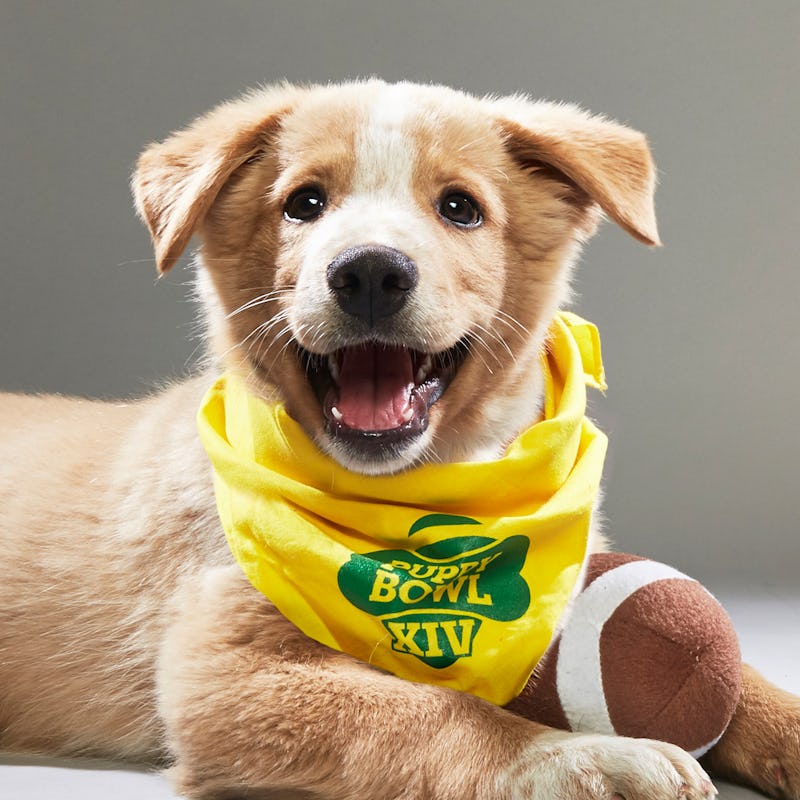 Tinder
Good news if you were already planning to zone out on Tinder during your friend's Super Bowl party: in addition to swiping on potential romantic matches, you could also be swiping on puppies! Tinder is teaming up with Pledgeling and the American Society for the Prevention of Cruelty to Animals (ASPCA) to bring you Tinder profiles for this year's Puppy Bowl puppies. This is Animal Planet's 14th year hosting the game, which traditionally precedes the Super Bowl and helps give everyone a relaxing oxytocin boost ahead of watching the game.
The Super Bowl alternative features two teams of adoptable shelter puppies — Team Ruff and Team Fluff — battling it out on a tiny little field of astroturf. OK, so by "battling it out," I technically mean "romping back and forth, playing with each other and some chew toys," but it is highly competitive. The Puppy Bowl is always inclusive and diverse, featuring a variety of breeds and special needs dogs, but this year, it's also shining a spotlight on dogs rescued from disaster areas like Houston and Puerto Rico. Rescue dogs are enough to pull on anyone's heartstrings but hurricane dogs really take it to a new level.
Between now and Super Bowl Sunday, you'll be able to see profiles of some of the Puppy Bowl pups while you browse Tinder. Swiping right will take you to the ASPCA website, where you can make a donation to support each very good boy or girl's care until his or her adoption. (They offer helpful guides on what your money goes towards, like illustrating how $5 buys one week of food, while a donation of $120 buys six months' worth of meals.) You'll also be able to text PUPPY to 707070 to support the Puppy Bowl puppies and their friends. All in all, this sounds like an adorable way to support the rescue organization, without having to endure traumatizing commercials scored by Sarah McLachlan.
"We are all about making matches at Tinder, which is why working with the Puppy Bowl and Pledgeling to help animals find loving homes was an easy decision," a rep from Tinder tells Bustle. "Any time we can get behind a great cause and really make an impact, we try to do that — our #FundHerCause and #imavailable campaigns are great examples of that. We are happy this particular cause happens to be centered around puppies because — what's not to love about that?"
Tinder's two previous philanthropic campaigns rolled out using social media. #FundHerCause launched on International Women's Day last year, with every person who tagged Tinder on Twitter using the hashtag receiving a code to donate $100 of the company's money to one of 12 women's organizations, including UN Women, Planned Parenthood, Becky's Fund, and Girls Who Code. In the end, they donated over $250,000.
#ImAvailable was an initiative pegged to last year's Giving Tuesday — a day of giving scheduled to follow the rampant consumerism of Black Friday and Cyber Monday. For every post across all social networks that tagged Tinder with the hashtag #ImAvailable, the dating app donated $100 to DoSomething.org. They're an organization that empowers young people to get involved in volunteer work, social change, and civic action by giving them tangible, accessible tasks in service of everything from clothing homeless youth to diversifying emojis to donating menstrual products. All the campaigns are designed to be accomplished without the help of parents or teachers, the use of a car, or money.
You play along with Tinder's latest campaign by keeping an eye out for these puppy pals both on TV and on the app.