The 3 Best Cleaners For Dog Urine On Hardwood Floors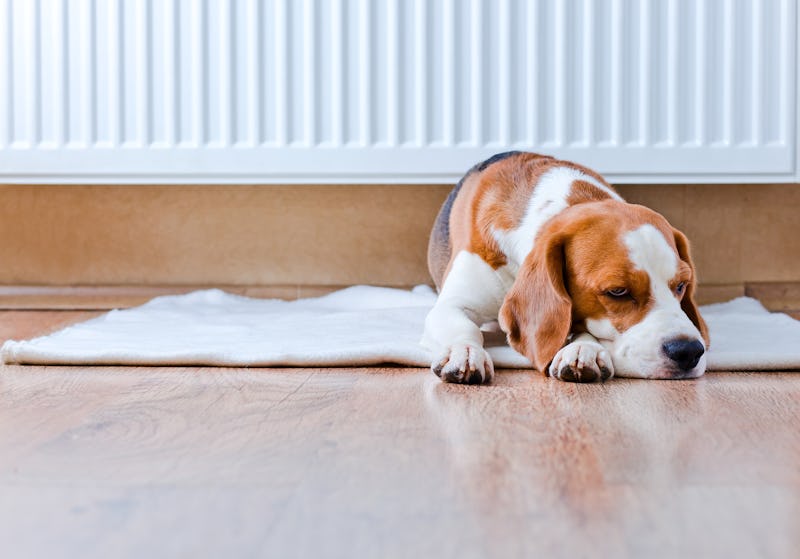 Igor Normann / Fotolia
Dog urine can wreak havoc on your beautiful hardwood floors. Luckily, the best cleaners for dog urine on hardwood floors use special enzymes to tackle stains and remove urine without causing further damage by skipping damaging chemicals like bleach and ammonia. Most can also help eliminate the smell, which has the added benefit of discouraging your dog from returning to the scene of the crime and remarking.
When urine happens, the first step is to immediately blot up the mess with paper towels. The longer urine sits on your hardwood floors the more damage it'll cause. So, it's crucial to start cleaning as soon as it's spotted to prevent those unwanted discoloration stains. Next, sprinkle baking soda and let it sit for a few hours to overnight and then vacuum or brush it up. Once you've eliminated the risk of moisture damaging your floors, then use an enzyme-based hardwood floor cleaner to further reduce smell and discoloration. While home remedies can help with odor and stains, it's the enzyme cleaner that will really get the whole job done.
When you're looking for an enzyme-based cleaner for hardwood floors, it's smart to find products without harsh chemicals and to avoid over-applying. Too much moisture of any kind will warp your wood floors, and after you've cleaned the area, you want the floor to be safe for your pets and the rest of the family. For the safest results on hardwood floors, check the label and make sure your cleaner is free of bleach or ammonia, too.
To help make shopping easier, here's my list of the best cleaners for dog urine on hardwood floors available on Amazon. These enzyme cleaners are all customer-approved to help remove urine stains and odor from your floors without harming your floors.
We only recommend products we love and that we think you will, too. We may receive a portion of sales from products purchased from this article, which was written by our Commerce team.