These 5 Cute Overnight Oats Containers Make Breakfast A Breeze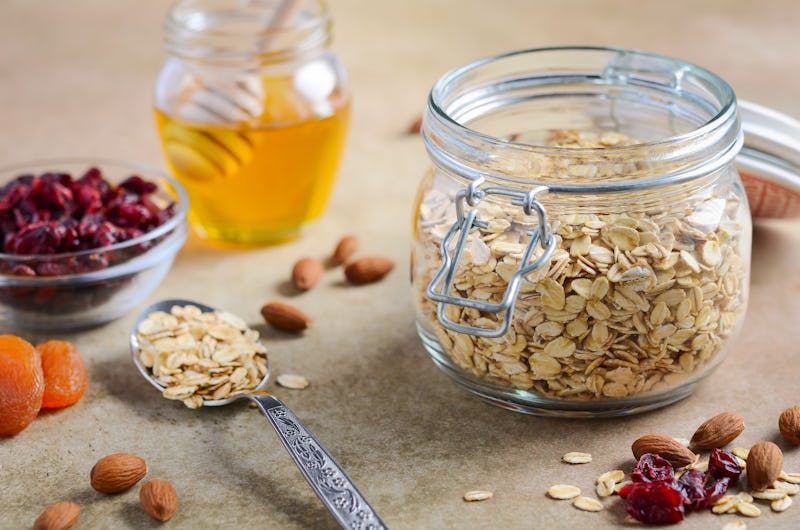 Shutterstock
For a make-ahead, good-for-you breakfast, overnight oats top the list. Just remember what you prepare the oats in is as important as the ingredients you add to your jar, in order to ensure quality, chemical-free results. To make sure you're getting the best containers for overnight oats, it's important to consider a few key factors.
Materials Matter
There are several different types of materials to choose from and it really comes down to personal preference.
Consider Capacity & Portability
Most jars or containers for overnight oats hold about 16 ounces, which is plenty of room for one serving of oats, fruit, nuts, and other toppings, but there are also 8- and 12-ounce options if you're looking for smaller portions. The best containers will also have wide mouths, making it easy to mix in ingredients and later clean the jars. And since overnight oats last up to four or five days in the fridge, it's nice to have a set of jars so you can prepare breakfast for several mornings at once.
Overnight oats are appreciated in part for their portability, but that only works if your container has a reliable lid. Look for one that seals by twisting or locking into place, and ideally it should be leakproof to avoid making a mess.
With that in mind, it's time to find the best overnight oats container that will make your mornings a breeze.
Bustle may receive a portion of sales from products purchased from this article, which was created independently of Bustle's editorial and sales departments.