The 5 Best Hair Mousses For Volume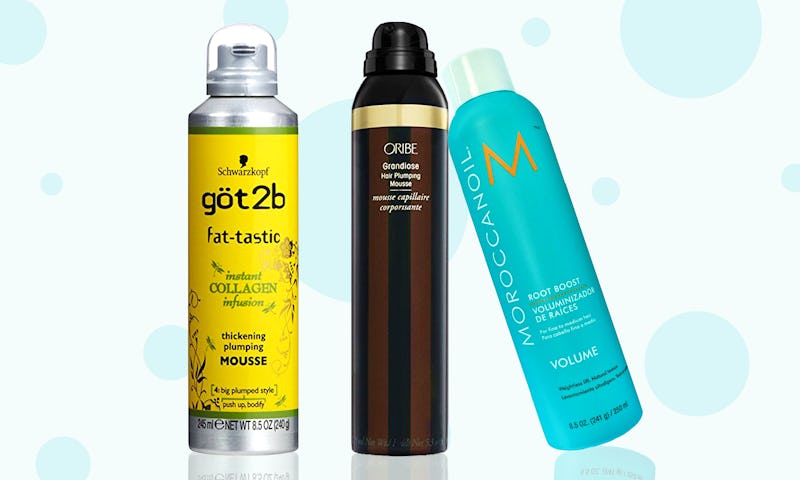 Amazon/Bustle
Mousse is one of the best products you can buy if you want to give your hair an instant body boost. But, like anything else, some mousses are better than others when it comes to creating the appearance of full, thick hair. In general, the best hair mousse for volume — as opposed to mousses for curl definition, shaping, or creating a wet look — will have a barely-there finish and a strong to medium hold that effortlessly adds lift.
When trying to decide which volume-enhancing mousse might be right for your hair, you'll also want to consider how easy a particular product is to use, how long the extra volume will last, and whether or not you're interested in added benefits, like heat protection or a color-safe formula. Once you've decided on your hair care needs, it's time to pick the one worthy of your money and time.
How to use hair mousse:
But achieving more voluminous-looking hair isn't just about the product you use — your technique matters, too. After washing your hair with one of the best volumizing shampoos, comb a small amount of mousse through your slightly damp hair. (Mousse tends to work best on hair that's been towel-dried.) Be careful not to use too much product, as that can weigh hair down, which is the opposite of what you want. Then, you'll want to proceed by blowing dry your hair, ideally using a (large) round brush. Begin your blow dry with your hair flipped upside down, which will add volume to the roots. Then, dry your hair by gently pulling it upwards, always focusing on the root. You can also try using hot rollers to add volume to your hair, an old-school (but effective) trick. Just make sure the rollers are on the large side, otherwise you won't get those big, bouncy curls.
Below, you'll find an assortment of the best mousses you can use to achiever fuller, thicker looking hair. From a deliciously-scented formula that might replace your favorite perfume to a firm hold mousse that doubles as a heat protectant, these five awesome products might just become your new hair heroes.
This article was originally published on