Can't Sleep? Experts Weigh In On The Best Sleep Aids To Help You Get Good Night's Rest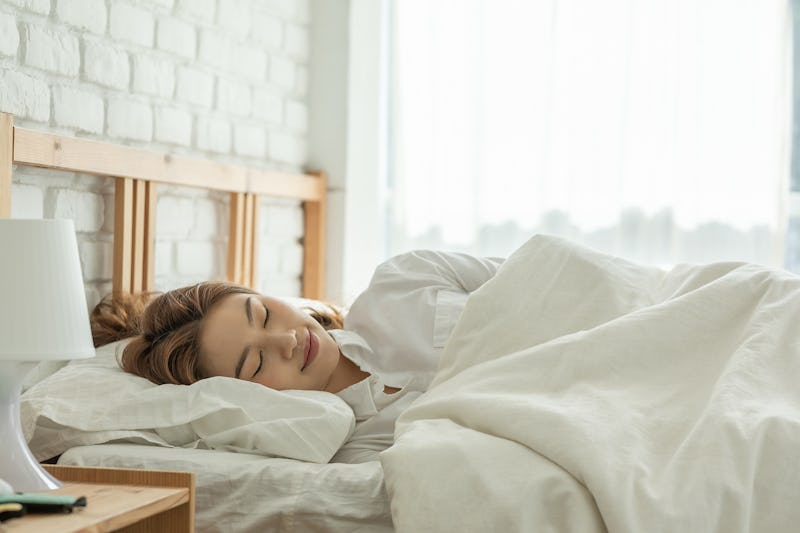 Yuttana Jaowattana / Shutterstock
An over-the-counter (OTC) sleep aid can be useful during times in your life when insomnia or occasional sleeplessness is affecting your much-needed ZZZ's. Whether you're trying to manage jet lag, going through a particularly stressful time (like having a new child), or dealing with a shift change at work, the best sleep aids can help you fall asleep faster and stay asleep longer, Lindsey Elmore, PharmD, BCPS told Bustle in an interview.
Sleep aids come in many different forms — there are medications and even more natural options that can help (more on all of that in a second). But one thing to know is that all of these aids should only be used on a short term basis, Bill Fish, co-founder of Tuck Sleep, told Bustle. "The goal of an over the counter sleep aid is to get through a small period of time where you may have issues getting to sleep," he said. "If these issues persist for longer than two weeks, it is recommended that you see a physician in an attempt to uncover the underlying issue as to why you are having trouble getting to sleep."
Oh, and it's a good idea to consult your doctor before using any of these sleep aid options as well.
The Best Sleep Aids
Nearly all OTC sleep aid medications contain antihistamines, commonly diphenhydramine or doxylamine. Diphenhydramine is often less expensive, and it leaves your system more quickly (aka it reduces the chances of that drowsy feeling the next morning), said Fish. "When it comes to doxylamine, it is considered stronger at sedating the sleeper, and also stays in the body longer thus helping the sleeper to stay asleep longer," he said.
If you do not want to take an antihistamine to aid your sleep, there are a number of other options that have been said to help.
Here are seven highly-rated picks on Amazon that reviewers say have really made a difference when it comes to their sleep.