The 8 Best Dog Breeds To Bring To Brunch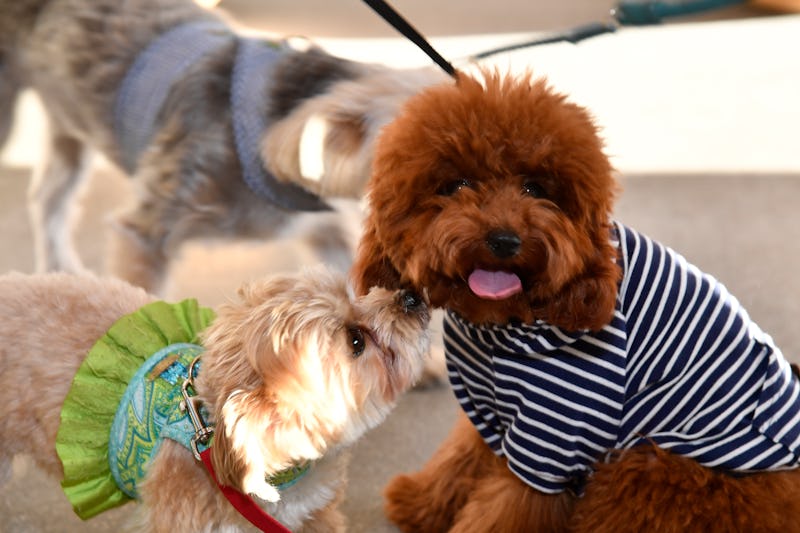 Frazer Harrison/Getty Images Entertainment/Getty Images
Plenty of restaurants offer outdoor seating so bringing your pup along might seem like a fantastic option, but not every dog is tame enough to make that a pleasant experience. But there are some well-behaved dog breeds you can take to brunch because they usually tend to be relaxed and obedient enough to bring along.
The bottom line is that your dog's behavior, not their breed, is the biggest determinant for whether they'll be a perfect brunch companion. "For dining out with your dog, make sure your dog is well-behaved around people, children, and loud sounds, and that you always have control of your dog," Dr. Gary Weitzman, DVM, MPH, CAWA, president and CEO of San Diego Humane Society and author of the Complete Guide to Pet Health, Behavior, and Happiness, tells Bustle. It's also wise to teach them commands like "come" or "quiet" in case they start to get distracted.
"Bring treats, water, and a chew toy to keep him busy," Dr. Weitzman says. "Most restaurants these days recognize the potential of dog-loving customers and will bring water and sometimes even dog-appropriate menu items for your dog," he says. "We live in a wonderful age for dining out with your dogs!"
Here are some dog breeds to bring to brunch, according to experts.