Why Coco Made That Heart-Wrenching Decision On 'Dear White People'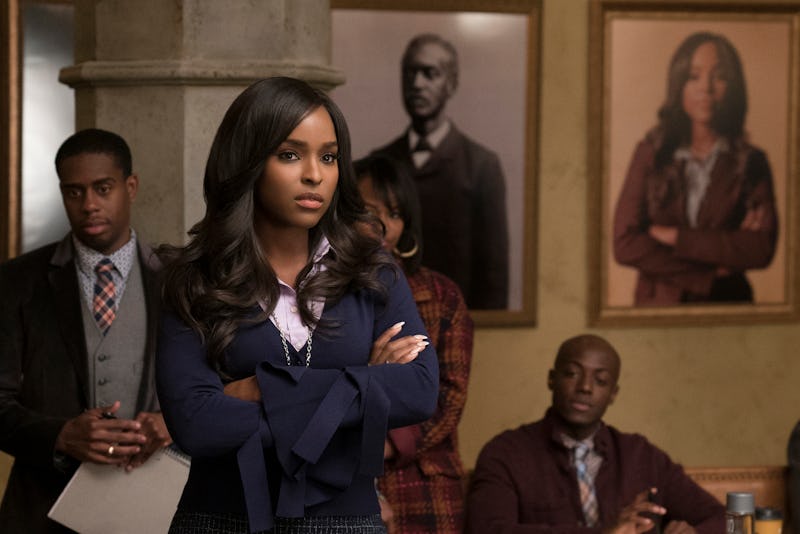 Saeed Adyani/Netflix
Spoilers ahead for Dear White People Season 2.
When creator Justin Simien and showrunner Yvette Lee Bowser pulled Antoinette Robertson aside after a table read for Dear White People Season 2, she was immediately nervous. "I was like, 'Oh sh*t, what did I do?'" Robertson tells me over the phone with a chuckle. "I'm a little bit of troublemaker on set." But Robertson wasn't being scolded, they just needed to talk to her about her character Coco Conners' Season 2 abortion storyline. Dear White People's writers wanted to focus on the importance of allowing a woman the right to choose, and Robertson immediately knew how powerful and necessary it would be to show Coco finding out she's pregnant, and deciding to have an abortion.
"These are the kinds of conversations that we need to have," Robertson says, "because I feel like there are so many women in this world that can identify with [Coco's] story. They understand the struggle of not wanting to feel the judgment of the world for making the choice that they want to make for their own body."
In Episode 4, 19-year-old Coco finds out she's pregnant and has to decide whether or not to terminate the pregnancy, a decision that will essentially determine whether or not she can stay at Winchester and continue on her path to Capitol Hill. Keeping the baby while also pursuing her dreams would certainly be an uphill battle: In 2013, The National Conference of State Legislatures, a bipartisan non-governmental organization, reported that fewer than two percent of teenage mothers finish college by age 30. As Coco says, "Having a choice doesn't make that choice any easier."
Coco making that important distinction "felt like liberation," Robertson says. "There are so many women that the world might vilify for being pro-choice," she notes. But Dear White People trusts Coco to make the right decision for herself, knowing that she knows what's best for her and her body. Robertson trusts women to make those decisions, too, though that's getting harder to do with the recent onslaught of stricter abortion laws.
"I am completely an advocate of women making whatever choice they want to make without allowing outward forces to intimidate them or to shame them or to judge them," she says. "I want us all to start living our own truth and understand, we have one life and we really should be living it the way that we want to."
But Dear White People doesn't shy away from exploring how the choice to terminate a pregnancy can feel like a sacrifice no matter how much you believe in the decision. The writers never pitched Robertson a scenario in which Coco chooses to have the baby. But when the episode flashes forward 18 years to see mama Coco, now an associate at a law firm, celebrating her daughter Penelope's acceptance into Winchester, they get to tell that other side of this story. And it's a bittersweet one.
To understand how difficult Coco's choice was, "you have to see the happiness she felt living vicariously through her daughter, having her daughter reach the pinnacle of success that she would want her to reach, and giving her daughter the pep talk that she wished her mother would give to her," Robertson says. You have to understand what Coco thinks she's giving up by not having Penelope, who got a 4.7 GPA, perfect S.A.T. scores, skis, volunteers, and is an intersectional feminist "who seamlessly uses the word 'lilliputian' in conversation."
In that speech, Coco tells her daughter as she drops her off at college: "You'll have a lot of tough choices to make, but don't let that stop you from striving. And no matter what happens, remember this: you have a right to be here just like everybody else."
That moment still makes Robertson break down because it's so clearly what Coco needed to hear throughout her own life from her mom, who had her when she was a teen. "I thought it was so powerful for her to be talking to her daughter," Robertson says. "Speaking life into her daughter the way that she wanted someone to speak life into her."
Ultimately, Coco chooses herself and her future. As the daughter of a teenage mom who perhaps didn't feel as if she had a choice all those years ago, Coco has overcome so much, and she needs to keep striving. She needs to make her mark before she can be the mother she envisions herself being. After all, Coco says that she came to Winchester to "take everything the world denied her mother and dared to deny me," and she hasn't done that quite yet.
Robertson's not sure how this decision will ultimately affect Coco moving forward if there is a Season 3, but she's happy that Coco's in a place where she's no longer seeking validation from a man. "I love that," Robertson says. "I feel like she's more empowered than ever because this was a very courageous decision that she made."
It's forced her to realize that she's not alone in this world; she's got her girlfriends beside her. It's her roommate Kelsey (Nia Jervier) who is there for her as she makes the biggest decision of her life and it's Sam (Logan Browning) who she turns to in the episodes after making it. Coco's starting to realize she doesn't need to go through life alone. She might have felt like her mom wasn't there for her, but there are other women in her life who will lift her up and support her.
And hopefully, many young women will see Coco's choice and realize that they alone have the power to make decisions about their bodies. "As women there's going to be so many tough decisions that we need to make," Robertson says. "Difficult choices that we could have made for ourselves or a choice that we could allow the world to make for us. I just feel like women should be empowered to make the decision that they want to make." Luckily, on Dear White People, women make those decisions without judgment from anyone.