OMG, So This Is What Happened To Adam Jr. After 'The Bachelorette'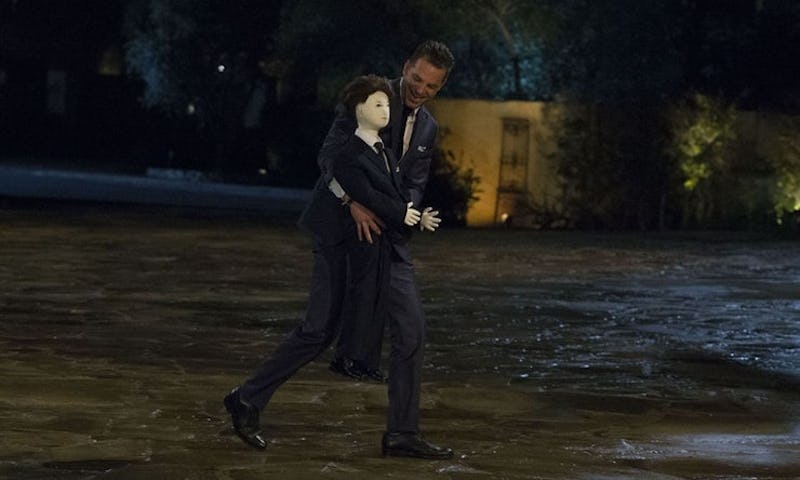 Paul Hebert/ABC
If you thought you'd seen the last of Bachelor Nation's (least) favorite puppet when Adam was eliminated from Rachel Lindsay's season of The Bachelorette, think again. Just in case there wasn't enough excitement on Bachelor in Paradise so far, there are a couple of new cast members on the beach, including Adam's mini me. Yes, it's true: Adam Jr. is on Bachelor in Paradise, because why wouldn't his legacy as a mysterious, French speaking stuffed doll live on in Mexico?
When the show picked back up on Monday, Adam entered the scene, attempting to sweep Raven off her feet, and so did his right hand man. So far, Adam Jr.'s appearance on the show has been short-lived, and it's doubtful that he'll be able to participate in the rose ceremonies. But since this year's BiP seems to be the season where the gimmicks never die — Alexis, Matt, and Nick all brought their limo arrival costumes with them, after all — it's totally appropriate that Adam wouldn't arrive in Paradise empty handed.
If you missed it, have no fear. This (decidedly spooky) image of Adam Jr. was captured, and although he is a man of few words, his presence is not to be missed (although I kinda wish I had missed it).
Adam Jr.'s future on screen was unclear after The Bachelorette. Even though he did show up on social media from time to time, there was no guarantee that his career in reality television would continue. But now that it has, surely he'll be used for a gag or two on BiP, depending on how long Adam manages to stick around.
And although it's an old joke, it's nice to have something to laugh at this season. Let's be real: This season has already been filled with relationship drama and some really serious stuff where the production shutdown was concerned. So if Adam Jr. is this season's comic relief, I'll take it.