Why The 'AHS: 1984' Ending Was Different Than Any Other Season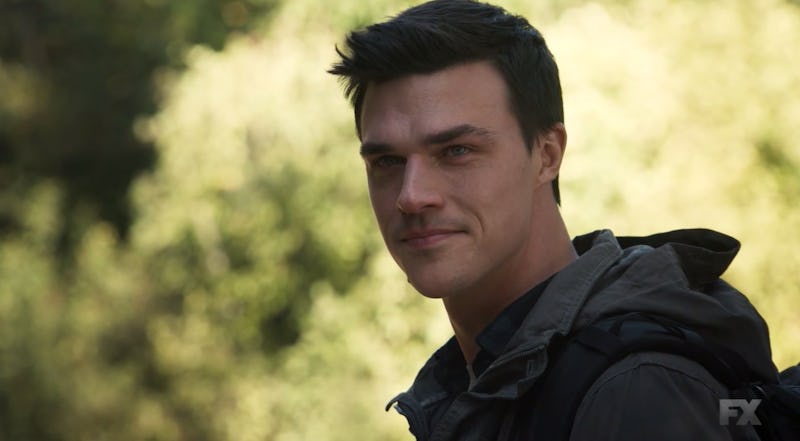 FX/screenshot
Spoilers ahead for the AHS: 1984 finale. Though American Horror Story usually ends almost as dire as it started, the AHS: 1984 ending was uncharacteristically happy — at least, for one character. After surviving the Night Stalker's wrath at Camp Redwood, Mr. Jingles' son Bobby (Finn Wittrock) finally got the closure he wanted from his father, and his ghost family (including his grandmother and uncle) watched tearfully as he reentered the living world. AHS has certainly had satisfying finales in the past, but none quite as feel-good.
There were, however, plenty of twists along the way. After Bobby arrived at Camp Redwood in search of answers about his dad, the ghosts still living there explained that they've spent the last 30 years continuously torturing and killing the Nightstalker to ensure he never attacks innocent people again. Margaret Booth somehow became a murderous ghost even after being decapitated, put through the wood chipper, and discarded off of the property. And Brooke and Donna both managed to be the final girls. But the biggest twist of all was the fact that Bobby made it out of the whole thing unscathed.
Wittrock and John Carroll Lynch both made their first AHS appearances in Freak Show as the villain Dandy and the pseudo-villain Twisty the Clown, respectively. So at the start of the episode, it seemed fair to wonder that Bobby maybe wasn't as good as he seemed, and could be harboring some of the same murderous tendencies as his grandmother Lavinia (Lily Rabe) and his father Benjamin (Carroll Lynch). But Bobby genuinely came to the camp for the sole purpose of learning about why his father disappeared and who had been sending him checks. Donna helped him find his secret benefactor Brooke and, knowing his innocence, the ghosts of Camp Redwood worked together to protect him from the deadly evil forces of Margaret and Ramirez.
Amid all of that, though, the thing that seemed to drum up the most emotions was the song that played as Bobby left the camp: Mike + The Mechanics' "The Living Years." Not only was it appropriately schmaltzy, but it perfectly encapsulated the message behind the touching father-son reunion with lyrics about living with your father's baggage while making sure to share you love him while you still can.
Ultimately, the 1984 finale seemed to channel cheesy '80s movies as much as it did slasher flicks. Apparently even a show as dark and demented as AHS can be sentimental — which, when you think about it, is the most unexpected thing they could have done.