'Andi Mack' Has A Major Plot Twist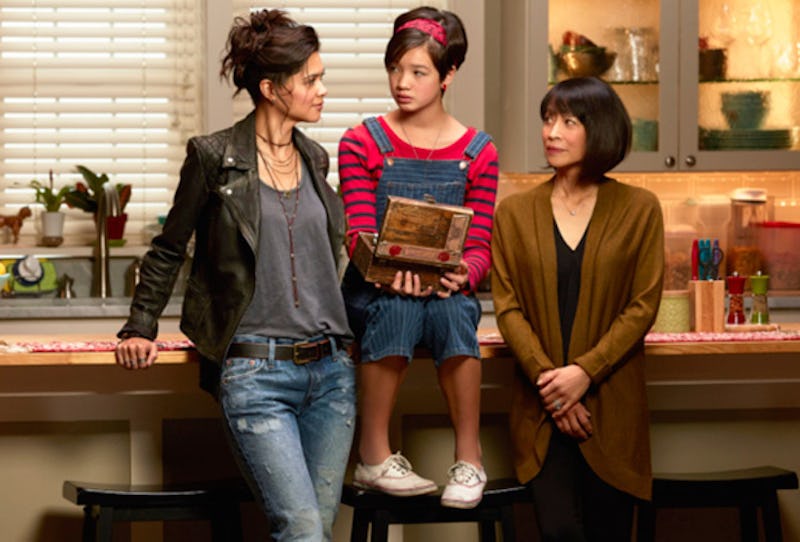 Disney Channel
In recent years, the Disney Channel has made huge strides in showing all types of people, relationships, and topics on their shows. So, it's exciting to hear that Andi Mack will bring several "firsts" to the Disney Channel, according to creator Terri Minsky. Without giving too much away, I can say that the premiere has a plot twist that viewers will not see coming. And, from what Minsky tells Bustle, that won't be the last shocker of the season. "There are going to be moments that are going to be firsts for the channel," Minsky teases. Though she wasn't allowed to go into detail, she did applaud the channel for supporting and trusting her vision. "I like that they wanted to do something new and that they're taking my suggestions," she says.
The plot twist in the pilot took me by surprise as a viewer, and it shocked the cast too, says star Peyton Elizabeth Lee. "Disney has never done anything like that. Most shows haven't. I don't know a show that has done anything like that, ever. So, that definitely is a huge reason why I love the show so much. It's so different in almost every single way."
Minsky says that she was first approached by the network to create a series like her other show Lizzie McGuire, but one that would really shake things up. You can see for yourself just how she delivered on that promise in the show's premiere, which hit the Disney Channel App and respective digital platforms on March 10. (Episode 2 debuts April 7 on the Disney Channel.)
Minsky is bound to have another hit on her hands based on the first two episodes alone, and I can't wait to see what else she has planned for the teen show, which she equates to the Disney Channel's own version of Scandal. "We want people to watch the show not knowing what's going to happen," she says. "I think that would be cool if people wondered what would happen next. I like that experience for the Disney Channel, because I don't know that they've had it yet."
But, while the show will have plenty of twists that are new territory for the network, don't expect things to be too unbelievable. After all, Minsky is dedicated to keeping the teens on this show relatable. "I think a lot of TV shows about kids make the kids so fabulous, with amazing lives," she says. "I wanted this show to be about a kid who hides in her room when she's had a bad day and talks to her friends and is embarrassed ... whatever her dream is, it's just to get through tomorrow."
Andi Mack is poised to be the kind of relatable teen for today's kids that Lizzie McGuire was for me, but with more diversity on screen in both the characters and the topics approached. In other words, it's a Lizzie McGuire for a new, more-informed generation, and it's going to be really interesting to see what kinds of "firsts" the show explores this season.