Please Don't Try To Identity The Anonymous Student From 'The Keepers'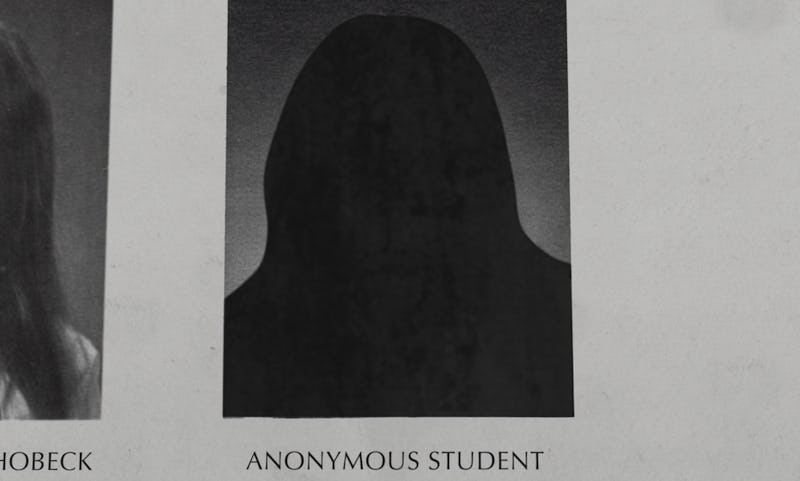 Netflix
An admirable amount of people have come forward in The Keepers to discuss the sexual abuse that they claim they experienced by Father A. Joseph Maskell in the '60s and '70s. While the Baltimore Sun reported that Maskell denied the accusations until his death in 2001, these claims are what make the documentary about the death of Sister Cathy Cesnick possible since the Netflix series explores the posited theory that the nun's death and the alleged abuse are connected. Yet, not everyone who says they were assaulted by Father Maskell has revealed their identities. In particular, one student of Archbishop Keough High School has chosen to remain anonymous even now — nearly 50 years after the alleged abuse took place. Since the anonymous student in The Keepers claims to have information about Father Maskell and Sister Cathy the night before the nun died, you could criticize her for not revealing her identity. But instead, the public should recognize that this woman claims to be a victim of unthinkable abuse and she deserves to remain anonymous if she so chooses.
If it wasn't for Jean Hargadon Wehner in 1992 reporting the alleged sexual abuse she experienced, many other people may not have come forward to echo her claims that they also had allegedly been assaulted by Father Maskell at Archbishop Keough High School in the late '60s and early '70s. What Wehner did was brave and many people have her to thank for helping them feel like they could reveal their dark secret. As Teresa Lancaster — the Jane Roe to Wehner's Jane Doe — said when she first met Wehner in the sixth episode of The Keepers, "You did a lot for my recovery, you know ... it made me feel better."
Even though Father Maskell has since died, people like Wehner and Lancaster opening up about their alleged experiences not only helped to unveil a potentially dangerous man, but it also has led to an important discussion about how sexual abuse victims should be treated. And it's by keeping that idea of how victims deserve to be treated at the forefront of my mind that I am able to say that this anonymous student must proceed with her life in whatever way makes her feel the most comfortable and safe. Because while more people corroborating with Wehner and Lancaster may have helped their initial lawsuit against Father Maskell, any victim of sexual assault has already suffered enough and shouldn't feel obligated to relive their experiences. Plus, Wehner and Lancaster were able to help one another without even revealing their identities back in the '90s.
The anonymous student isn't featured directly in The Keepers, but Gemma Hoskins claims in the documentary that she has spoken to her. She relays in the second episode that the anonymous student claims she was at Sister Cathy and Sister Russell Phillips' apartment with her boyfriend the night before Sister Cathy went missing. According to Hoskins, this former student said she was talking to Sister Cathy (with Sister Russell and her boyfriend present) about the alleged abuse that Father Maskell was inflicting upon her. According to The Keepers, the student claimed that Father Maskell and Father Neil Magnus came into the apartment without knocking and that "Maskell looked furious" but "Magnus looked dumb." She claimed Sister Cathy sent the anonymous student and her boyfriend out of the apartment and Sister Cathy went missing the next day and was later found dead.
As told in the series, the anonymous student claimed that the next day, she went to school and Father Maskell called her into his office and allegedly said he would kill her, her boyfriend, and both of their families if she ever spoke about any of this. With such an alleged traumatic experience as this, is it any wonder that this student hasn't wanted to reveal her identity publicly? As Hoskins said, "This woman, who has chosen to remain anonymous, has lived with fear all her life."
In the last episode of The Keepers, the documentary explores how a bill to extend the civil Statute of Limitations for child sex abuse claims has repeatedly been killed by the state of Maryland. Although the anonymous student is not involved in this part of the documentary, she came to my mind. That's because one of the arguments against extending the Statue of Limitation is that by the victim of sexual abuse not stepping forward sooner, more people could be sexually abused by the perpetrator. This logic is incredibly problematic (or in the words of Maryland State Delegate C. T. Wilson, "utterly disgusting") because it puts the onus on the victim. Rather than respecting the victims' rights to privacy after they are already vulnerable from experiencing such an invasive form of abuse, it blames them and makes them feel guilty.
No victim of sexual abuse should then have the added burden of feeling responsible for what the perpetrator has done to other people, just like how the anonymous student shouldn't feel guilty for not revealing her identity. Of course, the cases of Wehner and the anonymous student are more complicated because their sexual abuse accusations also include testimony that could be helpful to a murder investigation. But as Wehner proved by first accusing Maskell under the name Jane Doe, a person's identity does not have to be revealed to make an accusation that could help others.
As David Lorenz — a child sexual abuse victim, who is not involved in the case against Father Maskell — is shown stating to the Maryland General Assembly in The Keepers, sexual abuse is a person's "deepest, darkest secret" and so it's incredibly difficult to admit this secret. Beyond the anonymous student fearing for her life because a woman she allegedly confided in was murdered, by revealing her identity she would be claiming to the world that she was sexually assaulted. With so many unanswered questions, people may think it would be helpful for the anonymous student to come forward and identity herself. But if she's not comfortable with doing that, she shouldn't have to. And no one should throw judgement her way or try to discover her identity. Because after being violated, sexual assault survivors deserve to keep some aspects of their lives sacred and private.